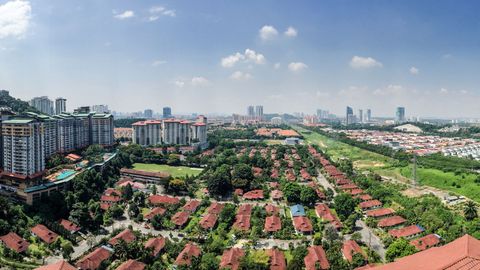 Petaling Jaya, popularly known as "PJ," is the urban hub of Malaysia. Formerly set up as a satellite township for Kuala Lumpur, today the city is a developed neighbourhood. A hub to various impressive shopping malls, you'll be super thrilled to include Petaling Jaya in your must-visit cities on a trip to Southeast Asia. Know all about this satellite city through our comprehensive guide about the places to explore and things to do.
Located in the state of Selangor, the city is administered by the Petaling Jaya City Council, also known as the Petaling Jaya Municipal Council (MBPJ). Over the years, the Petaling Jaya authority has helped evolve the city into an upscale area to live in.
The skyline is dotted with some of the prominent places in the state, like the Kota Darul Ehsan Arch, Taman Jaya, Damansara and Kota Damansara Community Forest Park. Tourists can also witness some of the finest structures with rich history and Moorish architecture. We've also included details like waktu solat (prayer time) in Petaling Jaya, the best places to shop, stay and eat.
How to plan a Petaling Jaya trip?
Firstly, finalise your tour dates and get your passport, visa, and Malaysian currency sorted. Next, book your flight tickets to Sultan Abdul Aziz Shah Airport (SZB / WMSA) in Subang Jaya, as it is the easiest way to reach Petaling Jaya. Learn about the city's local transport and book your accommodation(s).
Lastly, learn some Malaysian phrases to converse with locals, then pack your bags and head to the satellite city. Petaling Jaya trip cost
Although Petaling Jaya is a small city in Malaysia, it gains its significance from the many federal government headquarters situated here. Cities like Kuala Lumpur are very close by, and you might want to visit it along with other neighbouring cities.
As for the per-day cost in Petaling Jaya, visitors might spend RM90 per person on a mid-range holiday and about RM120 or more on a luxurious trip. This approximate daily budget covers accommodation, food and transportation but excludes flights.
Best time to visit Petaling Jaya
The spring and summer seasons, from March to August, are the most suitable time to explore Petaling Jaya. Being one of the wettest cities in Malaysia, it's best to avoid visiting in the monsoon months. Due to excessive rain and snowfall, Petaling Jaya experiences its lowest tourist traffic in the fall and winter, which run from September to February.
The climate in the city of Petaling Jaya is hot throughout the year, with an average temperature of 27°C. February to August is the hottest time of the year, with a high of 33°C. The temperature drops to its lowest point of 23°C from September to January. Rains are constant throughout the year as well. The city experiences an average rainfall of 272 mm in November (highest) and 117 mm in June (lowest). How to reach Petaling Jaya
By air
The fastest way to reach Petaling Jaya is by taking a flight up to the Federal Territory of Kuala Lumpur (KUL) airport. You can travel to PJ via a bus train or road from here.
By road
PJ is well-connected with other cities in Malaysia. Take the Federal Highway for Kuala Lumpur, the Sprint Highway to reach cities north of PJ and the North-South Highway to take an exit from PJ to reach Subang, Damansara and Kota Damansara.
By train
The main stations in PJ are Taman Jaya, Asia Jaya, Taman Paramount and Kelana Jaya. However, if you're visiting from or to Kuala Lumpur, the Light Rail Transit paths to Kelana Jaya are the best ways to travel.
By bus
Asia Jaya, Damansara Uptown and Bandar Utama are the main bus stops in Petaling Jaya. Public buses like Rapid-KL and Metrobus also run between PJ and Kuala Lumpur.
Best places to visit in Petaling Jaya Wat Chetawan
This Thai Buddhist temple, which was constructed in 1957, is located on Jalan Gasing in the city centre of Petaling Jaya. You can find monks from Thailand offering blessings here, and temples with statues of Buddha, a four-faced Buddha and Kuan Yin, among other deities. The temple complex is accentuated with multi-coloured glass tiles and a multi-tiered roof, which is trimmed with chor fahs (sky tassels).
Kota Darul Ehsan Arch
The Kota Darul Ehsan arch is a monumental structure. It is an amalgamation of modern Malay and Islamic design. Situated in the middle of the federal highway, the Kota Darul Ehsan arch symbolises the border between the Federal Territory of Kuala Lumpur and the Selangor state of Malaysia.
Taman Jaya
Take some time off from the hustle and bustle of the city. Relax at Taman Jaya, a small, serene park in Petaling Jaya with a beautiful lake in the middle. It is located right next to the Amcorp Mall. The Petaling Jaya Museum is also within the park. Learn about the history of Petaling Jaya and how it was created here.
The Secret Garden Utama
This is Southeast Asia's largest botanical sanctuary. The Secret Garden is located on the rooftop of 1 Utama Shopping Centre, a prominent shopping mall in Petaling Jaya. Spanning 2,787 square metres, it showcases over 500 species of exotic flora. Each plant here is nurtured by renowned botanists. It's a lively sight to witness. Damansara Utama
An upscale suburb in PJ, Damansara Utama is a one-stop destination for all things residential and commercial. Separated by the Damansara–Puchong Expressway, it is split into two sections — SS20 (east) and SS21 (west).
It is in the SS21 area where the biggest commercial hub is located, known as The Uptown. The Starling, a shopping complex, is also located in Bandar Sri Damansara. Additionally, some of the well-known shopping malls, like 1 Utama (Bandar Utama Damansara) and The Atria (Damansara Jaya), are located nearby.
Nightlife in Petaling Jaya 61 Monarchy
A hidden gem for whisky lovers. At 61 Monarchy, you'll find on display over 400 illuminated scrolls of whisky sourced from all over the world. This industrial-themed bar has statement wicker and rattan furniture. They even have signature drinks and cocktails, which you can relish at this drinking den.
Sip Society
One of the best bars in PJ is an Art Déco pub tucked away in Aman Suria Tropicana. Sip Society indulges your senses by offering a wide variety of wines, spirits and whiskies. Their speciality is their custom-crafted cocktails.
Imaginarium
This is a jazz live house located on the ground floor of the 1 Utama Shopping Centre. The bar has excellent recording artists and concert artists from Malaysia and Southeast Asia coming in to perform. It has a formal vibe to it and is also a good place to enjoy music and network.
The Roof
While in PJ, tourists can chill at this breezy beer garden with a barbeque setting. BBP Malaysia by The Roof serves other scrumptious food, including Big Pig Ribs, Pork Platter, One Hot Chick and Siew Yuk Bao. Unwind at this casual dining place with its à la carte specialities. They also serve wine, cocktails and beer on tap.
Book your dining experiences here
Things to do in Petaling Jaya Sunway Lagoon Theme Park
Enter a world of fun and amusement by taking a day trip to the Sunway Lagoon Theme Park. Spread across 3,56,123 square metres, the theme park has five adventure zones — the Water Park, Amusement Park, Wildlife Park, Scream Park and Extreme Park. The giant park has 90 attractions for you to enjoy. It even has eateries and other dining options within the area. You can pre-book your tickets online on their website.
Muzium Coklat
A heaven for kids and adults alike, this is a chocolate museum located in Kota Damansara. Head here with your family while in PJ to know about the history of chocolate. You can watch sweet treats being prepared from scratch, taste samples and take some back home with you.
Book bespoke wellness experiences here
What to eat in Petaling Jaya Wanton Mee Noodles at Annie 1
Located in uptown PJ, Annie 1 is a casual dining place where you can gorge on the most delicious Wanton Mee Noodles. It is a dish that comes with egg noodles and pork on the side, and it can be soupy or served plain. Along with this, the eatery also serves delicious Ipoh white coffee and cham (a mixture of coffee and tea).
Sarawak Laksa at Aunty Christina's Sarawak Laksa
When in Malaysia, you must try the local favourite dish, the Sarawak Laksa. In essence, laksa is a spicy noodle soup. For the Sarawak Laksa, vermicelli noodles, cooked prawns and shredded chicken are served along with the soup. Some places also serve it with a chicken- or shrimp-based broth. This is seasoned with thick laksa paste.
At Christina's Sarawak Laksa, a stall in Restaurant Sea Park, you'll have the most authentic dish. Fresh ingredients, herbs and flavourful spices are used in its preparation.
Thai Cuisine at Kompassion
Visit this contemporary eatery in Damansara Kim if you're craving Thai food in PJ. Kompassion offers exquisite Thai cuisine with impeccable service. Asian and fusion cuisines are also available here.
Where to shop in Petaling Jaya Paradigm Mall
Immerse yourself in a broad spectrum of retail stores at this magnificent shopping paradise in PJ. The Paradigm is the most renowned in all the city and houses 300 outlets across six levels. With an area of 65,032 square metres, you can stroll through the mall and get all your shopping needs covered. Shoes, bags, apparel, hypermarkets, beauty, digital and other stores can be found here, with some of the most exclusive brands on board.
1 Utama
When in Petaling Jaya, you must visit one of the world's largest shopping malls. Go gaga over more than 700 shops spread over 519,328 square metres. Located in the Bandar Utama township, the seven-storey mall also has three departmental stores and two cinemas.
High Street, LUXE, Oval, Promenade, Centre Court and Rainforest are some of the themed zones within the shopping complex. The mall also has entertainment zones like The Secret Garden, The Ledge Art Gallery and Sports n' Play.
Amcorp Mall
Head here for a shopping and entertainment day off! The Amcorp Mall has everything from retail stores for antiques to snooker pools. You can even browse through the biggest indoor flea market in Klang Valley to bag some unique pieces.
Hotels you can book in Petaling Jaya
Featured & Hero Image Credit: Naz Amir/ Wikimedia Commons
Related: The Best Things To Do In Kuala Lumpur
Frequently Asked Questions (FAQs)
Question: How many days are enough to explore Petaling Jaya?
Answer: Plan a visit to Petaling Jaya for at least two days to see the best things the city has to offer.
Question: What should I know before planning a trip to Petaling Jaya?
Answer: Before making travel arrangements to Petaling Jaya, it is important to get yourself acquainted with Malaysian currency, intercity transportation, local customs, weather, Malay etiquette and culture.
Question: Which is the cheapest time to visit Petaling Jaya?
Answer: Typically, June and October are the least expensive months to visit Petaling Jaya because they are off season.
Question: What is the dress code in Petaling Jaya?
Answer: Since Petaling Jaya is a modern city, there is no set attire for visitors. However, when packing, you must keep in mind there are stringent guidelines regarding appropriate clothes for religious locations.
Question: What are the dos & don'ts in Petaling Jaya?
Answer: Petaling Jaya requires that basic manners be observed, such as treating residents with respect, being courteous and patient, exhibiting respect for the local way of living and places of worship, keeping a respectful distance from the locals and avoiding littering, among other things.
Question: Do you need cash in Petaling Jaya?
Answer: It's ideal for a visitor to have as little Malaysian Ringgit (RM) on them as possible. In Petaling Jaya, cash is required to make purchases from local shops and eateries as well as, if necessary, for emergencies.
Question: What are the most famous historical places in Petaling Jaya?
Answer: The Kota Darul Ehsan Arch and Wat Chetawan Temple are among the historical landmarks in Petaling Jaya.
Question: What are the best malls in Petaling Jaya?
Answer: Paradigm Mall, Amcorp Mall, The Curve and 1 Utama, among others, are the best malls in Petaling Jaya.
Written By