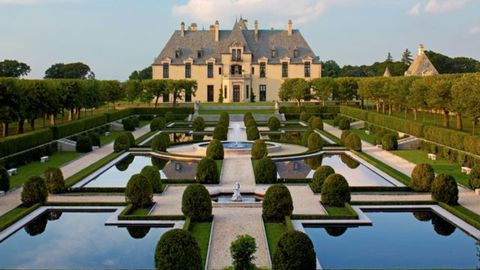 The state of New York is home to lots of magical and historic small towns and, of course, it's an ever-thrilling capital city. But you may be surprised to learn that it's also dotted with fairytale-esque castles. These enchanting sites run the gamut from eerie, abandoned masterpieces to fully functioning luxury hotels and former forts. We've rounded up 15 of our favourite castles across New York, from lower Manhattan and Long Island to the northern Thousand Island region. Here's where to go for a royal — or haunting — experience.
These castles in New York offer a royal or haunting experience
Belhurst Castle If you're headed to the Finger Lakes region, add Belhurst Castle to your itinerary. Located in the town of Geneva, this stately stone castle dates back to the late 19th century, but it's been transformed into a one-of-a-kind vacation destination. Expect three lodging options, two restaurants, a spa and salon, and a winery and tasting room where you can sip sauvignon blanc, craft beer, and hard cider.
Oheka Castle The Gold Coast of Long Island earned that nickname because of its opulent homes, but if one stands out the most, it's Oheka Castle. Just one hour from New York City, this castle-turned-luxury hotel feels like it's been plucked straight from the French countryside with its Châteauesque architecture and gorgeous manicured gardens. Book a tour to learn about all the details.
Belvedere Castle You don't even have to leave the island of Manhattan to see one of the Empire State's most iconic castles. In fact, Belvedere Castle is conveniently situated in leafy Central Park, making it both enchanting and easily accessible. This not-so-hidden gem offers exceptional views of Turtle Pond, the Great Lawn, and the surrounding cityscape, which is best enjoyed from one of the terraces.
Book your stay via Booking.com
Castle Gould Purchased by Howard Gould in 1900, Long Island's Castle Gould is modelled after Ireland's famed Kilkenny Castle. This spectacular 10,000-square-foot limestone structure was completed in 1904. Today, it's part of the Sands Point Preserve and houses the site's visitor centre, a sound stage, and the Great Hall, which has sky-high vaulted ceilings and expansive windows that look out to Long Island Sound.
Elda Castle
Make your way to Westchester County to visit the abandoned Elda Castle (also known as Abercrombie Castle, as it's the abandoned home of Abercrombie and Fitch owner David Abercrombie). Overgrown with greenery and surrounded by woodland, what's left of the castle continues to attract visitors, but not a buyer — it's been on the market for years.
Book your stay via Booking.com
Bannerman Castle Bannerman Castle is located on a 6.5-acre uninhabited island in arty Beacon. The structure was a military surplus warehouse, though it's now mainly in ruins. Visitors are invited to explore the structure on foot. For a truly unforgettable experience, snag tickets to a movie night at the castle.
Beardslee Castle
was built in 1860 and in the style of Irish castles, with thick limestone walls, oak-panelled ceilings and a wide wood-burning fireplace. Today, the site is a unique dining and event venue. Book a table at the main restaurant for a fancier dinner, or head downstairs to The Dungeon, an aptly named bar and grill great for beer (there are about 125 choices any given day) or a game of pool. For a meal and a show, consider attending one of the summertime murder mystery theatre events that take place at the castle.
Amsterdam castle Amsterdam Castle, located in the city of the same name, was constructed by architect Isaac Perry in 1895 as a National Guard armoury. Today, it is instead a boutique hotel with 22 rooms and a restaurant. Inside you will also find wood vaulted ceilings, some cool suits of armour that nod to the site's history, and incredible artwork.
Book your stay via Booking.com
Wing's Castle Construction of Wing's Castle began in 1970, and though guests are now welcome, the owners say the castle is a "live-in art project" that they continue to work on. Located in the quaint village of Millbrook, the castle is a bed-and-breakfast with four accommodation options, including a standalone cottage right out of a fairytale. Next door to the castle is Millbrook Winery, open daily from noon to 5 p.m. for tastings. And downtown Millbrook, which is lined with shops and restaurants, is just 10 minutes away by car.
Boldt Castle Boldt Castle is one of the most famous landmarks in the Thousand Islands region of New York. Set on a small island on the Saint Lawrence River, the castle is accessible only by boat and is open seasonally between mid-May and mid-October for tours. Construction began on the six-story structure in 1900. However, when the owner's wife died suddenly, it remained vacant for more than 70 years. The interiors have since been restored with custom doors, decorative windows, and gorgeous furnishings.
Singer Castle The Scottish-inspired Singer Castle on Dark Island is another Thousand Islands gem. It is open from late April to mid-October when visitors arrive in order to admire the castle's striking architecture, ornate furnishings, and artefact-filled interiors. Tour guests even get the chance to see once-secret passages. You can stay overnight by booking the Royal Suite, which sleeps up to six guests.
Highlands Castle For a romantic getaway on Lake George, look no further than Highlands Castle, a family-owned and operated hotel that took decades to construct. Design elements include 19th-century stained glass doors, hand-carved wooden knights, a roaring fireplace, European tapestries, cathedral ceilings, and antique furnishings. Best of all, it's just minutes away from the region's best beaches, shops, restaurants, hiking trails, and more.
Book your stay via Booking.com
Dundas Castle
Dundas Castle (also known as Craig-E-Clair Castle) in Sullivan County is renowned for its gothic-style architecture and stone exterior. Owner Ralph Dundas wanted to replicate a Scottish estate in homage to his heritage, and no expense was spared in importing materials from Europe. Unfortunately, Dundas died before construction was finished. The interior features dramatic staircases and more than 30 rooms, but the castle is now privately owned, so you'll have to admire it from the outside.
Castle Clinton national monument Castle Clinton in Battery Park was never an actual castle. Instead, it served as a fort to prevent the British from invading back in 1812. After the war, it was used as an opera house and theatre, then an immigration centre, then an aquarium. Today, it's one of New York City's most popular attractions for history buffs. Accessible by foot or bike only, the sandstone fort now houses the ticket office for the Statue of Liberty.
Book your stay via Booking.com
Mohonk mountain house This lakefront Victorian castle resort in the Hudson Valley is one of the best all-inclusive hotels for families. Guests have access to myriad outdoor activities, from horseback riding and golf to tennis and hiking, plus lots of wellness offerings. A National Historic Landmark, the property dates back to 1869. To learn about the resort's Victorian decor and artwork, sign up for a tour.
(Hero and feature image credit: Phillip Ennis Photography)
This story first appeared on travelandleisure.com
Related: New York Most Expensive City For Business Travel, Hong Kong Tops Asia List: Survey
Written By