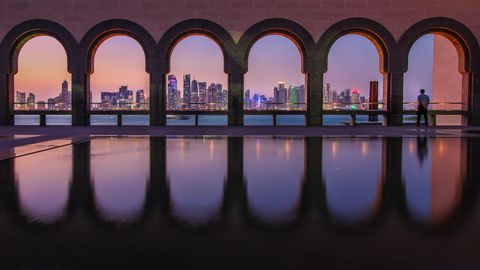 Doha is the capital city of Qatar, located on the eastern coast of the Arabian Peninsula in the Persian Gulf. It is a modern and rapidly developing city with a unique blend of traditional and contemporary architecture and a thriving business and cultural scene.
Travel with us to Doha, Qatar: Doha's culture is a unique blend of traditional Qatari values and modern influences from around the world. The city has a rich cultural heritage that is deeply rooted in Islamic traditions and practices, which are evident in many aspects of daily life.
One of the most important aspects of Qatari culture is hospitality. Visitors to Doha will often be welcomed with warmth and generosity. Religion also plays a significant role in Qatari culture. Prayer times are observed throughout the day, and we got to witness the beauty and simplicity of the holy month of Ramadan, rendering Doha a sense of calm and serenity.
Book your stay at The Torch Doha via Booking.com
Doha has also become a hub for arts and culture, with a range of institutions and events promoting local and international talent. The city is home to several museums, galleries, and cultural centres, including the Museum of Islamic Art and the Qatar National Museum. We also visited the epicentre of art in Doha, the Katara Amphitheatre. A stunning open-air performance venue located in the heart of the Katara Cultural Village in Doha, the amphitheatre is designed to host a variety of cultural and artistic events, including concerts, theatrical performances, and other live shows. If you're looking to find the perfect picturesque spot in Doha that beautifully reflects the influence of global architecture, the Old Doha Port in Mina District is a must-visit location. Situated on the eastern side of Doha Bay, the port was the centre of trade and commerce in the city until the construction of the new Hamad Port. It played a vital role in the development of the city and the country, serving as a hub for the import and export of goods, including pearls, which were a major industry in Qatar at the time.
Apart from historical relevance, the port is a colourful break from the concrete jungle. A cluster of buildings in every possible hue, Old Doha Port is one of the spots you will irrevocably fall in love with. Book your stay at Steigenberger Hotel Doha via Booking.com
After a sunny day admiring the architecture, it was time to indulge in one of the most loved activities when in Doha. SHOPPING!
Doha is home to several high-end shopping destinations, and we tickled our senses at the Place Vendôme and Galeries Lafayette during our trip. Place Vendôme is a luxury shopping destination located in the Pearl-Qatar, an artificial island in Doha, Qatar. The shopping centre is inspired by the famous Place Vendôme in Paris and features a range of high-end fashion brands and luxury boutiques. Home to some of the world's most prestigious brands, including Cartier, Dior, Hermès, Chanel, Prada, you will be coddled in luxury and when browsing through the humongous shopping hub. If you're looking for a more personalised shopping experience, Galeries Lafayette is the place to be. Galeries Lafayette Doha is a popular destination for shoppers looking for high-end fashion and luxury products with brands like Gucci, Prada, Burberry, Louis Vuitton, and Chanel, among others, offering a customised and unique shopping experience. It takes inspiration from European architecture and inculcates the essence of the chain perfectly in its interiors.
Book your stay at Shaza Doha via Booking.com
With so much to do and even more to soak in, in Doha, one is spoilt for choices with its impeccable tourist spots, shopping options, and of course, the landscape that you will surely fixate on. The tall buildings render a futuristic touch to the city and justify the name that Doha has as one of the most rapidly growing cities in the world.
Doha also boasts a vibrant culinary scene, with a range of restaurants serving everything from traditional Qatari dishes to international cuisine. We would highly recommend Jamavar Doha if you ever start missing home. Indulge in some scrumptious Dal Makhani and Butter Chicken and do not skip the crispy jalebis at the end of a soul-stirring meal.
In conclusion, Doha's culture is a fascinating blend of tradition and modernity, with a strong emphasis on hospitality, religion, and the arts.
Main and Feature Image Credit: Florian Wehde/Unsplash
This story first appeared here
Related: World's Oldest Pearl Town Discovered In The UAE
Written By