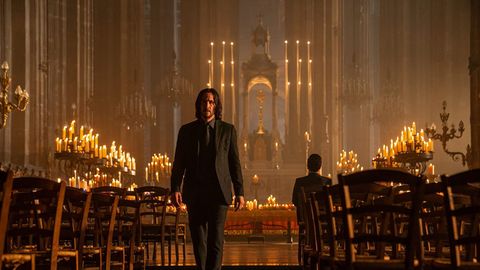 Directed by Chad Stahelski, a John Wick film always shines at the Box Office whenever a new chapter is released. Same as Chapters 1, 2 and 3, the fourth instalment has also received critical and fan acclaim for its crowd-pleasing screenplay and theatrical backdrops. What also caught our eye are the locations John Wick: Chapter 4 takes us to. They give us an insight into the magic created by the film's production designer – Kevin Kavanaugh.
The film starring Keanu Reeves, Bill Skarsgård, Ian McShane, Donnie Yen, Lance Reddick and Laurence Fishburne, among others, has left fans enthralled since its release on March 24, 2023. Those who have already watched the previous films are well acquainted with the gripping chase each sequence throws light on. And, this is where the diverse locations play a critical role in delivering as many sceneries and set-ups as required. A detailed guide to John Wick: Chapter 4 shooting locations
Jump To / Table of Contents Frequently Asked Questions (FAQs)
Question: Was John Wick: Chapter 4 shot in Paris?
Answer: John Wick: Chapter 4 was shot in some parts of Paris. The locations were Arc De Triomphe, Sacré-Cœur Church, Eiffel Tower, and The Louvre.
Question: Which city was John Wick: Chapter 4 filmed in?
Answer: John Wick: Chapter 4 was filmed in New York, Jersey city, Osaka, Berlin, Tokyo, and Paris.
Written By