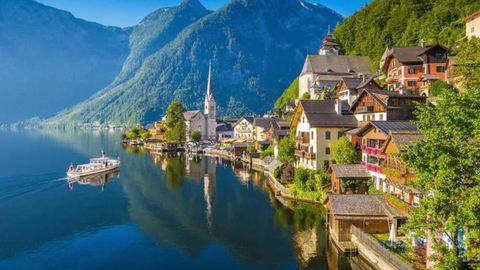 The phrase "an embarrassment of riches" could have easily been invented to describe the litany of lovely places in Europe. Spread across the continent — and sometimes in quite close proximity — are myriad colourful small towns, stately chateaux, Roman ruins, ecclesiastical buildings, medieval castles, shimmering lagoons, and secluded beaches.
While it's not hard to stumble upon (or seek out) a photogenic destination, defining the most beautiful places in Europe is a bit more difficult because there are just so many. If you're keen on picking a spot with endless photography potential, read about some beautiful places in Europe.
Beyond the tourist trail: explore the 25 most beautiful places in Europe
Villa Rufolo, Ravello, Italy Of all the dreamy Amalfi Coast towns to visit, Ravello continues to spark travel fantasies, music, and art like no other — and Villa Rufolo plays a major role in that. This resplendent maritime residence hypnotises visitors with its cliff-clinging gardens, a unique combination of architectural styles, and panoramas of the Tyrrhenian Sea.
Egremni Beach, Lefkada, Greece A remote slice of paradise on the Greek island of Lefkada, Egremni Beach boasts some of the bluest water in the world. It's the contrast of the turquoise sea against bright white sand that makes it so gorgeous. Despite being hard to reach (read: it requires hiking down 350 steep steps), the sheer beauty of this Ionian idyll couldn't keep it off the tourist map entirely.
Pena Palace, Sintra, Portugal Perched atop a rocky peak in the Sintra Mountains, Pena Palace draws heaps of tourists who flock to the 19th-century castle to snap photos of its candy-coloured facade and soak in the wide-ranging views. The surrounding 200-hectare park gives off secret garden vibes, with walking paths shaded by exotic trees, lakes, and ponds.
Our Lady of the Rocks, Montenegro Driving along the road that wraps around the Bay of Kotor provides many scenic delights — none more deserving of pulling over to stare at than Our Lady of the Rocks, an artificial island off the coast of Perast that's made of rocks and dominated by the 17th-century Roman Catholic church.
Bruges, Belgium On rare occasions, a destination is so beautiful that putting down your camera for even a second means missing a photo op. Bruges falls into that category. The storybook capital of West Flanders resembles a movie set with canals, cobbled lanes, and prominent medieval buildings — including the symbolic Belfry of Bruges.
Abbaye Notre-Dame de Sénanque, Gordes, France The Luberon region of Provence is famed for its fragrant lavender fields. Rows of this purple plant perfume the air — and create a striking visual — outside Abbaye Notre-Dame de Sénanque, a splendid example of a Cistercian monastery that hosts guided tours of the church and cloisters.
São Miguel, Azores Nicknamed the "Hawaii of Europe," São Miguel — the volcanic main island in the Azores archipelago, an autonomous region of Portugal that's smack-dab in the middle of the Atlantic Ocean — has breathtaking beaches, valleys teeming with lush vegetation, crater lakes, dramatic peaks, and surreal steam-emitting fumaroles.
Keukenhof, Lisse, Netherlands Widely regarded as the most beautiful springtime garden in the world, Keukenhof, located about 30 minutes outside of Amsterdam, comprises 32 hectares of colourful flower bulbs — including tulips, hyacinths, daffodils, orchids, roses, carnations, irises, and lilies — that erupt in a kaleidoscopic and aromatic display between late March and mid-May.
Château de Chambord, Loire Valley, France Château de Chambord is one of the most recognisable and magnificent crown jewels of the Loire Valley. Constructed by King Francois I in 1519, this massive royal refuge has impressed countless nobles, foreign dignitaries, and tourists over the years with its French Renaissance architecture — particularly the elaborate roofline and interior double-spiral staircase — ornamental moat, and 13,000-acre grounds.
Plitvice Lakes National Park, Croatia The search for the bluest water in the world takes travellers to many photogenic places, including Croatia's famous Plitvice Lakes National Park. Situated halfway between Zagreb and Zadar, this natural wonderland wows more than one million visitors each year with its crystalline lakes, waterfalls, caves, and lush forests.
Colosseum, Rome, Italy Classical architecture lovers would undoubtedly include the Colosseum on any list of the most beautiful places in Europe. Built under the Flavian emperors, it's the largest ancient amphitheatre ever constructed, seating 50,000 spectators. The fact that modern travellers can still witness something this emblematic and enduring is nothing short of remarkable.
Lapland, Finland The Arctic Circle runs through Lapland, a real-life winter wonderland with snow-dusted scenery. Beyond the landscape that looks like it was touched by Elsa, it's what's in the sky that makes it so wonderful. Travellers journeying to this rugged, remote region of Finland between September and March have the chance to peep at the prismatic northern lights.
San Fruttuoso, Italy Wedged between Portofino Regional Natural Park and the sparkling sea, San Fruttuoso is a postcard-perfect hidden gem on the Italian Riviera with a sheltered pebbled beach, a Benedictine monastery, a few cute restaurants serving freshly caught Ligurian fare, and hiking trails that meander into the forested hillside.
Isle of Skye, Scotland Steeped in mythical allure, the windswept, 50-mile-long (80.46 km) Isle of Skye overflows with mist-shrouded lochs, craggy peaks, heather moorland, pristine beaches, and fairy-tale castles. All of this and more put the largest of the Inner Hebrides in the running for the most beautiful place in Scotland — and make it a favourite filming location for epic adventure quests.
Seljalandsfoss, Iceland Among the most spellbinding natural wonders in Iceland, Seljalandsfoss (which you might recognise from Justin Bieber's music video "I'll Show You") plunges nearly 200 feet from the edge of a steep cliff. The best vantage point for gawking at this awe-inspiring waterfall? The small cave behind the curtain of spray.
La Sagrada Familia, Barcelona, Spain Designed by celebrated Catalan architect Antoni Gaudí, La Sagrada Familia — the largest unfinished Catholic church in the world — doesn't need to be completed to dazzle. People line up for hours outside this Barcelona landmark just to gain entrance. Of course, you don't have to go inside to admire the flying buttresses, twisted towers, and larger-than-life carvings of religious figures.
Neuschwanstein Castle, Schwangau, Germany Neuschwanstein Castle belongs in a Disney movie. Teetering on a forest-covered hilltop, this staggering 19th-century palace shows off towers, turrets, frescoes, and a grand throne room. It's imposing, but also somehow peaceful — which was the intention of King Ludwig II of Bavaria, who commissioned the palatial project as his personal retreat.
Geirangerfjord, Norway One of Norway's most popular and picturesque attractions, UNESCO-protected Geirangerfjord inspires with its deep, blue water ringed by sky-grazing snow-capped peaks, gushing waterfalls, and green vegetation. Needless to say, forgetting your camera would be a big mistake.
Walls of Dubrovnik, Croatia A must-do activity on any trip to the Pearl of the Adriatic, walking along the iconic walls of Dubrovnik gives visitors an unparalleled perspective of its protective forts, bastions, and towers, plus the distinctive red roof tiles (known as kupe kanalice), blue sea, and nearby islands.
Hallstatt, Austria Set on the western shore of Hallstätter See, Hallstatt has 16th-century alpine architecture, quaint cafes, scenic trails, a funicular to an ancient salt mine, and sapphire water that reflects all the aforementioned loveliness. While these elements are undeniably alluring in their own right, it's the combination that makes this Austrian village so utterly irresistible.
Grand-Place, Brussels, Belgium It's worth navigating the selfie-stick-wielding tourists that crowd in the middle of the Grand-Place to stare up in wide-eyed wonder at the grandeur of its landmarks — notably the Brabantine Gothic-style Town Hall (guided tour of the interior is possible), the neoclassical Maison des Ducs de Brabant, and the opulent Maison du Roi.
Ushguli, Georgia It's hard to put into words the wonder of seeing Ushguli up close. Hidden in the Caucasus Mountains at an elevation of roughly 7,000 feet, the highest continuously inhabited destination in Europe is a place where time stands still as ancient Svanetian watchtowers, jagged peaks, old stone houses, and grazing livestock await visitors who venture to this community that was virtually cut off from the rest of the world for millennia.
Nyhavn, Copenhagen, Denmark Obviously, 17th-century Nyhavn was built way before social media became a thing. However, Copenhagen's glorious waterfront district, which runs from Kongens Nytorv to the harbour, does look tailor-made for Instagram, with colourful townhouses and boats bobbing in the canals.
Blue Lagoon, Iceland A popular Iceland attraction — and perhaps the most stunning spa on the planet — the Blue Lagoon is filled with nine million litres of geothermal turquoise water. Visitors can soak and slather on silica-rich mud while gazing at the volcanic lava fields.
Rakotzbrücke, Kromlau, Germany Rakotzbrücke proves that sometimes it really is worth taking the road less travelled. Despite appearing to be the work of some mythical woodland creatures, this arched masonry bridge was constructed by humans in medieval times. (However, rumours still swirl that dark forces had a hand in things.)
(Hero and feature image credit: bluejayphoto/Getty Images)
This story first appeared on www.travelandleisure.com
Related: 29 Most Beautiful Places In Italy
Written By