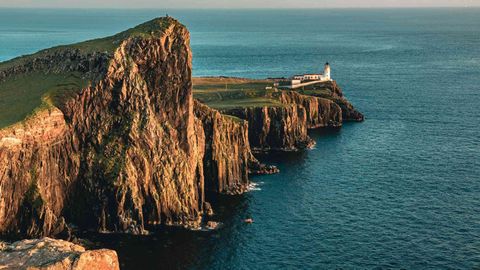 If you're planning a trip to Scotland, there's a good chance your to-do list is already extensive. Walking the picturesque streets of Edinburgh, heading to the Highlands, buying a tartan accessory or two, and attending a whisky tasting are likely strong contenders.
If that's the case, you're not alone. "Many visitors come to Scotland for a week for their first visit trying to see it all, and end up realising that it's a country of many contrasts," says Katy Fennema, whisky ambassador for The Fife Arms, a boutique five-star hotel in Braemar. "The wise ones then plan their second, third, and fourth trips at a more leisurely pace."
To help curate your itinerary — whether it's for your initial visit or one of the slower-paced return trips — we tapped a few of the country's most knowledgeable residents, Fennema included, for their best tips. Read on to discover the 25 best things to do in Scotland.
The best things to do in Scotland
Explore the Hebrides An archipelago off the west coast of Scotland, the Hebrides are made of 40 islands and numerous islets, all divided into the Inner and Outer Hebrides. "The Gulf Stream dominates here, allowing palm trees (somewhat incongruously) to grow in Scotland and plants from South America to thrive. It's not unusual to discover a white-sand beach all to yourself, and whether the weather is tropical or otherwise, I defy anyone to not fall in love with this special part of Scotland," says Fennema.
Play a round or two at the "home of golf" The game of golf goes back 600 years, with its origins in St. Andrews, a seaside town in northwest Scotland. St Andrews Links has seven public courses, including the "oldest course in the world," aptly named Old Course.
Eat Scottish tablet "If you are travelling to Scotland, you must try the traditional Scottish tablet, which is a centuries-old recipe. Historians believe that the first tablet recipe was recorded in 1700, and it's still a much-loved and enjoyed sweet treat," says David Musk, head concierge at The Balmoral, one of Edinburgh's top hotels. It's a bit like fudge, but grainier and more brittle; Musk recommends this recipe if you want to make it yourself.
Book your stay at The Balmoral Hotel via Booking.com
Book your stay at The Balmoral Hotel via Agoda.com
Look out for the northern lights When the right conditions are met — no clouds, increased solar activity, and limited pollution — there's a chance you'll see the northern lights in Scotland. Aim to visit between September through March, and head north to the places best known for their vantage points: the Shetland Islands, the Outer Hebrides, and the Isle of Skye.
Hike up a hill "Our remote glens, or valleys, are best viewed from above. It's here that you can really appreciate their remoteness and extraordinary beauty," says Fennema. For a casual hike, she suggests Ben Lomond; more adventurous explorers can try Bealach na Bà, "a formidable single-track road through the mountains on the Applecross Peninsula that gives wonderful views from a car or bike (if you're feeling brave!)."
Walk the Royal Mile in Edinburgh One of the best ways to see Edinburgh's Old Town is to walk the Royal Mile, a cobblestoned stretch connecting Edinburgh Castle and the Palace of Holyroodhouse. Along the way, you'll find shops, pubs, restaurants, cafes, and various attractions, including The Scotch Whisky Experience, which Musk recommends. "Visitors can take a tour of the virtual distillery and learn about the distilling process, then discover the art of whisky blending in a guided sensory presentation," he says.
Eat a Scottish breakfast "Different from an English, Welsh, or Irish Breakfast, a Scottish Breakfast, or 'fry up,' serves up two different Scottish delicacies, haggis and black pudding. And, not forgetting the important addition of a potato, or tattie, scone or two, and a Lorne, or square, sausage," says Lucy Paul, marketing executive at the National Trust for Scotland.
Cosy up by a fireplace at one of Scotland's best hotels After a chilly day trekking through the rugged Scottish landscape, there's nothing better than settling down by a roaring fire with a warm drink in hand. Guests at Gleneagles, a five-star hotel renowned for its country pursuits, can sip fireside cocktails at The American Bar, and those staying at The Fife Arms can enjoy a whisky in the Drawing Room.
Book your stay at The Gleneagles Hotel via Booking.com
Book your stay at The Gleneagles Hotel via Agoda.com
Attend the Highland games For hundreds of years, Highland games have been an important part of Scottish culture. The tradition continues today, with sports like tug of war, the hammer throw, and the caber toss — as well as dancing, music, parades, and food — populating the schedule. Highland games take place across the country from May through September, but the Braemar Gathering is one of the most well-known, as it's regularly attended by the Royal Family.
Visit a castle "Scotland is renowned across the world for its beautiful castles, and with hundreds to visit, it can be difficult to decide where to go," says Musk. He recommends taking a guided tour of Edinburgh Castle, which he describes as "an icon of Scotland," driving out to Eilean Donan Castle, "one of the most photographed castles in the country," and stopping at Fyvie Castle, an 800-year-old fortress "filled with legends, folklore, and even many ghost stories."
Ski in the Cairngorms In the colder months, winter sports take centre stage at Cairngorm Mountain. Located in Cairngorms National Park, the ski area has 30 km of runs and 12 surface lifts. The mountain is known to accommodate skiers of all levels, from first-timers to experts.
Taste a few whiskies One thing's for sure: There's plenty of whisky in Scotland. You'll have your pick of distilleries to visit as you explore each region of the country. Glenfiddich Distillery is one of the most famous, The Glenmorangie Distillery Co has the tallest stills in Scotland, and Royal Lochnagar Distillery is just a mile (1.6 km) from the Royal Family's Scottish castle, Balmoral. For a more intimate experience, try Bertie's Whisky Bar at The Fife Arms. The extensive collection — over 400 whiskies — is arranged by flavour profile, from light to dark. "Our tastings include four whiskies, one from each flavour profile, and are a great route to experience the breadth of flavours from Scotland's (inter)national drink," says Fennema.
Shop the best travel experiences here
Step back in time at the Highland Folk Museum The title of Britain's first open-air museum goes to the Highland Folk Museum, which showcases life in the Highlands from the 1700s to the 1950s. Open from April through October, the museum's 35 historical buildings and live actors demonstrate how people worked, lived, and spent their free time in the past.
Take a day trip to Glasgow The largest city in Scotland, Glasgow is known for its art and diverse architecture, but its people are also an important part of the experience; Fennema notes that "Glaswegian hospitality is legendary. "You arrive as a stranger, and leave as a friend." While there, Paul recommends visiting the Tenement House, an "authentic time capsule of life." "Open the door to early 20th-century Glasgow life and discover quirky items, including a ball of soap, turned jet black from years of handling, and a jar of plum jam made in 1929," she says.
Book your stay at Kimpton - Blythswood Square Hotel, an IHG Hotel via Booking.com
Try haggis, the national dish of Scotland Haggis is made of the liver, lungs, and heart of a sheep, beef or mutton suet, oatmeal, onion, and spices. It's boiled in a bag — although, traditionally, it's a bag made from the animal's stomach. Don't let that scare you off, though; depending on how it's cooked, haggis is peppery and almost sausage-like. "For the less intrepid, and those who don't eat meat, vegetarian haggis is a delicious alternative and a firm favourite in our omnivorous household," says Fennema.
Get into the holiday spirit at the Edinburgh Winter Festival The beginning of the holiday season also marks the opening of the Edinburgh Winter Festival. From late November to early January, the city hosts a variety of festivities and Christmas markets. Head to Princes Street Gardens for a true holiday wonderland; the traditional Christmas market is filled with vendors offering mulled wine, sausages, gifts, and more.
Drive to the village of Glencoe "No description can recreate the impact of seeing Glencoe for the first time. It has long been one of the most loved places in Scotland," says Paul. Located in the Scottish Highlands, it's an amazing spot for hillwalking, mountaineering, and waterfall spotting. "It's known equally for its awe-inspiring views and sorrowful past – it is a place of history, wildlife, adventure, and myth. The mountains were formed through violent volcanic eruptions and then sculpted by massive glaciers. Also, don't miss the reconstruction of a 300-year-old turf and creel house," says Paul.
Ride the Jacobite steam train Harry Potter enthusiasts will immediately recognise the arches of the Glenfinnan Viaduct as part of the Hogwarts Express route in the movies. While you can visit the iconic site by foot, you can also ride the Jacobite Steam Train across the viaduct; the 84-mile (135.18 km) round trip starts in Fort William and ends in Mallaig.
Take a dip in one of Scotland's many lochs Scotland boasts thousands of freshwater lochs, many of which welcome wild swimming. The gorgeous Loch Lomond serves as a gateway to the Highlands and the Lowlands, Loch Duntelchaig is great for snorkeling, and there are lots of hotels, inns, and vacation rentals around Loch Awe. "Loch Awe is filled with history and culture and… [it] supports an enormous and diverse range of wildlife including golden eagles, ospreys, and pine marten," says Musk.
Walk the West Highland Way You're guaranteed to get your steps in along the 96-mile (154.49 km) West Highland Way, one of the best walking paths in the United Kingdom. The route is typically completed from South to North — Milngavie to Fort William — and the terrain gets trickier the further you go.
Immerse yourself in the Edinburgh Art Festival
Every year, the UK's largest annual festival of visual arts, the Edinburgh Art Festival, comes to Scotland. During the month of August, the festival hosts exhibitions, projects, and events across the city and features both established artists as well as up-and-comers.
Tour Culloden Battlefield Those interested in Scottish history will have no shortage of things to do and see around the country. "If you want to experience the site of one of Scotland's most famous battles, this is a must-see in the Highlands, especially if you are a fan of Outlander. A powerfully emotive and atmospheric place, the battlefield is where the 1745 Jacobite Rising came to a tragic end – and you can discover the true story in the museum," says Paul.
Come aboard the Royal Yacht Britannia in Edinburgh "The Royal Yacht Britannia is a must-visit tourist attraction in Edinburgh," says Musk. Five decks on Her Majesty Queen Elizabeth II's former floating palace are open to visitors, who can explore the engine room, the crew's quarters, and the state apartments, among others. Pre-booking tickets is highly recommended.
Drive the North Coast 500 The only way to truly immerse yourself in Scotland's breathtaking scenery is to circumnavigate the 516 miles (830.42 km) of the North Coast 500. There are a variety of exact itineraries to use as inspiration, but for the most part, you'll need between seven and nine days to complete the circuit.
Celebrate Hogmanay on December 31 Hogmanay festivities occur across the country as Scottish residents and visitors say goodbye to the past year and ring in the new one. Edinburgh is particularly known for its celebrations, with fireworks, concerts, parades, and parties marking the occasion.
Hero and featured image credit: Gavin Guan/Getty Images
This story first appeared on travelandleisure.com
Related: 20 Best Things To Do In Amsterdam, From Classic Art Museums To Hidden Speakeasies
Written By