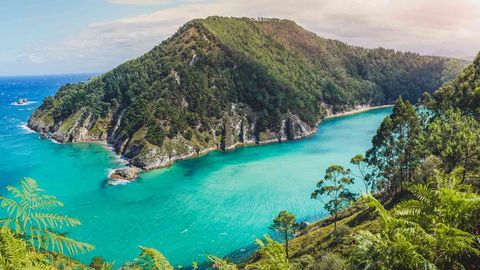 Dreaming of the warm sand between your toes, azure waters, and that sweet smell of sunscreen? Then it's time to head to Europe and visit one of Spain's best beaches. If you need some help figuring out exactly where to go next — Spain does, after all, have nearly 5,000 miles (8,046 km) of coastline — we've got you covered.
Here are 10 of the best beaches in Spain for your next European getaway
Playa de Ondarreta, San Sebastián Find a quieter stretch of shoreline in San Sebastián with a visit to Playa de Ondarreta. This lesser-visited beach in the region is an ideal spot for families or those simply wanting to take a relaxing snooze on the sand or catch up on a good book. The less-than-a-mile-long stretch is also well-equipped with changing rooms, bathrooms, and umbrellas for rent.
Book your stay at Radisson Collection Bilbao via Booking.com
Es Pujols, Formentera Find gloriously clear blue waters at Es Pujols, a seaside village located on the north coast of the island of Formentera. It's a well-known destination, so expect plenty of other guests, as well as lots of services, including glamorous hotels and delicious restaurants by the shore. If you come in the summer, make sure to visit its lively flea market for the perfect souvenir.
Caló des Moro, Mallorca Find a tiny slice of paradise on the island of Mallorca at Caló des Moro. This beach measures just 131 feet long and is a bit hard to find, plus you must get down a steep set of stairs. But if you can, and you're willing, it's a divine spot to spend a day away from the tourist crowds.
Playa de Mónsul, Almería Explore more of the mainland's beaches with a visit to Playa de Mónsul, located in Cabo de Gata Natural Park. The beach is well-known thanks to its appearances on TV and in films like "Indiana Jones." Plus, its unique lava-formed rocks make for gorgeous photos, and it's easily accessible by car or public transport.
Lumebó Cove, Galicia Lumebó Cove is perhaps one of the more special beaches on this list, as you must time your visit perfectly to see it. That's because the cove is only accessible during low tide. But its soft sand and serene landscape make it worth the wait. (It's also worth noting this is a popular spot for nudists, so make sure you're comfortable with that.)
Book your stay at Hotel Colón Gran Meliá via Booking.com
Playa del Inglés, Canary Islands Head to the islands for one more fantasy beach day at Playa del Inglés. This beach is popular, but it's also large, at nearly two miles (3.2 km) long, making it entirely possible to find a section all to yourself, even in the high season. There are plenty of amenities here, including bathrooms and changing rooms, as well as fun activities such as beach volleyball.
Playa de Pechón, Cantabria Make your way to northern Spain to Playa de Pechón. This beach comes with turquoise waters set off by lush greenery all around. Though the beach itself is highly accessible, and a place where you can easily spend an entire day, a visit to its cliffside for what appears to be a never-ending view of the jagged shoreline is well worth it.
Puerto Banús, Marbella Get a taste of the luxe life with a visit to Puerto Banús, a high-end marina in Marbella. Here, visitors can not only check out some impressive yachts, but can also lounge at the nearby beach, home to delicious restaurants, golden umbrellas, and soft, warm sand.
Book your stay at Ohla Eixample via Booking.com
Cala sa Boadella, Lloret de Mar Make your way slightly north of Barcelona to Cala sa Boadella, an unspoiled paradise that's another favourite for nudists, though the fully clothed are welcome, too. This beach is not accessible by car, so you must be willing and able to walk a bit to reach it. Those who make the journey will be rewarded with fewer crowds and clear waters.
Llafranc, Costa Brava Llafranc isn't just one beach, but rather an entire small town in Costa Brava. That said, the community is located along the shore, and its most famous asset is indeed its beaches. Known for its family-friendly atmosphere and calm waters, it's the ideal place to visit with little ones. There are also plenty of local restaurants next to the beach and a lengthy promenade for a seaside stroll.
Portinatx, Ibiza No list of beaches in Spain would be complete without mention of the beautiful sandy stretches on the island of Ibiza. And Portinatx happens to be one of the best. The golden sand and gin-clear waters make it a prime place to spend a day. There are also lots of amenities here, including loungers and umbrellas available for rent, which you'll want on those super-sunny island days.
Book your stay at Barefoot Hotel Mallorca via Booking.com
(Main and Feature Image Credit: Estanis Banuelos/Getty Images)
This story first appeared on www.travelandleisure.com
Related: Have An Exciting Time Exploring These 5 Underrated Beaches In Malaysia
Written By