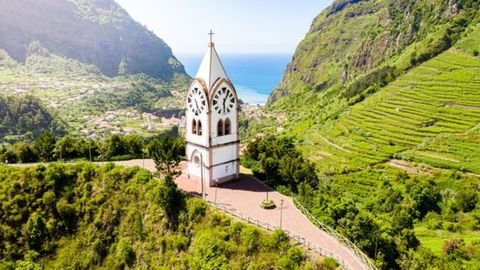 France and Spain have long taken centre stage, with Portugal, and all the beautiful places it is home to, becoming a less-visited destination for in-the-know travellers. The tides are slowly turning and the small Iberian nation is, at long last, enjoying its well-deserved moment in the sun. The drawback to this increased attention? More tourists.
Though it's not like contending with a few crowds is going to put anyone off seeing Pena Palace or Jerónimos Monastery. And, of course, there are countless beautiful places to visit in Portugal, from the Azores and Madeira to the sun-splashed Algarve and even popular cities like Lisbon and Porto. This is to say that despite its relatively diminutive size, Portugal offers a treasure trove of natural, historical, and cultural wonders.
Beautiful places in Portugal that are worth your time!
Cabo da Roca The westernmost point in continental Europe, Cabo da Roca exudes a wild, edge-of-the-Earth mystique. Waves crash against the rocks, tourists standing atop sheer cliffs stare out at nothing but blue to the horizon, and a historic lighthouse guides boats sailing along the rugged coast.
Book your stay via Booking.com
Lagoa das Sete Cidades The majesty of São Miguel never ceases to amaze. Topping the list for many travellers visiting the volcanic main island in the Azores archipelago are the famous and impossibly photogenic twin crater lakes, Lagoa Azul ("blue lagoon") and Lagoa Verde ("green lagoon").
Book your stay via Booking.com
Pena palace One of the most beautiful places in Europe, Pena Palace is a hilltop Romanticist castle and the crown jewel of Sintra. Its candy-coloured facade and sweeping terraces draw shutter-happy tourists from near and far. The stately interiors are filled with antiques, while the surrounding park provides tree-shaded pathways.
Book your stay via Booking.com
Levadas da Madeira The Levadas da Madeira is a system of historic irrigation canals built across the island to carry water from the high-altitude slopes to sugar cane fields, farmlands, and cities. Hiking trails that run along the waterways give travellers a close-up look at the UNESCO-listed laurel forests.
Book your stay via Booking.com
Jerónimos monastery One of the most-visited landmarks in Lisbon and a UNESCO World Heritage Site, the late Gothic Manueline-style Jerónimos Monastery stands tall as an enduring symbol of power dating back to the Age of Discovery. The block-long complex continues to impress with its magnificent maritime details, cloisters, and tombs.
Book your stay via Booking.com
Algar de Benagil This fantastical seaside cave that's reachable by boat doesn't even look real. Sun beams in through the hole on the top, bathing the enclosed beach in light, and turquoise waters lap the sand.
Book your stay via Booking.com
Clérigos church Clérigos Church is a must-see on any trip to Porto. While the artefacts and organ concerts certainly wow, both are overshadowed by the iconic 75-meter-tall bell tower, which visitors can climb for 360-degree views of the city (and a serious workout).
Book your stay via Booking.com
Book your stay via Booking.com
Nazaré Nazaré lures fearless surfers and attracts many curious tourists thanks to the larger-than-life swells that were the subject of the documentary "100 Foot Wave." The huge breaks mean you're likely not going to paddle out, but it's worth the drive to see the enormous waves crash into the rocks and grab lunch at one of the local restaurants.
Vila Franca Islet Located off the coast of São Miguel, the Vila Franca Islet looks otherworldly from above and just as pretty up close. The circular saltwater lagoon, which was formed by the crater of an ancient volcano, is ringed by lush vegetation. In the summer, it's popular for swimming, snorkelling, birdwatching, and cliff diving (if you dare).
Book your stay via Booking.com
Comporta Situated about an hour from Lisbon, Comporta is a low-key fishing village turned in-the-know summer hotspot with cork trees, rice fields, and blissful beaches. During the warmer months, it's well worth vying for a spot on the brilliant white sand of Praia Comporta.
Book your stay via Booking.com
Douro valley The oldest demarcated wine region in the world and the birthplace of port, Douro Valley wows viticulture enthusiasts and casual sippers. A mix of rolling vineyards, historic quintas, boat rides along its namesake river, and excellent restaurants means there's plenty to appreciate besides incredible pours.
Book your stay via Booking.com
Peneda-Gerês national park Set in northern Portugal near the Spanish border, Peneda-Gerês National Park spans yellow-tinged hills, granite peaks, high-flowing streams, mixed forests, and Roman relics. Native wildlife — including the Pyrenean desman, Iberian frog, and Barrosã cattle — also call this protected land home.
Book your stay via Booking.com
Cachalote natural swimming pools The north coast of Madeira brims with beautiful spots to take a dip, none more iconic than Cachalote Natural Swimming Pools. The Mother Nature-made lagoons off the shore of Porto Moniz were formed by volcanic rocks and filled with the tides of the Atlantic Ocean.
Book your stay via Booking.com
Poço da Alagoinha Majestic waterfalls are one of the many enticements of the Azores. Poço da Alagoinha on the island of Flores is a stunning example with multiple cascades that gush from lush, vegetation-covered cliffs down to a pristine lagoon.
Parque Natural da Arrábida Parque Natural da Arrábida shows off many of Portugal's best assets. Fine sand beaches fade into blue waters, towering cliffs rise from the sea, verdant vegetation covers the mountain peaks, and scenic hiking trails wind through the spellbinding scenery.
Azenhas do Mar Of all the charming coastal towns in Portugal, Azenhas do Mar deserves special mention. Small in size, with just 800 inhabitants, whitewashed houses, and commanding sea views, it's a postcard-worthy setting to sip local wine, savour regional seafood dishes, and swim in the natural rock pool.
Book your stay via Booking.com
Castelo de Guimarães Mystery and legend still swirl around Castelo de Guimarães. A major presence in Portuguese history, the castle was built under the orders of Mumadona Dias in the 10th century to serve as a place of refuge from and protection against attacks perpetrated by Vikings and Moors.
Book your stay via Booking.com
Sagres Sagres sits on a windswept headland at the western tip of southern Portugal. Sunny skies, dramatic sea cliffs, and uncrowded beaches make this tiny fishing village deserving of a detour. It's also a surfer's paradise that provides plenty of both beginner-friendly breaks and expert-level barrels.
Book your stay via Booking.com
Quinta do Barbusano Tucked away in the mountains on the north side of Madeira, Quinta do Barbusano invites visitors to savour the flavours of the island with wine tastings and traditional espetada (beef skewer) meals overlooking the São Vicente Valley. It's also possible to do a short hike to the nearby Nossa Senhora Fátima Chapel for even more breathtaking vistas.
Livraria Lello Livraria Lello shows off opulent staircases, an ornate stained-glass ceiling, and towering shelves packed with tomes. Harry Potter fans might notice a connection between the magical interiors of the historic bookstore and some Hogwarts scenes. It's widely known that J.K. Rowling frequented the shop during her time in Porto.
Book your stay via Booking.com
(Hero and feature image credit: Roberto Moiola/Sysaworld/Getty Images)
This story first appeared on travelandleisure.com
Related: 25 Most Beautiful Places In Europe — From Colourful Small Towns To Secret Beaches
Written By