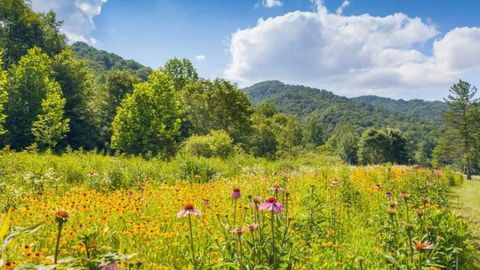 Spring has officially sprung in the Great Smoky Mountains. Specifically, it's found its way to the hidden valley of Cades Cove, Tennessee.
The valley, located in the picturesque Great Smoky Mountains National Park, spans 4,000 acres across rolling hills and oak-pine forests. Each spring, those fields are consumed by wildflowers stretching on for as far as the eye can see, save for the odd sighting of a white-tailed deer and even a rambling black bear making their way through. But, equally important as the blooms are Cades Cove's history as Cherokee land. In fact, its name comes from the Cherokee leader, Chief Kade.
This is why you should plan a trip to this national park in the Spring season
Black-eyed Susans are the main draw for travellers making their way to Cades Cove every year, each hoping to see that blanket of golden blooms.
Though travellers can find a whopping 1,500 flowering plants inside the national park — more than in any other American national park — black-eyed Susans remain the draw to Cades Cove. According to the National Park Service, the best time to try and see them is May through August, giving you plenty of time to catch a glimpse. Here's how to plan a trip right now.
How to get to Cades cove Getting to the isolated mountain meadow of Cades Cove is surprisingly simple. An approximately 11-mile (17.70 km) one-way loop road surrounds the valley. A self-guided tour booklet is offered at the road's entrance for travellers seeking a little assistance. Exploring the entire area takes about two to four hours, depending on how many stops you make. And seeing it all is rather inexpensive, as it costs just USD 5 (MYR 22) for a daily parking tag at Great Smoky Mountains National Park.
The road contains plenty of pull-outs so drivers can stop and safely take in sights of those black-eyed Susan blooms, and there are trails to venture off on for the more adventurous travellers. No matter which way you decide to see them, it's important to remember that respecting the blooms while visiting is essential. That means sticking to the designated trails and paths, never picking flowers, and, if you can, trying to visit during off-peak hours. This helps with congestion in the park and will help you get a better viewing experience.
Important note: Cades Cove does not allow vehicles to enter the road on Wednesdays, so travellers can experience the area on foot or with a bike. And truly, touring the wildflower blooms atop a bike could make for an even more unique experience. Even horseback riding through Cades Cove Riding Stables is an option to soak in the wild side of the Smoky Mountains.
Have a picnic at Cades Cove You'll likely work up an appetite after venturing through the meadows of Cades Cove. At the gateway to the valley, there's a picnic area offering 81 sites between Abrams Creek and Green Branch Creek.
The picnic site is open all year round, every day starting at sunrise. It closes at 8 pm from late April to early September and sunset on other dates. The site also provides charcoal grills to smoke some delicious eats. Pro tip: If you are travelling with anyone with a Tennessee or North Carolina fishing license, you can also make a fishing trip out of the day.
Remember, many Black bears live in the area, so be mindful. Promptly dispose of garbage in the bear-proof trash cans; if you see a bear, do not approach it.
Where to stay near Cades Cove
Under Canvas Great Smoky Mountains sits just an hour's drive from Cades Cove and offers a unique accommodation choice. It's nestled in its own 82 acres of lush, wooded terrain. This camp is perfect for those looking for the ultimate glamping experience, and over the summer months, is a place where you not only can you find plenty of wildflowers but thousands of glittering lightning bugs at night, too. Each tent offers luxe, souped-up king-size beds with plush linens and even ensuite bathrooms with hot showers. And, after a long day of taking in the black-eyed Susan, you'll appreciate the opportunity to unwind with its variety of locally sourced culinary dishes and nightly fire pits.
Book your stay at Under Canvas Great Smoky Mountains via Booking.com
(Hero and feature image credit: Getty Images)
This story first appeared on travelandleisure.com
Related: This National Park At The 'End Of The World' Has Glaciers, Tundra And A Stunning Coastline
Written By