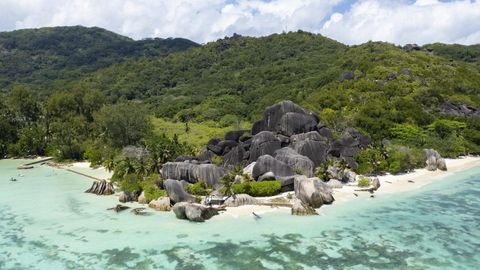 If you're looking for an itinerary that elevates the romance and keeps the adventure alive or want to make your big day even better, we know the perfect place for you and your partner to indulge in.
Seychelles Islands is the new honeymooners and couples' paradise that is known as the legendary site of the original Garden of Eden. Owing to its great culture, and adventure, love is always in the air in Seychelles. With its magical tropical climate, the islands are a magnet for honeymooners especially, who desire pristine surroundings, privacy, and proximity to the most romantic of backdrops. The sun, sand and seas will elevate your experience to make your getaway enchanting.
From infinity pools overlooking the ocean, private dining on the water's edge to oceanfront spa sanctuary villas with steam rooms and unlimited treatments, the Seychelles islands have the seal of approval for the lovers' destination, all year round.
While we know we've tempted you enough with the picture we've painted for you, Seychelles also caters to the adventurous side of your wanderlust. While enjoying the picturesque landscape and relaxing in the lap of luxury, you can also indulge in activities that will elevate your experience of the island life.
Here are some exquisite activities you and your partner can try out together during your stay in Seychelles:
Underwater Experience
Taking off on an underwater adventure in the deep blue sea can be a sensorial experience. The island is home to numerous, colourful marine life and venturing into great depths of Seychelles' waters can open your eyes to a breath-taking ecosystem. Glass bottom boats and semi-submarines are another option to gaze at the incomparable variety of fishes and corals in a relaxed setting.
Local Cuisine
Seychelles has a rich culinary background, stemming from Indian, Chinese and African origin. Seychelles being a melting point means that the nation's flavour palette is packed with tantalising spices, vibrant colours and fragrant aromas. Trendy restaurants are lining the island's coasts, combining gourmet creole food and a picturesque view. It is highly recommended that couples indulge in the delights of creole gastronomy: mouth-watering banana la daube to satiate your sweet tooth, and smoky grilled fish to truly experience the local delicacies.
Beach Picnic
What's more romantic than having an intimate picnic on an award-winning beach with your loved one? All that is required is the basics: towels, snacks, and the beach! Every inch of the island shore has a spectacular view, so you never have to worry about any shortages in picnic spots. Up the ante by renting a luxury picnic, personalised solely for you and your significant other. Idyllic for honeymooners, luxury picnic takes all responsibilities off your hands and lets you be completely immersed in an exclusive experience.
Spa and Retreat Day
Add a pinch of relaxation to your stay with a much-needed day at the spa! A holistic holiday is just what the doctor ordered, and plenty of packages offer a deluxe pampering session to allow couples to unwind. Most hotels offer couples massages catered to everyone's needs, ranging from rejuvenating facials to a full body massage infused with local herbs and fruits. Seychelles is deeply rooted with its flora and fauna, making the island's vibrations restorative qualities even more intense.
Adventure Time
Adrenaline junkies unite! There's always more to uncover in the island so why not zip-line through the luscious green forest canopy? The island is synonymous with tranquillity, however, couples prone to adventuring can see Seychelles as their haven. The windy season is perfect for adventure enthusiasts looking to kitesurf whilst overlooking a scenic backdrop, and even horse riding is available to add a fairy tale ambience to daring honeymooners.
Sunset on the beach
Wrap the end of your day with a bow by watching the sunset together. The north is ideal for beholding the sky switching from a brilliant turquoise to a fiery amber. Nothing is more romantic than blissfully taking a light stroll on the beach. Stargazing is also on the table for couples looking to cuddle over a clear, diamond-speckled sky.
Book your stay in Seychelles at these resorts
Some more resorts in Seychelles
This story first appeared here
Related: Discover Palawan: Considered As One of The Best Islands in The World
Written By