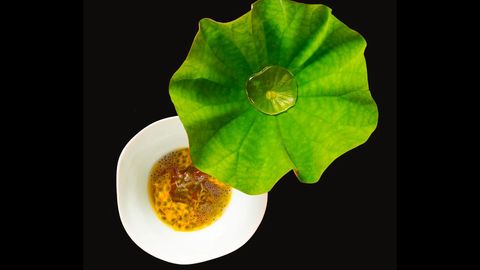 Chefs met to celebrate their peers at the first in-person Awards in Asia since 2019. T+L was there live in Bangkok.
LOVE IT OR HATE IT, the Asia's 50 Best Restaurant Awards have become a benchmark for fine dining. Since 2013, the listing (expanded last year to include 51-100 slots to capture more diversity of taste and geography) has positioned the restaurants rated by some 350 chefs, restaurateurs and food experts as the top of the pack. For or against, foodies worth their gourmet Himalayan pink salt are bound to have an opinion about the choices, the voters, the restaurants, the chefs and of course the food.
Because of restrictions, the annual culinary get-together, usually a mix of parties, gossip and gargantuan meals, hadn't been held in person since 2019. The announcements in 2020 and 2021 were stilted online affairs. This year however, the organizers of 50 Best came up with a novel format: they unveiled the list with a simultaneous broadcast shown to live audiences and award recipients in Macau, Tokyo and Bangkok. Before the show, the chefs who had traveled to Bangkok caught up on the dining scene. One of the most sought-after tables was Sorn, which holds two Michelin stars from Supaksorn Jongsiri, known to all as Chef Ice. The restaurant is acclaimed for its carefully sourced ingredients and storytelling flavors from the south of Thailand.
Booked-out dinners were also held at Nusara and Le Du, both helmed by chef Thitid "Ton" Tassanakajohn. The former showcases heritage recipes inspired by the chef's grandmother; the latter won the title of best restaurant in Thailand in 2021.
Many chefs also sought an audience with be-goggled Jay Fai, the queen of Bangkok street food, to sample her celebrated rolled crab omelette. Rumors before the event abounded that a 50 Best red scarf might grace her diminutive shoulders.
So it was with high spirits and full bellies that the Asia's 50 Best attendees came together in the Apsara Theatre of the Pullman King Power in this optimistic 2022. The highly anticipated Bangkok ceremony was preceded by 50 Best Talks featuring an interview with Chef Ice of Sorn, who admitted to having the jitters. "I've never been on stage before, only in the kitchen," he laughed nervously before he went on. He needn't have worried. He spoke articulately about deriving inspiration from his ingredients that cry out "Fry me, make me crispy! Grill me, make me smoky. Or take me as I am and eat me raw." He likened his ingredients not to pieces of a jigsaw puzzle that fit only one way, but to Legos you build with. "It just clicks," he said.

Then Chudaree "Tam" Debhakam of Baan Tepa also in Bangkok (No. 86 on this year's extended list), Johanne Siy of Lolla in Singapore (No. 75) Peter Cuong Franklin of Anan in Saigon (No. 65) also discussed the creative process in their kitchens.

Chefs in attendance were visibly happy to be there. "It's wonderful to travel again and meet face to face with friends and colleagues from around Asia," said Franklin, while Labyrinth's chef LG Han chimed in, " It's a reunion for the whole industry."

As the announcement approached, the most popular game in the room was guessing who would be No. 1. The name of one popular Thai chef was tipped to top the list, but who would the 50 Best voters actually pick?

[gallery ids="30647,30650"]

This year the 50 Best list included 16 new entries out of 50, injecting a lot of new blood into the proceedings, including the crowd's favorite Jay Fai, making an appearance at 46.

There were other individual prizes as well. The One to Watch Award that recognizes a rising star on the culinary scene went to Eat & Cook in Kuala Lumpur (No. 81). Natsuko Shoji is the first chef from Japan to receive the Asia's Best Female Chef Award, for Ete (No. 42). The rarefied temple cooking of Jeong Kwan, the Buddhist nun who is a champion of Korean cuisine and recipient of the Icon Award for Asia's 50 Best Asia 2022, has won her respect and admiration from around the globe. She discusses the roots of her exquisite vegan food and being at one with her ingredients in an interview with T+L here.
Maira Yeo of Cloudstreet in Singapore (No. 44) was named Asia's best pastry chef. The Sustainable Restaurant Award went to Mume in Taipei (No. 54). The highest climber, Ode in Tokyo, jumped 14 spots to reach No. 13. The suspense was palpable as the countdown reached the top 10: Bangkok's Nusara at No. 10; Neighborhood in Hong Kong at 9, with chef David Lai winning the the Chef's Choice Award; Odette, Best in Singapore taking lucky No. 8, as well as the Art of Hospitality Award; nouveau German favorite Suhring, again Bangkok, at No. 7; Osaka coming in with La Cime at the 6 spot; The Chairman, last year's No. 1, Best in China, taking 5th place; Le Du in Bangkok at No. 4, giving chef Ton two spots in the top 10, a unique achievement. And Florilege in Tokyo grasped No. 3.
And then came Sorn, Best in Thailand at No. 2, with a clearly emotional chef Ice accepting the trophy. And finally came the name of the long-awaited top slot of Asia's 50 Best Restaurants for 2022: Den in Tokyo — already Best Restaurant in Japan every year since 2018, ranking second or third overall for the previous four editions. It wasn't a surprise, but it was still a moment.
An elated chef Zaiyu Hasegawa embraced his friends and gave a deep formal bow when the announcement was made. When asked about the secret of his unique brand of Japanese food immediately after the ceremony, he answered , "I just want to cook a good dinner and I want my guests to have fun." He added that his hope is for his chef friends to return to Japan soon, and that he'll be able to travel out of the country to see them as well.
Asia's 50 Best Restaurants 2022
[gallery ids="30632"]

6
—
La Cime
Osaka, Japan

[gallery ids="30635"]

10
—
Nusara
Bangkok, Thailand

11. Sazenka (Tokyo, Japan)

12. Fu He Hui (Shanghai, China)

13. Ode (Tokyo, Japan)

14. Villa Aida (Wakayama, Japan)

15. Narisawa (Tokyo, Japan)

16. Mingles (Seoul, South Korea)

17. Sézanne (Tokyo, Japan)

18. Joo Ok (Seoul, South Korea)

19. Ensue (Shenzhen, China)

20. Meta (Singapore)

21. Masque (Mumbai, India)

22. Indian Accent (New Delhi, India)

23. Les Amis (Singapore)

24. Caprice (Hong Kong)

25. Blue by Alain Ducasse (Bangkok, Thailand)

26. 7th Door (Seoul, South Korea)

27. Mosu (Seoul, South Korea)

28. Da Vittorio (Shanghai, China)

29. Sushi Masato (Bangkok, Thailand)

30. Onjium (Seoul, South Korea)

31. Samrub Samrub Thai (Bangkok, Thailand)

32. Mono (Hong Kong)

33. Gaa (Bangkok, Thailand)

34. Wing (Hong Kong)

35. Ministry of Crab (Colombo, Sri Lanka)

36. La Maison de la Nature Goh (Fukuoka, Japan)

37. Zén (Singapore)

38. Logy (Taipei, Taiwan)

39. Ultraviolet by Paul Pairet (Shanghai, China)

40. Labyrinth (Singapore)

41. Burnt Ends (Singapore)

42. Été (Tokyo, Japan)

43. Cenci (Kyoto, Japan)

44. Cloudstreet (Singapore)

45. JL Studio (Taichung, Taiwan)

46. Raan Jay Fai (Bangkok, Thailand)

47. Wing Lei Palace (Macau)

48. 8 1/2 Otto e Mezzo Bombana (Hong Kong)

49. Megu (New Delhi, India)

50. Dewakan (Kuala Lumpur, Malaysia)

[gallery ids="30648,30651"]
---
Sourced by 50 Best (William Reed Business Media)
Written By