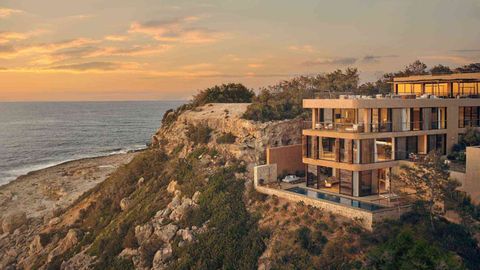 Jack Ezon has planned some wild weddings during his 22 years in the travel business. The founder of Embark Beyond and a member of T+L's Travel Advisory Board, Ezon has arranged seven-figure celebrations around the world. Take the event in Puglia, Italy, where he set up a fireworks show to keep the paparazzi from photographing guests from the air. Or the time he chartered a Boeing 737 to fly floral arrangements from Holland to a wedding in Anguilla. He once sent an advance team to build a one-night-only, Mykonos-style beach club on a private island in the Caribbean so guests could dance until sunrise without having to turn the music down.
But these days, even this wrangler of the seemingly impossible is feeling a bit breathless. "It's been insane this year," says Ezon of the latest asks from couples and their families. "Budgets are up almost 70 percent, and not just because of inflation. People are done with at-home anything. They want to party — and party big."
Here's why couples are going all out for their destination weddings
It's a shift that's being felt across the wedding industry, not to mention at hotels and venues worldwide.
"There are no expenses spared for weddings these days," agrees Kara Bebell of the Travel Siblings. She and her brother, Harlan deBell, are wedding experts on T+L's A-List of travel advisors. "All the couples who had to delay their weddings and honeymoons four or five times," Bebell says, "they're coming back into travel full force by splurging on exclusive experiences, better hotels, more exotic trips, and resort takeovers." Properties in California's wine country, for example, are seeing a surge in business, whether it's the Montage Healdsburg, the Four Seasons Resort & Residences Napa Valley, or the new Stanly Ranch, Auberge Resorts Collection. But with demand — and a willingness to splash out — so strong, many couples are looking farther afield.
Europe is one go-to, says Josh Alexander, an A-List advisor with Protravel International who specialises in weddings and honeymoons. "International events are huge, but particularly in European destinations — in part, because the euro is so weak that it offers great value," he says.
Portugal has been particularly hot, advisors say. Resorts such as Areias do Seixo, just outside Lisbon, or Six Senses Douro Valley, in wine country, are among a number of luxury offerings that have the space and amenities to host lavish events. Ibiza is another destination rising in popularity for Americans, says Bebell, who likes the newly opened Six Senses on the Spanish island: "Who doesn't want a suite with ample indoor and outdoor space and views of Xarraca Bay?" Italy is another favourite, Ezon says. "I'm very excited about the new Passalacqua, overlooking Lake Como, from the owners of the Grand Hotel Tremezzo," he notes. "Lake Como is probably our number one wedding destination this year, though Florence is still the best city to host any celebration, thanks to its astounding array of event venues." (Florence, by the way, ranked fourth among global cities in T+L's World's Best Awards this year.)
Some couples are skipping the hotel and tapping into maritime tradition aboard brand-new cruise ships. "On Celebrity Beyond, you can have your wedding officiated by Captain Kate McCue, the first American woman to helm a major cruise ship," Bebell says. Booking an event at sea means logistics like flowers, food, and entertainment get handled by the pros, while the couple and their guests get to enjoy not only a celebration but also a weeklong Caribbean or Mediterranean sail.
In fact, the idea of turning a wedding weekend into an all-out group vacation is one that's becoming increasingly popular.
"Couples are now curating their wedding with a whole list of to-dos, whether that's organised parties or cultural excursions," says Emily Forrest, director of communications for the wedding website Zola. "If a couple is having a wedding in Sonoma, for example, they will take it upon themselves to organise all the wine tastings for everybody — to treat their guests to a full event." At the Andaz Maui at Wailea Resort, more couples are putting together elaborate itineraries for guests who make the trip, says event sales manager Alexis Hurey. "Most are looking at the entire experience — not just the wedding."
It's a trend Ezon also sees with his clients, who are spending whatever it takes to pull off something amazing. "They want to do what they want, when they want, and the way they want it — and more than four out of five of our celebrations are now buyouts," meaning one party reserves an entire resort. It could be a wedding at Southall, an inn and farm slated to open this winter near Nashville, or an even more over-the-top event at the Brando, the private-island escape in French Polynesia.
"Weddings aren't just about the wedding anymore," Forrest says. "They're about spending time together."
This story first appeared on www.travelandleisure.com
Main and Feature Image Credit: Samantha Falewée and Paul Brady
Related: Make Your Dream Wedding In Thailand A Reality At Anantara Riverside Bangkok Resort
Written By