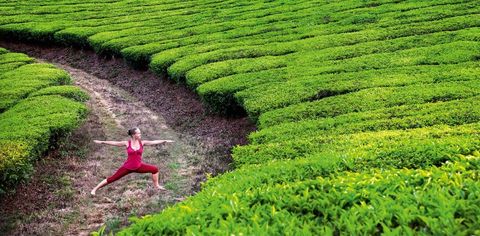 Lesser-known Yoga Retreats In India — practise yoga in the lap of nature, detox with Ayurvedic massages, and sign up for personalised diet plans at these wellness retreats in India for the nourishment of your mind, body, and soul. By Bayar Jain
Lesser-known Yoga Retreats In India Spread over 30 acres of an organic farm, SOUKYA is a residential medical institute that offers curative and customised treatments for over 100 medical conditions. Every room comes with a private garden to soothe the senses. The institute also has an exclusive medicinal garden with over 300 healing herbs and plants. Apart from integrative medicine, including Ayurveda, panchakarma, homeopathy, naturopathy, and yoga, the retreat offers activities such as birdwatching, cooking demonstrations, and musical programmes for the holistic rejuvenation of its guests. Hinterland Village is spread over seven acres of land with more than 50 avian species thriving in its lush bamboo thickets. With cottages that blend the old and the new, this yoga centre is designed to promote holistic healing in its truest form. A typical yoga package includes personalised Ayurvedic doctor consultations, massages, steam baths, guided meditations, and hatha yoga practice. One can also opt for cooking classes that employ organically grown produce. Bhakti Kutir has 22 rustic cabanas that allow the surrounding greens to merge with the indoors, allowing one to easily slip into tranquillity. The Kailas Ayurveda Centre here relies on time- honoured Ayurvedic treatments to help one achieve a healthy body and mind. For those looking to unwind with yoga, this wellness retreat offers regular workshops paired with healthy meals. Imagine waking up to birdsong with a view of spice plantations. Kaivalyam Wellness Retreat in Munnar juxtaposes luxury with sustainability and helps one rediscover oneself. The typical routine begins with a herbal detox drink and agnihotra (fire rituals), followed by an ashtanga and hatha yoga session at a semi-covered patio overlooking tea estate-draped hills. Personalised packages include Ayurvedic treatments, hiking, and sightseeing. Guests can also stroll in the surrounding forest with the in-house birdwatcher and spot myriad species of winged wonders. Replete with rustic mud huts and meditation caves, Veda5 Wellness has a plethora of packages on offer for patrons. While the Panchakarma Package follows a five-step Ayurvedic procedure to purify the body, the Yoga & Ayurveda Package decreases stress, relieves anxiety, and aids weight loss. The picturesque abode also offers a Signature Immunity-Boosting Package designed to promote overall health and well-being. Nestled under palm groves on Mandrem Beach, Ashiyana Goa is a nurturing sanctuary away from the hustle-bustle of city life. This resort pays homage to Goa's colonial architectural heritage with a variety of rooms: Indonesian-style eco- lodges, chic en-suite huts, and majestic Shahi suites. One can practise yoga at Ashiyana in many ways—through a yoga holiday with flexible routines, by training with renowned teachers, participating in one-on-one classes, or attending wellness workshops. The Juice Detox programme is ideal to kick-start weight loss and revitalise one's energy levels. A dreamy ambience welcomes you at Shathayu Ayurveda Yoga Retreat, courtesy of the hills on three sides and a serene lake on the fourth. Within the property are more than 20 rooms, a yoga hall, an amphitheatre, and medicinal gardens. The yoga retreat offers Ayurvedic treatments for various ailments, such as asthma, PCOS, migraine, diabetes, and osteoarthritis, along with wellness packages crafted specially for women and the elderly, and for the purposes of weight management, spinal care, and de-addiction.
Spread over 125 acres of a former coffee estate, The IBNII in Coorg is a serene place to immerse oneself in traditional yoga. Flanked by cobbled pathways, each villa is designed for absolute privacy. The wellness packages allow one to surrender to nature. Take the five-night-long Naadi Package, for instance. Guaranteeing complete relaxation, this package includes spa sessions; customised diets; wellness consultations; activities like nature walks, fishing, and gardening; and guided yoga, meditation and pranayama to master self-awareness.
Related: Top 5 Reasons To Visit A Yoga Retreat, Especially After A Pandemic
Written By