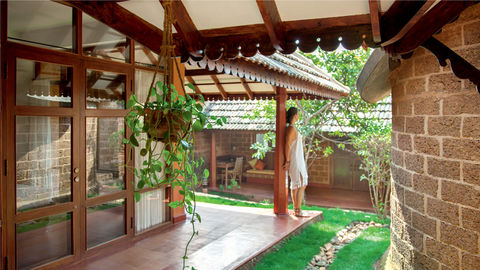 It's incredibly thrilling to be part of a big, fat Indian wedding, but it's sure to leave you completely knackered. Reinvigorate yourself by checking into these wellness retreats to soothe your body and soul. By Divya Behl and Vikas Plakko With its ethos of proximity to nature, infusion of local culture, and responsible tourism, CGH Earth's SwaSwara property is an ideal wellness retreat.
►Located on the verdant cliffs around Om Beach in Gokarna, SwaSwara features a host of wellness treatments that include ayurveda, community giving, yoga, and more. The resort's signature five-day Swa Wellbeing programme is curated to have a transformative effect on not just your body, but on your soul.
►SwaSwara's tranquil and earthy villas feature open, healing spaces within the confines of their walls. A private courtyard, a garden of medicinal plants, and open- sky bathrooms keep you close to nature at all times. The yoga deck on the second floor offers a stunning view of the ocean and the horizon, creating a hushed setting for your practice.
NAMASTE RETREATS SwaSwara aims to be more than a spa, or an ashram. Its objective
is to become a sanctuary for an individual's innermost self. The destination offers a
life plan, from 5–21 nights, for mind-body 'reconstruction'. And the time to book this plan is now! In the heart of the frenzied capital city lies an oasis of calm—the riveting ITC Maurya hotel. For Delhites and out-of-towners alike, the luxury property's focus on wellness is a boon from heaven.
►Kaya Kalp Spa at ITC Maurya offers an eclectic mix of spa and massage rituals
from ancient India and the West. Opt for the revitalising mud wrap treatment, the 60-minute Shirodhara ayurveda therapy, or the signature full body massage.
►Take a quick, refreshing dip in the large, outdoor pool, then order some mocktails, and bask under the sun—the easist way to de-stress. If you end up more tanned than you like, the experienced beauty staff of Salon Di Wills will make sure your skin is at its glowing best.
A GASTRONOMICAL RETREAT While at ITC Maurya, make sure you visit the hotel's iconic restaurants that have been serving distinguished guests, including the heads of state from the US and Russia, for years. From the delicious Sikandri Raan at Bukhara to the Dudiya Kabab at Dum Pukht, gourmands are in for a treat There are very few things a spa cannot heal, let alone a wedding hangover. The serene waters of Bambolim Bay in North Goa are home to the Portuguese-inspired Grand Hyatt, which features the award- winning Shamana Spa.
►Awarded the Best Spa Interiors multiple times, Shamana offers relaxing massages of 60–90 minutes, specifically catering to a body made sore from much dancing and merriment. We recommend the Moon & Stars treatment, a soothing Swedish massage enhanced by the company of the starry sky.
►There's no need to fret about leaving your children alone while you rejuvenate at a spa. At Shamana, they can choose from a host of child-friendly packages, including the special Chocolate Craziness massage and mask.
AN ALL-INCLUSIVE DEALIf the lengthy wedding planning and coordination has left you exhausted, book the seven-day wellness package that includes yoga sessions, a customised fitness schedule, and healthy spa cuisine. Moreover, your spa butler will plan special activities designed to leave you totally refreshed. If the cacophony of noises from the DJ night, the sangeet, or even the crowded reception continues to reverberate in your ear, whisk yourself away to the jungle at Namah's plush resort in Jim Corbett National Park.
►Channel the healing properties of the forest by heading out on a guided nature walk through the lush greenery. Or, hire a jeep for a safari deep into the jungle to spot the famed Bengal Tiger. In either case, the quiet of the surrounding forest is intensely soothing.
►Indulge in a full-body relaxation therapy at the resort's spa, with only the calls of squawking birds for company. And when in the mood, catch one of the many outdoor yoga sessions, amidst and under gently swaying trees.
WEEKEND BONANZAOpt for the lavish long-weekend package, which includes accommodation, discounts on spa, and free access to the pool and gym. Nestled amidst the pristine Siswan forest range, Oberoi's new property in Chandigarh promises a cathartic spa experience, certain to press the refresh button in your aching body.
►Situated on the foothills of the outer Himalayas, the retreat is flanked by 8,000 acres of lush greenery. The tranquil, light-filled spa offers everything—from a Turkish hammam and ayurvedic treatments, to a Roman tepidarium. The unique aroma massage with attars is exceptionally soothing.
►The resort also presents a range of wellness programmes—couples' spa retreats, nature therapies that include moon and forest bathing, 1–21-day relaxation programmes, ayurvedic weight management plans, and so on. Whatever your choice, the end result is one of profound calm.
SANCTUARY FOR SOULMATES For couples seeking a romantic weekend, there are few better places than the Sukhvilas. Soak in a whirlpool for two, and enjoy some wine and delectable treats by the candlelight, or dine under the starry sky while savouring champagne and canapés beside a picturesque poolside setting. Sitting pretty near the heart of India's spiritual capital of Rishikesh, this award-winning property is built on a 100-acre palace estate within the Sal forest range. Tailor-made for its concept of holistic living, it wraps you in well-deserved luxury.
►The exclusive wellness retreat is renowned for its extensive range of packages, ranging from a five- day detox starter, a seven-day renew and cleansing programme, a 7–21-day dhyana meditation plan, a selection of 7–14-day stress and weight management therapies, and many more.
►The 25,000-square-feet Ananda Spa offers more than 80 body and beauty treatments! Integrating traditional Indian practices such as ayurveda and yoga with the best of international experiences, each treatment is carried out by qualified experts from across the globe.
LEARNING THE TRADE Based on your interests, time your visit with one of
the many special workshops conducted by visiting masters. From a facial reflexology workshop led by Dien Chan, to a crystal-healing session by Bindu Maira, the year's calendar is packed with opportunities to get more out of your break Few places combine luxury and wellness the way Kerala does, and Grand Hyatt's opulent property on Bolgatty Island in Kochi, overlooking the pristine Lake Vembanad, is the ideal choice to whisk away to after an Indian wedding.
►Age-old ayurvedic and Western therapies aimed at holistic healing and rejuvenation blend to create a custom experience for the weary at the Santata Spa. Opt for the Arabian sea salt ritual or the Spice Symphony massage for a one-of-a-kind fusion therapy.
►A yoga studio to ensure your body feels refreshed and toned, an outdoor pool with poolside cabanas to bathe in the sun, a meditative view of the lake from every suite, and a modern fitness studio are just some of the resort's many features that make it the optimal getaway for some special indulgence.
BLISSFULL DAYS The property's specially curated experiences ensure you enjoy your spa holiday doing things you like. Ride a tuk-tuk through the streets, learn the art of prawn fishing, or take a canoe ride through the scenic backwaters, the choice is all yours! This iconic 50-year old property oozes class and offers exceptional service. If the wedding festivities have worn you out, be sure to spend a few days at this haven for much-needed rejuvenation.
►Check into a suite and make multiple trips to the Aura Spa—you'll be spoilt for choice with the traditional and signature massages on offer. The exotic dalim scrub and mineral mud body wrap are sure to revive your skin's radiance.
►With seven therapy rooms, a state-of-the-art gymnasium, butler services, and a range of wellness activities to keep you away from the digital world, you'll have no choice but to unwind and relax.
READY TO BE PAMPERED Reserve the Presidential Suite and you won't have to lift a finger to access any amenity! With an in-room Jacuzzi, private butler service, high-tech communication devices, private dining options, the only time you'll have step out is to get a massage.
Written By