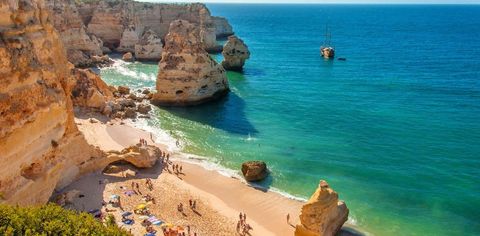 Jump into the healing waters of Portugal and let the magical power of thalassotherapy wash over you. By Sudipto De The ocean has always drawn humans to itself. Despite the threat of the pandemic, people around the world flocked to beaches for generous doses of Vitamin Sea. What makes these cerulean waters so alluring? Philosophers and ancient Greek and Roman healers have probed the matter for ages.
In fact, humankind has used the natural qualities of the sea to cure ailments since time immemorial. The negative ions in the sea air and sea spray are said to alleviate respiratory disorders and reduce stress, while mud packs and sand baths have been employed by many to improve skin health. Although the use of seawater in treatments, broadly called thalassotherapy, was done by ancient civilisations—the Greeks, Romans, and Egyptians used seawater baths and marine mud packs—the term itself was not coined until 1865 when Dr Joseph La Bonnardière established the first clinic in France. Today, Portugal has embraced this therapy in myriad ways. "When one aims to benefit from the therapeutic properties of seawater, there's no better place to do so than Portugal and its seven regions," says Claudia Matias, country head (India) for Visit Portugal. The trace elements in the area, including magnesium, iodine, lithium, zinc, and copper, help you rejuvenate when combined with the right water, air, and marine extracts, she adds.
ALGARVE A three-hour drive from the capital, Lisbon, takes you to Portugal's southernmost region, Algarve. Start your adventure from atop Monchique, a small hill from where you can see Algarve spreading out amid a maze of telephone towers. Picture an expanse of lush greenery dotted with multi-coloured rooftops and orange groves and framed by the azure blue waters of the Atlantic. For the first round of thalassotherapy, head to Vilalara Thalassa Resort in Porches. The resort is 11 hectares of seaside gardens perched on a cliff overlooking the ocean. The low-rise sand-hued buildings here have muted interiors that allow the sea's bright blue to seep in through the cottage windows and dictate terms. There is a wide range of treatments at the Vilalara Longevity Thalassa & Medical Spa.
For instance, you can get thoroughly invigorated in the Bubble Bath, a mix of warm seawater enriched with soluble seaweed and essential oils and bubbling with turbulence that helps to tone the lymphatic system and fight cellulite in a relaxing way. Before you jump in, though, it is important to undergo medical testing and consult a physician. Blood tests for essential elements and heavy metals and a bio-physical exam, which reveals your metabolic age and fat-versus-muscle ratio, help chalk out the lifestyle changes that you must make to prevent health issues in the future.
It's not just the waters that heal. There's also a Seaweed Therapy that involves applying thin layers of heated seaweed on the skin. This allows for vasodilation, and algal components facilitate detoxification and slimming. While the Magnesium and Calcium Therapy uses heated elements to decrease stress and alleviate joint stiffness, Marine Mud creates a sedative effect that is great for healing joint pain, rheumatism, and arthritis. A unique therapy called Anti-Smoking Thalassotherapy is said to help you kick the habit.
Plan a three-day-long Thalassa break and combine these treatments into a wellness vacation. Or opt for the five-day-long Longevity Wellness Booster package, replete with Turkish baths, aqua Pilates, mindfulness sessions and more.
ALBUFEIRA One of the most prominent coastal cities in Algarve is Albufeira, where the beaches are as diverse as they are pristine. While some are studded with caves and arches, others are bare strips of glistening golden sand.
One of these can be conveniently accessed from the Grande Real Santa Eulalia Resort & Hotel Spa. Here, the Thalassotherapy Circuit at the Real Spa Therapy awaits. The circuit involves a sequence of treatments starting at the Counter-Current Corridor, which activates venous circulation and tones tissues. This is followed by a whirlpool where four jets massage the body. Then, fan and swan neck jets tone and relax the cervical and dorsal muscles, and the individual hydromassage jacuzzi does the same to the lumbar region. The fifth step features a collective aerobath, where air bubbles invigorate and tone the capillary, vascular, and lymphatic wall. This is followed by a session on hydromassage beds, which is said to alleviate rheumatic issues and improve cellular oxygenation; a collective whirlpool that provides relief from stress; and finally, a session on aerobath benches, which focus their soothing bubbles on your legs and lumbar regions.
CASCAIS The intense circuit at Albufeira should be followed by a caper in Cascais, a summer resort situated just 30 kilometres from Lisbon. With balmy winds coming in from the Atlantic, it is easy to get immersed in the slow life of this erstwhile fishing town. Apart from unique revitalising therapies, Cascais offers the chance to sample some famous delicacies. There's Areias de Cascais (cookies sprinkled with sugar); travesseiros (pastries stuffed with sweet egg cream); and queijadas(well-toasted cheesy cream on a crispy crust).
After you've had your fill, head to Grande Real Villa Itália Hotel & Spa. This seaside hotel, done up in contemporary blue overtones, is the perfect place to take you back in time. The Real Spa Therapy here features a two-day Revitalisation and Relaxation package that starts with the Thalassa Therapy Circuit, followed by a detoxifying treatment done using redcurrant extracts. Next is a relaxing hydromassage with chamomile and a jet shower to round up day one. The following day starts with a Vichy shower using rosemary, followed by a moisturising massage using lavender cream to smoothen skin and leave it glowing.
NAZARÉ A 90-minute drive along the coast will take you from Cascais to Nazaré. For centuries, the people of Nazaré feared the ocean for its 10-storey-high waves, until extreme surfers showed up. This put the nondescript fishing village on the global tourism map. But hot seawater baths had existed in Nazaré long before the tourist throngs arrived on its shores.
Located on the seafront, Thalasso Nazaré offers a magnificent view of the crystal-clear ocean water. You can soak in the relaxing vibe at the circuit here or indulge in a hydromassage with micro-fragmented algae powder driven sequentially through jets to different parts of the body to boost circulation.
GETTING THERE The Humberto Delgado Airport in Lisbon is well-connected to major Indian cities. Rent a car to navigate through the different towns.
Written By