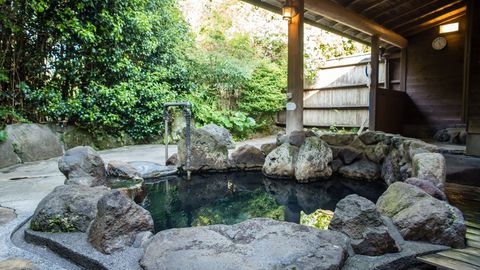 Japan is a country synonymous with technology and innovation, but it is also deep-rooted in its culture and traditions. Almost everything follows a ritual — from drinking tea to eating and even bathing. And when it comes to bathing, Japanese onsens are a must-visit if some R&R is on your agenda. But, before booking your slot, read through our pocket guide to onsens and the etiquette to follow there.
With roots in the eighth century, onsens find reference in the Kojiki or the oldest Japanese texts. Legend has it that after coming back from the underworld, Izanagi, the mythical deity, cleaned himself using hot water. This act of cleansing is said to have birthed the first onsen, emblematic of purification and spiritual rejuvenation.
What is an onsen? The Japanese term onsen translates to 'hot spring' and refers to a natural bath with geothermally heated spring water. An onsen's water should have at least one of the 19 specific chemicals that spring water comprises naturally, and it should have a temperature of 25°C.
According to the Nippon Onsen Research Institute, there are about 3000 onsens across Japan.
Some of the places that are known for onsens or can be called 'onsen towns' are Kusatsu (Gunma Prefecture), Hakone (Kanagawa Prefecture), Kurokawa (Oita Prefecture) and Noboribetsu (Hokkaido Prefecture).
Types of Onsen There are two major types of onsens — roten-buro (outdoor baths) and noten-buro (indoor baths) and these can be either independent or a part of Japanese inns (ryokan), lavish resorts and luxury hotels.
People often confuse an onsen with a sento but there's a difference. Sentos are indoor public bathhouses which have a supply of normally heated water unlike a supply of natural spring water with minerals in onsens.
Significance of an onsen
Japanese onsens are places for relaxation and meditation. Owing to the presence of natural minerals in the onsen water, it has numerous health benefits. And, as the whole experience is supposed to be therapeutic and healing, these bathhouses follow a specific set of implicit rules or etiquettes which travellers must know before visiting. Whether an onsen is nestled in the mountains amid picturesque surroundings, is part of a resort or is inside a traditional rokyan located in a quaint and tranquil Japanese village, you must follow certain mannerisms there. However, those choosing to go for a private onsen adjacent to their room can get leeway in the set of rules.
Book your stay at Mizno Hotel on Booking.com
Book your stay at Mizno Hotel on Agoda
Onsen etiquettes to keep in mind before visiting
Take a full-fledged shower before entering the water
One of the first and foremost rules of an onsen is taking a proper bath using soap and shampoo, and cleaning yourself well. According to Japanese customs, a person should be absolutely clean before entering the shared space filled with hot spring water.
Go for the dip without clothes/swimsuits
This may be slightly intimidating for some as they might not be used to social or public bathing places, but it's a non-negotiable rule as clothes are considered dirty. You may choose not to go if uncomfortable or book a private session.
Don't dip your towel in the water
As mentioned previously, clothes are considered unclean and because of this, visitors are not even allowed to dip their towels in the water. But they can carry a small one to cover their sensitive body parts and keep it on their head while partially inside the water. Always be in a neck-deep position
Don't submerge yourself completely in the water as it must be kept free from hair strands or mouth bacteria. This must be followed even if you have just shampooed your hair.
Tie your hair properly
Visitors must keep their hair tied to avoid filling the bathing space with hair strands, shampoo lather or any other residue on the hair.
No tattoos, please
Tattoo lovers, be alert. Visitors with very prominent tattoos may not be allowed to enter the water. However, some onsens may let those who have very small tattoos or those who have covered them with skin-coloured tapes. Alternatively, you can either choose a private session, visit the public space after everyone has left or book a room with a personal onsen. The good news is that some places such as Shima Onsen Kashiwaya Ryokan are tattoo-friendly.
Avoid being too loud or chatty
Onsens may be public places where people can indulge in light socialisation with friends or family but they should keep the voice low and talk comparatively less as it is solely meant for relaxation and peace of mind.
No phones inside
Visitors aren't allowed to carry their phones to the shower space before entering the bath as clicking pictures is strictly prohibited. They can keep their phone with other belongings in the locker room.
Book your stay at Hyatt Regency Hakone Resort and Spa on Booking.com
Book your stay at Hyatt Regency Hakone Resort and Spa on Agoda
No alcohol or other beverages
If you are planning to unwind with a glass of wine while you are in the water, you should know that it isn't possible in a public bath. However, this may not be the case inside a personal one. Also, it is to be noted that owing to the water's temperature, people who are intoxicated should not soak themselves.
No running/swimming People should not run or walk fast inside the changing rooms as the floor is slippery. Additionally, swimming should also be avoided even if the tub is spacious as that's not the purpose.
Don't carry fragile items
Carrying glass, sharp or breakable things inside the locker room or tub is a big no to ensure safety.
Be aware and relax
Always be careful of the surroundings and be sure not to make others uncomfortable. Focus on relaxation more than anything else. Some onsens in Japan even have dedicated spaces to relax after the bath.
Book your stay at Shuhokaku Kogetsu on Booking.com
Book your stay at Shuhokaku Kogetsu Agoda
(Hero and featured image credit: Wan Cheuk Nang/Shutterstock)
Shop the best travel experiences here
Related: This Gorgeous Japanese Inn Is An Off-The-Grid Paradise; With No Electricity, Wi-Fi Or Phone Service
Frequently Asked Questions (FAQs)
Question: How is an onsen different from a regular hot spring?
Answer: Although an onsen consists of geothermally heated water like a hot spring, it should have a specific temperature and certain minerals to qualify as an onsen.
Question: What are the benefits of visiting an onsen?
Answer: Relaxing in an onsen is therapeutic and has many health benefits. It helps in reducing stress and improves sleep.
Question: What can I expect at an onsen?
Answer: You can expect people following certain specific rules in an onsen and good sleep after a session.
Question: Are there any rules or etiquette to follow at an onsen?
Answer: Yes, there are some etiquettes which must be maintained in an onsen. For instance, taking a shower before entering the water and making less noise.
Question: Can anyone visit an onsen?
Answer: Yes, anyone who meets the criteria can visit an onsen.
Question: What should I bring when I visit an onsen?
Answer: You can bring a small towel when you visit an onsen.
Question: Can I wear a swimsuit in an onsen?
Answer: No, clothes aren't allowed in a public onsen. However, you can wear a swimsuit in a private onsen but ideally you should not wear anything for maximum effects.
Question: Can tourists visit an onsen?
Answer: Yes, anyone who adheres to the rules of an onsen can visit.
Written By