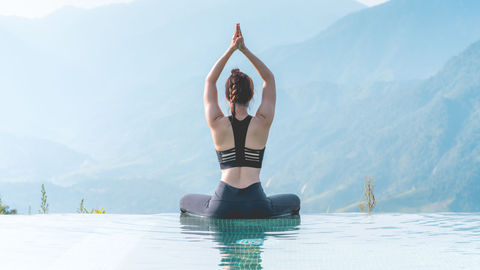 Amidst the urban whirlwind, seeking refuge at tranquil beachfront resorts offers a fleeting respite. However, envision a retreat that rejuvenates and paves a holistic path, building resilience against burnout and stress. This is where the remarkable impact of yoga retreats truly stands out. For those looking for such an enriching experience amidst mesmerising coastlines and lush mountains, a yoga retreat in Vietnam is the answer.
The yoga movement has gained a lot of steam over the past few decades, with people becoming increasingly aware of how beneficial this ancient practice is. Combine that with the breathtaking scenery of Vietnam's coastal landscapes and the tranquil embrace of its lush mountains, and you will surely walk away a changed person. While India might be the birthplace of yoga, other countries, including Vietnam, have certainly adopted the practice and made it their own. This has led to travellers, practitioners, and enthusiasts opting for yoga retreats and studio classes during their vacations in the country. So, if you're looking for the ultimate way to destress, yoga in Vietnam is certainly the solution.
9 best yoga retreats in Vietnam
Jump To / Table of Contents Hero and Featured Image credit: Shutterstock
Related Article: 8 Of The Best Yoga Schools Around The World
Shop the best travel experiences here
FAQs
Are there yoga classes available for beginners in Vietnam?
Yes, beginner-friendly yoga classes are available – you can inform the studio/retreat and your designated instructor beforehand.
What types of yoga can I find in Vietnam?
From traditional yoga practices to modern variations like aqua yoga, you can find a variety of yoga types that cater to your preferences.
Are yoga classes conducted in English in Vietnam?
Yes, yoga classes are conducted in English, and you can request for an instructor who is fluent in the same.
Are there yoga retreats available in Vietnam?
Yes, there are yoga retreats available in Vietnam.
Can I practise yoga outdoors in Vietnam?
Most yoga retreats do have facilities that allow you to practise yoga outdoors.
What is the cost of attending a yoga class in Vietnam?
The cost of attending yoga classes in Vietnam varies. Kindly check online before signing up for one.
Do I need to bring my own yoga mat?
No, yoga studios or retreats will provide you with any necessary equipment. However, you can inquire beforehand.
Are there any traditional Vietnamese practices that combine with yoga?
Certain places combine traditional Vietnamese medicine along with yoga practices. However, it is advised to do your own research beforehand.
Can I find yoga teacher training programs in Vietnam?
Yes, you can find yoga teacher training programs in Vietnam.
Are there any specific etiquettes I should follow while practising yoga in Vietnam?
Various studios and retreats have their own code of conduct. It is advised to read this information beforehand.
Are there any specific locations in Vietnam known for yoga?
Yoga is practised across the country – you can find retreats, studios and yoga centres all over Vietnam.
Can I find online yoga classes or resources related to yoga in Vietnam?
Several studios and instructors conduct online classes as well.
Is it safe to practise yoga during my visit to Vietnam?
Yes, it is safe to practise yoga during your visit under the guidance of certified practitioners.
Written By