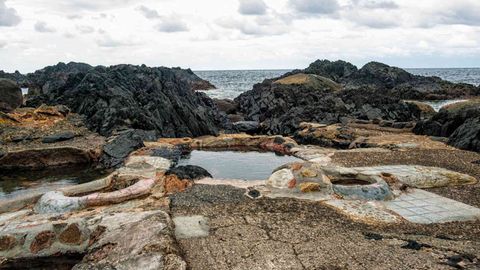 Wellness-oriented escapes are a major trend these days, but ancient Japanese bathing traditions are a way of life dating back thousands of years. The island country in East Asia is blessed with a wealth of geothermal hot springs that reportedly possess healing benefits — including promoting circulation, soothing sore muscles, and relaxing the mind.
Over the centuries, an entire ritualised bathing culture has sprung up (no pun intended) around onsens — a catchall term used to describe the naturally warmed, mineral-rich waters and the associated bathhouse facilities — and that means certain protocols, customs, and etiquette need to be observed by both locals and travellers.
If you're planning to participate in this age-old pastime, it's important to respect the enduring history and heritage. Soaking in public hot springs is very much a communal activity. Most onsen remain separated between males and females. Many still don't accept guests with tattoos. Got ink? It's definitely something to look into in advance or risk potentially being turned away. "Before entering an onsen, it's customary to rinse off," says Keiko Watanabe, the spa and wellness manager across the Hoshino Resorts portfolio. "After getting out, don't forget to drink plenty of water and moisturise.".
Scroll on for the best public hot springs in Japan, according to local experts.
The best public hot springs in Japan
Togura Kanze Onsen — Chikuma, Nagano Prefecture
"A popular pitstop for tourists heading to Zenkoji Temple in nearby Nagano, Togura Kanze Onsen brims with emerald green hot springs," says Watanabe. The temperature isn't too hot, which means you can enjoy a longer soak and reap all the relaxing rewards. "Sulfur also makes the skin supple, so after bathing you will emerge feeling supple and moisturised," says Watanabe.
Tenzan — Hakone, Kanagawa Prefecture One of the most popular hot springs towns in Japan, Hakone has plenty of peaceful places to soak. Nature lovers will feel a deep connection to the Earth and a true sense of serenity after a few minutes at Tenzan, a collection of naturally heated outdoor rock pools framed by leafy trees. There's also a bathhouse tucked inside a traditional building.
Hirauchi Kaichu Onsen — Yakushima Island, Kagoshima Prefecture Located at the southern end of Yakushima Island and accessible only at low tide, Hirauchi Kaichu Onsen is an open-air, sulfuric hot spring in Japan that's set along a rocky shoreline and gushes from below sea level. "The spectacular coastal setting makes it a particularly special and unique spot to soak," says Simon Metcalfe, a manager at the Kyushu Tourism Promotion Organisation.
Yu-no-sato — Unzen, Nagasaki Prefecture
Yu-no-sato is a small public onsen in Unzen that's regarded as the oldest communal bath in the area. In addition to the heritage, people come here for the healing benefits that come from the hot, acidic, iron-rich hot springs. Watanabe warns that the heat can be intense, so it's important to practice kakeyu (using buckets full of water outside the tub) before fully immersing yourself and soaking for no more than five minutes at first.
Shitan-yu — Shichirida Onsen, Oita Prefecture
There's a newly renovated area at Konoha-no-yu called Shitan-yu that's said to be the most concentrated carbonated spring in all of Japan. The low temperature and bubbles enliven the body (it gradually warms you up), so it's possible to relax and relish a long bath.
Onto — Nagato Yumoto Onsen, Yamaguchi Prefecture An emblematic example of bringing rich hot springs traditions into the modern age, Onto shines as a beautiful, newly redesigned day-use facility that reopened in historic Nagato Yumoto Onsen just a few years ago. "The lukewarm water is alkaline and smoothes the skin as it removes impurities naturally," says Watanabe.
Matusiro-sou — Matsushiro, Nagano Prefecture What was once a secret healing spot for the army of the powerful daimyo Shingen Takeda, Matusiro-sou, located in the castle town of Sanada Jumangoku, is now one of the most well-known spa retreats in Japan. Concentrated iron deposits give the source-fed hot spring its golden colour and myriad beneficial properties, from fighting fatigue to boosting skin health.
Monju-no-yu — Kakeyu Onsen, Nagano Prefecture
The tradition of bathing at Monju-no-yu can be traced back 1,200 years. The hot water is especially great for the feet and lower back. "It's quite refreshing to soak for about five minutes," says Watanabe. "Just don't stay in too long to avoid overheating." There are several sacred sites in the surrounding area and it's a lovely place to go for a stroll after visiting the hot spring.
Sahako-no-yu — Iwaki, Fukushima Prefecture
Situated in a hot spring town with more than 1,000 years of history, Sahako-no-yu is a public bathhouse that dates back to the Edo period. "The high temperature of the water and sulfur provides many benefits, and there are famous cherry blossom areas to enjoy," explains Watanabe. She suggests the act of kakeyu before entering, then dipping your feet and gradually making your way up to your chest.
Naminoyu 'Akane' — Unzen, Nagasaki Prefecture
Many people regard Naminoyu 'Akane' as the finest outdoor hot springs facility in Obama Onsen, a resort town on the eastern side of the Shimabara Peninsula. Besides the opportunity to unwind in some of the hottest spring waters, visitors can look forward to views of the Tachibana Gulf and magical sunsets.
Shop the best travel experiences here
This story first appeared on travelandleisure.com
Related: This Japanese Island Is Hiding Some Of The Country's Best Hot Springs — Where To Soak
Written By