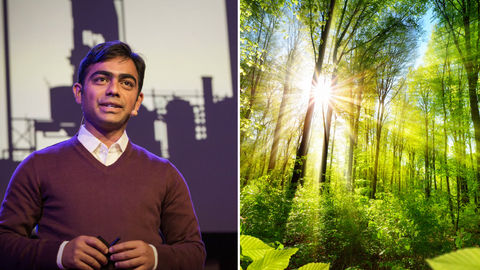 If studies are to be believed, then the world loses forests equivalent to 36 football fields every minute. Natural resources and fresh air is depleting at a much higher rate now, with the fear of doomsday inching closer as we speak. The constant insurgence of floods, cyclones, and landslides is only a small reminder of the bigger worries that lay ahead. By Bayar Jain
However, industrial engineer turned social entrepreneur, Shubhendu Sharma took matters in his own hands by creating Afforest. Started in January 2011, Afforest is a for-profit social enterprise working as a service provider to re-establish green cover. Functioning at the lowest possible cost, they aim to create natural, wild, maintenance free, native forests.
During his corporate days with Toyota's Kirloskar Motor's manufacturing plant, Sharma volunteered to be a part of a reforestation drive. Here, he accompanied Japanese botanist and plant ecology expert Akira Miyawaki, who inspired Sharma to quit his job and take up the planting initiative full time. After initially experimenting in his 753 square foot backyard in Uttrakhand, Sharma and his team have now successfully planted over four lakh trees spread across 10 countries in just nine years.
According to the traditional Miyawaki method, the process of determining the tree species and finally nurturing the saplings till they are fully grown can cost up to INR 350 for a square foot land. The growth rate achieved by Miyawaki's method is ten times faster than what nature would take. It ensures that no large competing trees are fighting for the same space, in turn guaranteeing a faster success rate. This model is based on the theory that if human interaction is curbed on a piece of land, the forests can grow and sustain themselves naturally.
Miyawaki's approach was adopted by Afforest with slight modifications. The Afforest initiative is different owing to the low-cost model it follows. They use a three-pronged process. Starting with the collection of saplings from the forest department, and investments from the District Collectors, Afforest then moves to municipal corporations to help plant and maintain the forest. Apart from the direct reduction in working costs, this approach also influences – or hopes to influence – government mindsets to undertake sustainable urban development. In doing so, they hope to create an environment wherein green cover can be maintained by influencing governments and corporations to pitch in as well.
Thriving on the motto "whenever you see a barren land, remember that you can build a forest there," Sharma's Afforest also provides Do-It-Yourself (DIY) projects and backyard forest solutions for individuals. Who knows, maybe some day we'd all be living in forests again.
Related: Norway Bans Deforestation To Combat Global Warming And Climate Change
Written By