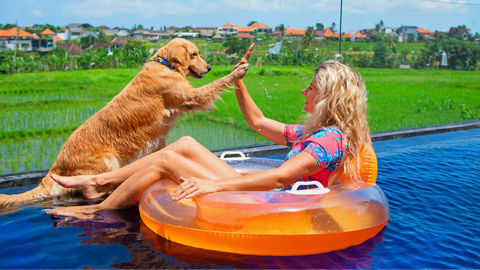 Pet lovers who hate to travel without their
f

avourite

companion have now started opting for more and more pet-friendly destinations. By Tanvi Jain

The travel trend that allows you to take your pooch on a vacation, has gained immense popularity. As a result more and more tourist destinations have now become more pet friendly.
1. Italy
Italy doesn't just make it to the list of most-favoured destinations for humans, but it also tops the list for being the most dog-friendly country. From hotels, to restaurants, to general stores and even public transports, Italians always welcome pets with open arms. For example, barring a few, most of the archaeological sites in Italy such as Pompeii, Osta Antica, Paestum, Agrigento, allow dogs on leash. Even some gardens dating to the Renaissance period such as old Villa d'Este also allow dogs to enter. The Italian city of Turin located near the French border is considered to be the most pet-friendly place, as it allows small dogs even inside its royal palace – the Palazzo Reale. Moreover, Venice allows dogs on water boats. You can also go hiking with your dog in Tuscany or explore the beautiful villages of Cinque Terre. Lake Como made famous by the fancy Bollywood weddings, has many pet-friendly villas to chill with your pooch.
2. Germany
Germany is another country that is so pet friendly that people even take their dogs to work. There are many restaurants that allow dogs both inside as well as outside sitting area. However, bakeries and kabab shops have some exceptions. You can also take your dog shopping, as malls are always up for pets except for grocery and other food stores. While in Berlin, you don't necessarily need a dog container, as your friend is allowed to travel freely in a public transport. Across Germany, you can take your dog for a walk to Sanssouci Park at Potsdam or on a cruise along the Rhine river, glance at the beautiful street art while out with your pet, and explore the history by visiting some of the pet-friendly castles, monasteries, and medieval towns.
3. Switzerland
Love to hike with your dog? Switzerland is the place for you, where you can even take your dog across the Alps. Although the Canton of Schwyz comes with a leash law, other cantons are comparatively much more lenient. For a fun afternoon with your pet, head to Parc Bertrand in Geneva, Horburgpark in Basel, or the Allmend Brunau in Zurich. You can also hop on a Fondue Tram in Zurich and take a cheeselicious tour of the city with your buddy. Most Swiss hotels are pet-friendly and charge a minimal fee of USD 10 to 20. There's also a travel pass facility available in public transports, which you can get by paying few extra Swiss francs for your pet, and enjoy a hassle-free commute.
4. Croatia
If you are planning a summer vacation with your pet, then head to the beaches of Croatia, specially dedicated to dogs. You can even take him on a boat or a ferry ride at the famous Plitvice Lakes National Park. Some of the dog-friendly beaches include Istria, Kvarner, and of course the beaches of Dalmatia, which holds historical importance to the Dalmatian breed made famous by Disney movie 101 Dalmatian. You can even rent private villas away from settlement where your pet can roam freely and be as loud as s/he wants to. For dining purpose there are many restaurants that allow pets on the terrace. There are many dog shows that keep happening across the country throughout the year, the most famous one being the Dalmatia dog show in Dubrovnik and Zadar.
Related: 7 Luxury Hotel Spas Where Your Pooch Will Have A Better Day Than You
Written By