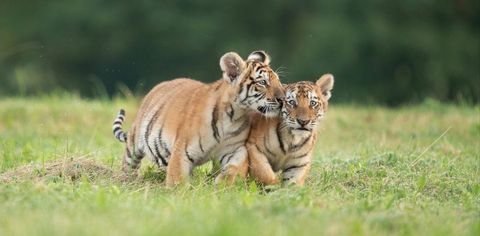 On International Tiger Day 2021, pay homage to the Big Cats by learning more about them and how to prevent them from slipping into the 'red' zones of survival. By Yagnoseni Das
View this post on Instagram
The birth of International Tiger Day
In 2010 at the Tiger Conference in St Petersburg, Russia, July 29 was declared as International Tiger Day with the objective of celebrating these majestic creatures by promoting awareness, conservation and increasing tiger habitat across the world. Thirteen countries pledged that by 2022, they would double the tiger population.
In the past, tigers roamed freely through most of Asia and the Middle East. Today, the tiger range stands at just 7 per cent of its original territory. Here are the tiger subspecies that have become extinct or are endangered.
Extinct
This tiger subspecies became extinct in the early 20th century. Native to Bali, Indonesia, this tiger was last sighted in 1937. The primary cause of its extinction is hunting. European traders, upon their arrival in the region, would sometimes hunt for sports, trade, or simply to protect their homesteads.
After Siberian tigers, this subspecies was the second largest species of its kind—with wide paws, exceptionally long claws, and fur like Bengal tigers'. It is unanimously believed that the last Caspian tiger was killed in the 1990s.
Javan tigers became extinct in the 1970s due to prevailing hunting practices. They were native to Java. Unlike its peers, these tigers were significantly smaller, of which females were even smaller; and would weigh about 115 kilograms.
Endangered
View this post on Instagram
Biggest in the Big Cat family, they are also known as Amur and Manchurian tigers. These tigers, according to the World Wildlife Federation (WWF), were once found across the Russian Far East, northern China and the Korean peninsula. But the numbers have significantly reduced since, and several protection projects and policies have been implemented to safeguard the species against extinction.
View this post on Instagram
A very well-known tiger subspecies—thanks to Rudyard Kipling's Jungle Book character, Shere Khan—these tigers are the national animal of both, Bangladesh and India. Currently, WWF estimates about 25,000 Bengal tigers worldwide.
Smallest in the Big Cat family, these subspecies are down to only around 400. Hailing from Indonesia's Sumatra, these tigers are believed to be one of the world's most beautiful animals that could soon disappear.
View this post on Instagram
Of all the subspecies, South China tigers are at the greatest risk of being extinct. According to WWF, there are about 30 to 80 South China tigers left in the world—all of which are currently held captive, and none are found in the wild anymore.
Also known as Corbett's Tiger, after the British naturalist, Jim Corbett, this subspecies is native to Cambodia, Laos, Thailand, Vietnam and Myanmar. They were once also native to China, but the numbers have reduced by more than 70 per cent. It is believed that there are less than 650 Indo-Chinese tigers left in the world now.
View this post on Instagram
These Malaysian tigers were once a part of the Indo-Chinese subspecies until in 2004 DNA samples revealed differences. Currently, there are about 250-340 Malayan tigers globally.
What is causing this endangerment?
Poaching: Illegal killing of animals is one of the immediate threats to tigers. Being endangered, tigers are extremely valuable in black markets. They are often hunted for their fur, teeth, bones and organs.
Loss of habitat: With rising human population, and increasing demand for lands and natural resources for urbanisation, industrial development, tourism and more, tigers are being chased away from their homes. With limited place for roaming and hunting, tigers are forced to approach nearby human dwellings, and are, thus, either captured or killed.
Climate change: Even though tigers are extremely adaptable, the threat of climate change has not spared them either. The destruction of their habitats and the imbalance in temperature has left tiger populations vulnerable.
How can we put an end to this crisis?
Some practical steps could, hopefully, go a long way in gradually putting an end to this tiger crisis. Measures like spreading awareness online, reducing the usage of products derived from forests, abiding by forest department guidelines, donating to legitimate conservation NGOs, and voicing concerns with policymakers could go a long way.
Editor's Note: Keeping the current situation of the pandemic in mind, T+L India recommends every reader to stay safe, and take all government-regulated precautions in case travel at this time is absolutely necessary. Please follow our stories on COVID-19 for all the latest travel guidelines.
Related: Sighting Tigers At Ranthambore: A First-hand Account & Traveller's Guide
Written By