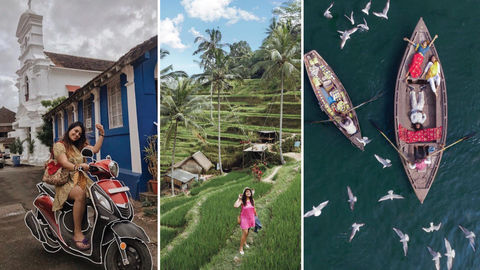 "My love for mountains made me a conscious traveller. Leaving behind my convenience gave me a sense of belonging to the place," says influencer Shraddha Pawar. By Tanvi Jain What does conscious travel mean to you?
For me, conscious travel is about being 100 per cent in the moment without any expectations, appreciating and respecting the destination and having a fruitful experience. A wholesome conscious travel experience for me amounts to being aware of what really the place has to offer and what can I give it back when I leave, such as, create awareness amongst the locals, highlight the beauty of the place — art and culture — protect the natural resources, etc. Such kind of travel can be made popular only by doing it more often, mentioning it amongst your peers and motivating them to plan their travel in a way that it makes a difference not just in an individual's life but in others' as well. When did you become a conscious
traveller
?
I was an ignorant tourist for a long time, who used to easily get uncomfortable due to any kind of inconvenience at any place and not respect the local resources. It was only during my first Himalayan trek that I realised how it's not the place that's the problem, but me who is visiting it without giving up my one-dimensional expectations. My love for mountains made me a conscious traveller. Leaving behind my convenience — even a mobile phone network in the hills — gave me a sense of belonging to the place. Once I was out of my own misery, I was able to notice the damage we cause to the environment. Plastic bottles, food wrappers, garbage trails, along these beautiful valleys truly made me realise that I need to be more conscious when I travel. Now I even carry huge garbage bags during treks and collect trash on the way. Can you highlight some of the advantages of being a conscious
traveller
and also the challenges that come along?
The advantages are, firstly, a fulfilling experience you gain on such a trip, secondly, a sense of contribution you get not just towards that particular place but the environment as a whole, and thirdly, personal well-being. However, basic acceptance of this concept can be challenging for beginners, as there are times when you don't come across many open-minded fellow travellers or locals, which makes it difficult to convince them about this different approach, and how it's for their own good only. But this can change if more than just a handful of people start travelling consciously and start talking about it.
What according to you will be the future of travel in the post-COVID
-19
world?
I feel travel is eternal and by far the easiest path to offer such vast experiences, from creating wonderful memories to relishing the nature, to even self–discovery. Although COVID-19 has put a pause on travel, it will never go out of style. Post the pandemic, people will definitely be more conscious, responsible and thoughtful on their trips. One of your
most
favourite eco-friendly places to travel to?
I love hostels, for many reasons, such as the community and the service they bring, and the opportunity they give to connect with new people. Living in hostels is still a new concept in India, but I think it's simply great and allows a traveller to truly experience the destination. I have stayed at many hostels across the country, and my favourite has to be the beautiful Wander Station hostel in Varanasi, just minutes away from the famous Dashashwamedh Ghat. The hostel is very clear about the use of plastic and being conscious during your stay. I stayed there with my friends for a week, and during that entire period, all of us filled our water bottles from the cooler to avoid the use of plastic, washed our own clothes and cooked our own breakfast. It was a great learning experience for me.
What are the five essentials that you as a conscious
traveller
make sure to carry on every trip?
Bamboo toothbrush and my own toothpaste, to avoid small-sized vanities that produce a lot of waste, personal silverware, as I absolutely detest using plastic spoons and forks, re-usable packing and shopping bags, own refillable water bottle and garbage bags.
Related: 5 Green Trips For The Conscious Traveller
Written By