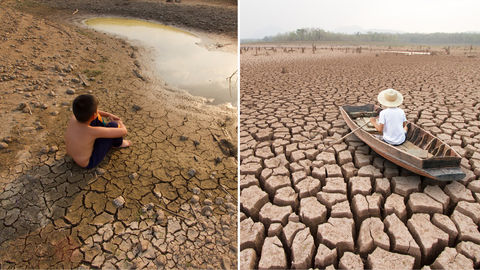 We have all been witness to climate change and how it has been affecting the planet. Well, now you can be a part of India's First Climate Parade in Delhi and fight climate change. By Kumar Shree
Apart from making art more accessible, St+Art India has also introduced India to some of the most unique art projects. Their outstanding projects like the Sassoon Dock Art Project stand out as a solid testimonial to what they have been doing in the space. This year, they are all set to take their initiatives to a whole new level by pairing it up with one of the most pressing issues of today: climate change. They will do this through India's First Climate Parade.
As a part of their annual street art festival, St+Art is joining hands with the Italian visual artist Andreco. The idea of this collaboration is to bring a unique environmental art project to India. Climate Art Project will address the issues of India's rising water and air pollution. Through the fifth step of Andreco's Climate Art Project, which is 'Climate 05 – Reclaiming Air and Water', he is addressing Delhi's rising air and water pollution.
The project is based on the statistics available on pollution in important Indian water bodies like river Yamuna. It will reflect on the practices and measures that will help curb pollution levels and to reverse the destruction. Andreco hopes to attract attention and create awareness through his Climate Art Project.
The Climate Parade will go through the Lodhi neighbourhood, and it invites everyone who wants to contribute their bit. The parade will be a collective performance with flags about climate justice and the state of water and air quality in Delhi.
Here's the schedule for the Climate Art Project:
March 3, 4:00 pm – Meeting for performers who want to join the parade at Kona, Jor Bagh Market
(Rehearsal from March 4-9)
March 10, 4:00 pm – Parade and presentation of the wall painting at Lodhi Colony, Delhi
March 12:
Talk: Art and Science at the time of Climate Change
Climate 05- Reclaiming Air and Water quality, Delhi, India
Related: NASA Reports That Earth Is Literally A Greener Place Than It Was 20 Years…
Written By