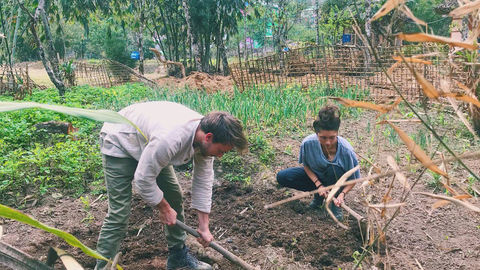 Travelling has become an imperative act for everyone. But, what if we could do that responsibly by contributing to the betterment of the places we visit? Well, that's where these Indian NGOs come in. By Charu Chowdhary
There's already a spark of this trend, especially among millennials who are increasingly becoming aware of the joys of conscious travel. It's like a symbiotic relationship where you give the place as much respect in whichever way you can in return for the wonderful time you spend there. No matter where you're travelling, you can take the help of these Indian NGOs that are making the world a greener and happier place, one travel at a time.
1. GRASSROUTES:
Grassroutes' aim is simple: trigger conscientious travel through rural engagements. Grassroutes channels its efforts with a social mission of annually creating one million livelihood opportunities in rural Maharashtra.
This is done by creating employment and livelihood opportunities for villages, and reducing distress migration. It bridges the gap between the urban and rural by organising meaningful interactions whereby you get to enjoy organic, homegrown food; become a part of local festivals and celebrations; celebrate the local arts and crafts, thereby promoting their culture; indulge in a rustic, real way of life by partaking in drawing water from a well, milking a goat, chopping wood; and learn sustainable farming techniques under the guidance of a local.
While Grassroutes helps you take a break and unwind in the interiors of Maharashtra, you still end up contributing to a 25% increase in the annual income of the rural family and help form 6,000-8,000 days of employment that are created annually per village.
2. ECOSPHERE:
A collaborative effort of the local community of Spiti in Himachal Pradesh and professionals from diverse backgrounds, Ecosphere is an NGO with the vision of creating sustainable livelihoods and conserving nature as well as culture in the hills.
Its passion for conservation, mountain-travel and adventure is evident in its wish for the great legacy of the Himalayas to thrive so that the future generations can equally savour its beauty and bounties. Its commitment is not only to the development of the place, people and resources of this region, but also to the travellers who want to be a part of this endeavour.
3. INDIA UNTRAVELLED:
India Untravelled is a social enterprise that aims to bridge the gap between socially responsible tourism offered in rural parts of India and urban travellers looking for authentic travel experiences. It is on a quest to help travellers discover a side of India that not many have experienced. They cover many rural parts of India with untouched natural beauty, and where the locals revere traditional practices and are open to teaching travellers how to experience another way of life.
It's a slightly off-beat initiative; the rural home-stays and farm-stays let the traveller soak up the vibrant culture of India's villages, indulge in delectable local cuisines, explore centuries-old indigenous art forms, and learn from the region's folk music and dances, local legends and stories. You may find yourself to be among the few travellers in the region, and will get a chance to interact closely with the local communities, hosts, cooks and craftspeople. Additionally, the revenue that your travel generates will help support and sustain the local communities, their heritage, culture, traditions and art forms.
4. AAROHI:
Aarohi is a non-profit organisation involved in integrating rural development in the central Himalayan region of Uttarakhand. Its mission is to create development opportunities for rural Himalayan communities through quality healthcare and education; energy and forest management; sustainable natural resource use; and the revival of traditional culture. Aarohi's two-decade journey has been one of trials, tribulations, excitement and growth. Saitoli, its headquarter, has transformed into a buzzing node of positive grassroots action today, with work extending through Nainital, Almora and Bageshwar as well. Aarohi operates actively in 57 villages, and has touched the lives of over 50,000 people till date. You can volunteer as a specialist, a doctor, a physician, or even a community health manager on your next visit to the hills with the help of Aarohi.
5. WWOOF INDIA:
Worldwide Opportunities On Organic Farms India (WWOOF India) is a network that allows volunteers to live and learn on organic properties and farms. It brings together hosts and volunteers who help each other make a healthier world. WWOOF India was started in 2007 with the idea of facilitating an exchange of culture and education by connecting domestic and international travellers with about 240 organic- or sustainability-minded hosts spread throughout 16 states of India. All the hosts in their network are associated with organic gardening, orchards, spices, tea and other sustainability projects. WWOOF India also focuses on promoting sustainable livelihood methods and addresses issues of poverty. It helps in generating income and enhancing the basic quality of life in the rural areas by promoting activities that portray the cultural, artistic and ecological dimensions of rural life in India.
Related: Meet Shilpa Balakrishnan, the Indian Biker Who Is Making Headlines With Her Conscious Travel Tales
Written By