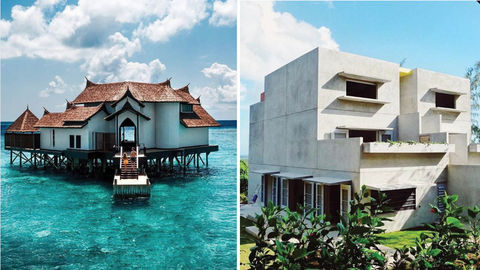 For your next vacation, stay at one of these eco-friendly hotels and make Mother Nature just as happy as you are. These sustainable alternative hotels are both luxurious and are also trying their best to reduce their environmental impact and carbon footprint while working the 'green' way. By Ritika Dixit
While vacationing, travellers these days are becoming increasingly conscious about preserving the picturesque world that they live in. As eco-friendly travel becomes the talk of the town, many hotels and resorts are working towards making their practices more sustainable. Read on to know more.
Jumeirah Vittaveli, in the scenic Maldives, is a classic mix of a luxurious vacation experience and nature-friendly travel. The hotel has been awarded the Green Globe Certification for its eco-friendly measures. It uses Eco Pure water cleaning systems that treat seawater into pure drinking water, which is then bottled in reusable glass bottles. This measure saves approximately 50,000 plastic bottles each year. Jumeirah Vittaveli is also home to the world's first eco-friendly 'green' ice rink. Stunning rooms, incredible beach sides, sustainable fishing practices and ethical food practices — Jumeirah Vittaveli will win your heart.
2. Hi Hôtel France
Hi Hôtel is a boutique hotel that has been awarded the Green Globe Certification for its strong commitment towards ecological values. Their exclusive use of organic products in the restaurant, easy availability of bicycles outside the hotel, gardening products without any hazardous chemical fertilizers, and regular communication with visitors for energy-saving purposes are some of the measures taken by the hotel to decrease any harmful impact on nature. The hotel even offers a private beach and rooftop pool, the Hi Eco Spa & Beach, ensuring no compromise on luxury.
The Six Senses Con Dao has widely been recognised as one of the best eco-lodges in the world for its steps towards environmental conservation. The hotel is built utilising sustainable building materials. If being surrounded by the jungle and white sand beaches isn't close enough to nature for you, the most impressive feature of the resort is that its structure has been designed to maximise ventilation. This, in turn, helps reduce the need for air conditioners. This is a significant accomplishment for a destination like Con Dao which is known for its humid climate. The luxury of five-star and strong ecological values, what else does an eco-friendly traveller live for?
Hotel Verde in Tanzania takes the concept of environmental awareness a step ahead. The hotel rewards its guests for practising sustainability during their stay at the hotel. For instance, walking up the stairs instead of taking a lift or reusing towels and bed-sheets can help you get 'Verdino currency', which can be used towards the final cost of the stay or in exchange for food and drinks. Built with a reduced-energy heating and cooling system, Hotel Verde is the perfect 'green' hotel offering guests a world-class luxury holiday.
Hix Island House combines energy-efficient buildings with natural environments. The hotel has been designed in a way to cut down on the wastage of energy and maximise on natural resources instead. Ecology is important at Hix Island, where all 13 hotel apartments are powered by built-in solar power technology and are also designed to collect rainwater. This collected rainwater is then heated by the sun and provides for the lodger's hot-water needs. Then, the residue greywater is used to water the papayas, guavas and bananas that are grown nearby. Cooling trade winds with spectacular vistas of the surrounding landscapes and oceans, the Hix Island House gives back to Mother Nature as much as we take.
Related: 8 Gorgeous Eco-Friendly Homestays In India For The Conscious Traveller
Written By