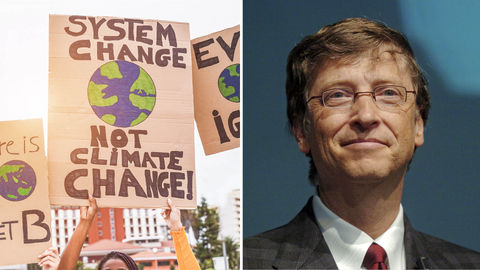 In a recently published blog post, co-founder of Microsoft Bill Gates warns that climate change could be worse than the COVID-19 pandemic. By Amitha Ameen
View this post on Instagram
Microsoft co-founder Bill Gates has always been vocal about his thoughts on the adverse effects of climate change. In a blog post published recently titled, 'COVID-19 is awful. Climate change could be worse' — the business magnate writes about how in a few decades the world will have to deal with another global crisis — climate change — unless we collectively accelerate our efforts now.
"What's remarkable is not how much emissions will go down because of the pandemic, but how little," wrote Gates who added that although overall emissions may go down this year, that it is just a small blip in the overall number. "The International Energy Agency puts the reduction around 8 per cent. In real terms, that means we will release the equivalent of around 47 billion tons of carbon, instead of 51 billion," and that wouldn't be a meaningful reduction, he added.
If we learn the lessons of COVID-19, we can approach climate change more informed about the consequences of inaction, and more prepared to save lives and prevent the worst possible outcome. https://t.co/a1Ltv44UBY

— Bill Gates (@BillGates) August 4, 2020
Drawing parallels between COVID-19 and climate change, Gates warns of how the latter could have dreadful impacts in the long run and urged everyone to look at climate change as a current problem, as opposed to waiting until last minute (like with COVID-19).
Gates said that for one to understand the damage that climate change will bring, all one needs to do is look at the Coronavirus pandemic and multiply the pain over a longer period of time. He added that the level of economic and personal loss and misery caused by the virus will be manifold and happen regularly if the world's carbon emissions are not eliminated immediately.
In his blog, Gates implores people to look at the lessons learned from COVID-19 and use that knowledge to approach climate change in a more informed manner, thereby preventing the worst possible outcome and avoid making the same mistakes.
Related: Antarctica's Snow Turns Green, Thanks To Climate Change
Written By