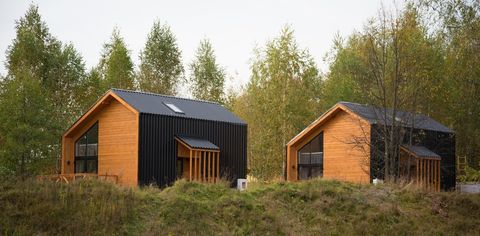 If you want to become a sustainable traveller, this Earth Day is a great time to start. While planning may be easy, if you don't know where to stay, these properties in India help with conservation tourism and help you make more mindful choices. By Anushka Goel
Travel has been rapidly moving towards sustainability as young travellers seek to save the earth on their expeditions. This has given rise to conservation tourism, which is a practice that sustainable tourists follow with an aim to reduce the trash they spread, opt for properties that give back to nature and leave behind as low a carbon footprint as possible. It encourages travellers to be mindful of their actions and educates more people about nature and conservation.
Conservation tourism or ecotourism involves meticulous planning — right from the mode of transport to the place you'll be staying, the food you eat and even the products you use or carry with you. Travellers typically opt out of single-use plastics, carrying their own bottles, cutlery and more from home, to minimise the waste they generate on the trip. Eating local, seasonal produce is another major way to help travel sustainably, as imported goods generate a lot of carbon footprint, especially when transported across countries.
This Earth Day, if one of your pledges is to start travelling mindfully, we suggest checking out these properties in India that promote conservation tourism through recycling, community-driven and nature-inspired methodologies.
11 properties in India that help promote conservation tourism
Shivgarh Sustainable Living, Mozamabad
View this post on Instagram
The farm stay, located about an hour's drive from Jaipur, is a 200-acre property with natural bodies, lush greenery and activities for children and adults alike. The place has six cottage-style accommodations, with more under construction, with various themes of celestial occurrences — a great way to connect with the skies and teach children about astronomy.
Indulge in hikes, birdwatching experiences, and understand farming with the various crops on the property. Unwind with a book under the shade of one of the one lakh trees on the property, or take a dip in one of the three lakes at this farm stay. Enjoy meals that are farm-fresh and sustainable, and understand what slow tourism and conservation tourism really mean.
To know more, call +91 96109 99887
CGH Earth Coconut Lagoon, Kerala
View this post on Instagram
Like other CGH Earth properties, Coconut Lagoon is also built on the core principle of sustainability – for the environment and for the community. The property's many cottages were built from the remnants of an old mansion (or tharavads). The place features its own sacred grove and is aimed at being an extension of the village sans walls and borders, to allow you to freely interact with the locals. The property also employs locals, creates biogas and other material from its wet waste and is a heritage-conscious property that allows flora and fauna to thrive in their natural environment and habitat.
Enjoy a relaxing stay at the backwaters of Kerala at this eco-conscious property, which will connect you with nature while helping you practice conservation tourism.
Know more here.
SUJAN Sher Bagh The intimate property has just 11 rooms, including suites, tents and more. The property, spread over a vast area, encompasses the core values of sustainability, by being one with nature with farm-to-table meals, white cotton canvas tents, wooden furniture and more, without compromising on luxury.
With crackling campfires, delectable meals and a starry sky, be sure to feel one with nature here, as you take a step towards being a conservation tourist, and explore what the earth has to offer when you give it back in the same way.
Know more here.
Barefoot In The Andamans, Havelock Islands
View this post on Instagram
Explore the untouched forests, soak in the sun by pearly white beaches with clear, pristine blue water and be surrounded by lush greenery at this property. The local tribal architecture, delectable local cuisine, and stay in wooden tents, villas and cottages. Go for a dip in the pool or trek across the island as you explore the various natural secrets it hides while ensuring that your trip is nature-friendly and gives back to the environment.
Know more here.
Meena Bagh, Ratnari
View this post on Instagram
Meena Bagh Ratnari is located in the middle of an apple orchard and permaculture farm, about 17 kilometres from Narkanda and 85 kilometres from Shimla. The place is a luxury accommodation that provides you with a serene, tranquil getaway complete with nature and farm animals to give you company. The food, made on order, is prepared from ingredients grown at the farm and the property tries to provide as many farm-to-table meals as possible. The stone, mud and wooden walls of the property are a mix of traditional Himachali architecture combined with a more modern-style chalet, incorporating
incorporate local aesthetics with luxury and promoting the local culture.
Book the property on Airbnb.
The Dune Eco Beach Village and Spa The eco-friendly beach resort is spread over 35 acres and is a place where one can interact with nature. Opt from among their many accommodations, which also involve cottages that have been built using Casuarina trees and weaved coconut palm leaf roofs. These sea-facing rooms have private gardens and are equipped with solar water systems, low consumption bulbs and more, which saves power. The natural sea breeze is enough to keep you cool and comfortable.
Know more here.
Banasura Hill Resort
View this post on Instagram
Among the properties that promote conservation tourism in India is Banasura Hill Resort. Spread over 35 acres, this destination provides the ultimate getaway for families who want to be close to nature, honeymooning couples, and more. Take a dip in the pool, which itself is surrounded by nature, or indulge in Ayurvedic spas and treatments and learn more about your body and soul.
Know more here.
The Tamara Coorg
View this post on Instagram
Know more here.
Pench Tree Lodge, Madhya Pradesh
View this post on Instagram
One of the many sustainable lodges by Pudgungee Safaris, Pench Tree Lodge is located in the small tribal hamlet of Sarahiri. The place is great for those looking for ecotourism opportunities, as the rooms are decorated with local crafts and safari experiences, while the property aims to keep its carbon footprint at the bare minimum. Indulge in cycling, wildlife safaris and more, and make the most of the natural surroundings as you interact with the flora and fauna species around you.
Know more here.
Nimmu House, Ladakh
View this post on Instagram
The charming boutique property is nestled amid the Himalayas. Nimmu House offers something for everyone — tents, rooms, yoga retreats and more — to unwind in the way you want. Explore your surroundings and experience nature in Leh, learn Ladakhi cooking with locally sourced ingredients and give back to the community at this property as you relax and enjoy your getaway.
Know more here.
Evolve Back, Kabini
View this post on Instagram
Enjoy food cooked over a wood fire, experience the best of local tribal culture and interact with the people at Evolve Back Kabini. The property is filled with activities to keep you entertained while allowing you to experience nature at its best.
Related: This Minimalist Skincare Routine Will Save You Some Room On Your Next Trip
Written By