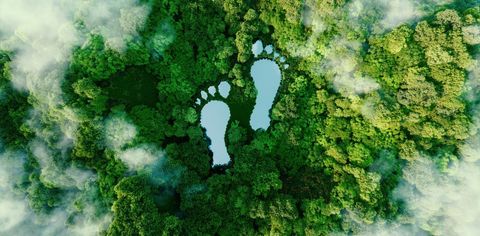 Travelling has become imperative for everyone. But, what if we could do that responsibly by contributing to the betterment of the places we visit? Here's everything you need to know about carbon footprint and sustainable tourism. By Karan Kaushik
Carbon Footprint and Sustainable Tourism
What is Carbon Footprint? A carbon footprint is the total amount of greenhouse gases, including carbon dioxide and methane, that are generated by our actions. As conscious travellers, we can reduce our carbon footprint by choosing the right mode of transportation, choosing the right airline, and picking the right accommodation. We must also try to eat locally and find farm-to-table spots. Another way to reduce our carbon footprint is by planning longer trips. This could help us deepen our appreciation for a place, and help lessen our carbon footprint by keeping us from plane hopping and driving to new destinations over and over again.
What is Sustainable Tourism? According to The International Ecotourism Society (TIES), sustainable tourism or eco-tourism can be defined as "responsible travel to natural areas that conserves the environment, sustains the well-being of the local people, and involves interpretation and education."
As an eco-tourist, one can immerse themselves in pristine locations while taking part in the maintenance and protection of the region. Eco-tourism also boosts employment by empowering locals with opportunities. It acts as a catalyst in encouraging conservation by garnering financial aid and allows economies to thrive without exploiting the local wildlife.
Types of Sustainable Tourism
Ecotourism
View this post on Instagram
Most of us are growing increasingly tired of living in concrete jungles and choosing eco-tourism destinations around the world to rejuvenate ourselves. While these places offer travellers clean air to breathe and calming environs full of lush greenery to relax in, they also serve as one of the best ways to spread awareness about the conservation of natural resources.
Green Tourism
View this post on Instagram
This type of sustainable tourism is based on promoting travel destinations and activities that are offbeat and lesser-explored. It involves rural initiatives that are in accordance with the local environment. Green tourism promotes healthy and environment-friendly activities. It mostly involves visiting natural destinations and exploring local fauna and flora.
Responsible Tourism
View this post on Instagram
Responsible tourism is all about making a destination a better place for tourists to visit and also for the locals. It is made possible by the sincere efforts of travel operators, hoteliers, government bodies, locals, and tourists, who come together to make tourism more sustainable.
Overtourism
View this post on Instagram
Remember those viral videos of large crowds gathering at Manali's Mall Road and Mussoorie's Kempty Falls that did the rounds on social media last year? Well, that's exactly what overtourism is. It happens when too many visitors visit a particular destination. This leads to a conflict with the local communities and impacts their daily lives to a large extent in ways like water shortage and lack of resources for the locals.
Regenerative Tourism
View this post on Instagram
Regenerative tourism is based on the idea of leaving a place better than it was before your visit. This type of sustainable tourism represents a sustainable way of travelling and exploring new destinations. The main purpose of regenerative tourism is to leave a positive impact on the destination you are visiting and leave it in a better condition than how you had found it.
Solidarity Tourism
View this post on Instagram
Solidarity tourism is the type of sustainable tourism, where a tourist not only wishes to learn about the culture and lifestyle of the place he or she is visiting but also wishes to add to the development of the place. It is closely linked with volunteer tourism and involves the best ethical and socially responsible practices for the conservation of the environment and education of the local communities.
Geotourism
View this post on Instagram
This tourism revolves around activities that are based on learning the geological importance of a place. Geotourism helps in promoting tourism even in the remotest corners of the country. India is home to 34 Geological Heritage Sites that have been chosen by the Geological Survey of India. Some of the recently declared sites include Siwalik Fossil Park in Himachal Pradesh and Stromatolite Park in Sikkim and Marine Gondwana fossil park in Chhattisgarh.
Soft Tourism
View this post on Instagram
Soft tourism refers to the type of sustainable tourism that is environmentally and socially compatible. It gained popularity in the early 1980s in countries like Austria and Switzerland. It's close to nature and travellers are expected to respect the host culture and avoid relying on technology. Soft tourism activities include skiing, hiking, trekking, and village walks, among others.
Rural tourism
View this post on Instagram
Rural tourism has gained immense popularity in the pre-pandemic world. Travellers are looking for vast open spaces and want to unwind in the lap of nature. This is where rural tourism comes to their rescue. City dwellers love taking their kids for a staycation at a farm stay and introducing them to the life led by village folks. It not only helps the tourists in learning about a new culture and traditions but also helps in the financial upliftment of the villagers by supporting their livelihoods.
Related: 5 Easy Ways To Reduce Your Carbon Footprint As A Traveller
Written By