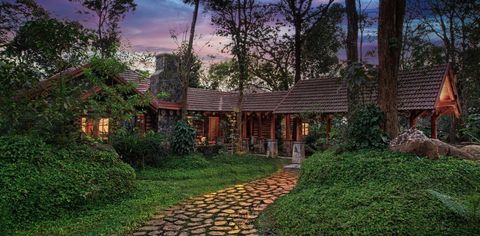 What is life in its abundance and reverse urbanisation, and how does it lead to a sustainable lifestyle with an example? By Ar. George E Ramapuram The beginning: core belief and design approach
Surrounded by nature from my earliest years, my core belief that God is the greatest architect and Nature is the greatest design to ever exist has been rooted firmly within me. This belief ingrained in me, and consequently every member of Earthitects, has resulted in harnessing nature to facilitate life in its abundance by enabling the fullest enjoyment of God's creations. We believe the future of living will revolve around a concept called — reverse urbanisation.
Being passionate about creating and constantly innovating in the way we live led us on the quest to create a concept of living that would allow us to experience 'living' to the fullest.
In experiencing life in its abundance, the outcome is an ecologically conscious design that works closely with the environment with an uncompromising need for the perfectly balanced relationship between people, the built space and the natural environment. This inbuilt sensitivity of our signature design style finds expression in every Earthitects' creation, including our private residences at Wayanad.
The existing 'living' experience In most urban settings today, the very basics of living—such as clean air, adequate water, waking up to birdsongs, the joy of being able to taste a fruit fresh off the tree, or even the ability to experience a quiet moment—have started to become a scarcity. Even the birds and bees have started to leave us. Are they convinced, too, that our current urban-centric lifestyle is not conducive?
Due to high population densities, the Earth's natural replenishing capacity has been rendered ineffective in most current urban settings that we inhabit. Initially, our world's modern, urban-centric lifestyles was a result of job creation opportunities in these areas, and consequently the creation of a better lifestyle or 'living experience' for oneself. Slowly but steadily, this very urban-centric lifestyle has led most of us, humans, to have living experiences that are substandard not only for us but also for the natural world around us.
The need of the hour There is now a need for balance and a longing for one to reconnect with nature. With the advent of ultra-high-speed internet, the ability to work from anywhere in the world, and the abundant availability of conveniences for everyday living in remote locations, humans can live and work from anywhere in the world (reverse urbanisation) and not necessarily in urban settings that we have been inhabiting thus far.
I believe that by living and working in non-urban settings (now accelerated in the post-pandemic world), we can reestablish the experience of connecting with both oneself and the natural environment—a relationship that has been severed by our modern, urban-centric lifestyle.
'Life in its abundance' through reverse urbanisation At Stone Lodges, Private Residences (Wayanad), Earthitects has pioneered and achieved the philosophy of experiencing living in its fullness through reverse urbanisation. Focused on living in harmony with nature, we wanted to change the way people live by bringing the essence of the wilderness in every square foot. We reimagined the experience of everyday living by allying with Mother Earth in designing and creating dwellings that are in harmony with oneself and the natural environment; dwellings that facilitate natural life.
The population density and its pressure on the land are already heavily minimised, in addition to undertaking water harvesting and composting measures to achieve zero-waste homes. In order to give back to society, the Earth's natural replenishing capacity is made positive rather than just equal. This leads to a sustainable lifestyle that results in giving back to our Earth, rather than taking from it. Large parcels of land are assigned for each unit to ensure that the luxury of space can be experienced with fruit trees and herbs grown in the property. Apiculture, along with bird and butterfly friendly landscape measures, has ensured that the native ecosystem is flourishing because the residences are present in these locations, not in spite of it. Only five years ago, what existed as a neglected coffee plantation in Wayanad soon changed when we planted more than 8,000 native trees. The once bare site transformed into a lush forest, with carefully selected native species of plants and trees. Native bird species soon returned, thus enhancing the birding experience allowing man and nature to coexist in harmony.
Today, it's not rare to see endangered birds splashing around the lily pond on the decks of the private residences and using it as a birdbath. By planting many butterfly-friendly plants, it's an everyday occurrence to spot dozens of butterfly species, too. The protection and conservation of native bee species have been facilitated by bee houses. With sustainable living being our core idea, we have up-cycled wood from construction for the fittings and furnishings, while also maintaining the wood's organic shape. While most natural materials used are acquired from the site itself, other materials are sourced locally to promote nativity. And to ensure no resource goes to waste, some boulders are cut to form the rubble walls, while leftover teakwood is crafted into fixtures and fittings. Intentionally left unfinished to accentuate natural living, the wood used in crafting fixtures ages gracefully over time. When a building comes in the way of a tree or boulder, the design is modified to go around the existing structure and accommodate it to be a part of the natural design. Thus, the existing flora and natural features on the site play their part in enhancing our living experience.
Noise, light and air pollution are practically non-existent, too. Additionally, super-fast internet connections are available. Conveniences such as groceries and restaurants are available for delivery. Medical stores, gyms, and fine-dining resorts are in close vicinity.
Welcome reverse urbanisation I believe that reverse urbanisation or living away from urban settings is the future of living. In today's world, reverse urbanisation, if done right, has all the benefits of living in an urban setting without its disadvantages on our Earth. Through reverse urbanisation, our world can achieve the experience of living life in its abundance.
Note: Ar. George E. Ramapuram is the Managing Director and Principal Architect of Earthitects.
Related: Sustainability In 2021: How To Live An Eco-Friendly Life
Written By