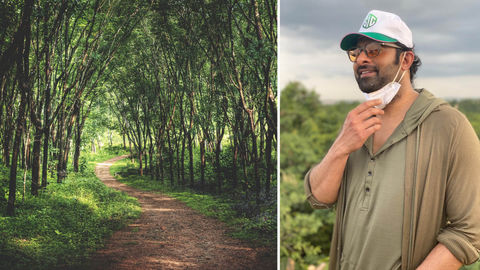 After playing a mythological super-hero in the mega-hit franchise Baahubali, Indian actor Prabhas is now donning the role of a real-life hero by adopting 1,650 acres of the Kazipally Reserve Forest Block near Hyderabad. By Bayar Jain
View this post on Instagram
Taking to Instagram to announce his latest initiative, popular Telugu actor Prabhas has adopted and developed 1,650 acres of Kazipally Reserve Forest Block near Hyderabad. As per a tweet by Rajya Sabha MP Joginapally Santosh Kumar—who Prabhas has thanked in his social media post—the star donated an INR 2 crore cheque to the forest officials for the land's development. Prabhas has further thanked the Government of Telangana and the Forest Department for the opportunity. In the short video post—in English and Telugu, both—the 40-year-old further adds that he has always been a nature lover and that by undertaking this initiative, it would enable the city to create additional lung space.
This forest will turn into an Urban Eco Park, that will be named after his father Shri UVS Raju garu.

Much appreciations to him for his #Bahubali gesture towards sustainable environment.

Formalities done to this effect along with Hon'ble @IKReddyAllola garu & #Shobha PCCF garu. pic.twitter.com/LtqPQk3fMa

— Santosh Kumar J (@MPsantoshtrs) September 7, 2020
Kumar's tweet elaborates that the money donated will be used to turn the forest into an urban eco-park. Further, it will be named after the actor's father and late producer Uppalapati Surya Narayana Raju. Pictures accompanying the politician's tweet suggest that the foundation stone has been laid for the same. In the pictures, the two—along with a few other officials—can also be seen looking over at the expansive forest from atop a temporary bamboo structure.
Notably, an earlier tweet by Kumar from June 2020 shows young rebel Prabhas—as he is fondly known—planting saplings at his residence. Both these initiatives have been undertaken as a part of the #GreenIndiaChallenge, a social media challenge spearheaded by Kumar himself, which urges people to plant a sapling, nurture it, and tag fellow individuals to do the same as well.
Related: Meet Padma Shri Daripalli Ramaiah, India's Very Own Superhero Who Has Planted Over 10 Million Trees
Written By