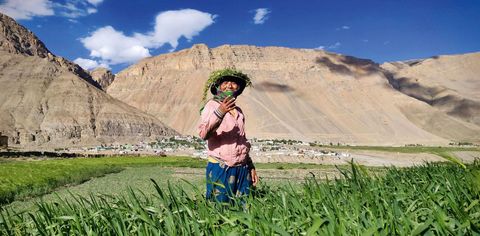 Here is our handpicked list of five experiences across India for your next conscious travel trip. By Team T+L India & SA
Explore the Wonders of God's Own Country in Thenmala |Kerala Kerala has long been the torchbearer of responsible tourism in India. From supporting women-run restaurants to developing environment-friendly tourism products, the state has paved the way for others to follow. Thenmala, for instance, has 10 eco-tourism spots spanning the hill ranges of Thiruvananthapuram, Pathanamthitta, and Kollam districts. There's something for everybody, from trekking to jungle camps, adventure zones, and leisure zones for families with young children. Thenmala was even selected by the World Tourism Organisation as a premier eco-friendly project.
See the Finest Side of Odisha with the Chilika Lake Tour | Odisha Odisha is known for its tribal cultures, ancient Hindu temples, cascading waterfalls, dense forests, and beautiful wildlife. In keeping with its tourism tagline, 'scenic, serene, sublime', this state in India offers a range of options for conscious travel from nature camps to eco-resorts. A wonderful way to enjoy some of the best attractions is via the Chilika Lake Tour, offered by the state government. You start in Bhubaneswar, move on to Puri, marvel at the beautiful structure of the Konark Sun Temple, enjoy a leisurely cruise on Chilika Lake, and soak in the beauty of the rock-cut Khandagiri and Udayagiri Caves. Learn Sustainability from the Tribes of Khonoma | Nagaland With unique pockets of rural areas offering pristine natural beauty, preserved cultures of tribal folk, and the unfailing warmth of its people, Nagaland is a model for eco-tourism and conscious travels in India. The Angami tribe of Khonoma especially sets an example of creating a sustainable ecosystem. Khonoma, located about 20 kilometres from Kohima, is one of the cleanest villages in the subcontinent. Known as the Green Village, its beauty lies in lust terraces carved out of hill slopes and alder trees that form a paradise for birdwatchers and botanists. One of the most popular times to visit Nagaland is during the Hornbill Festival. But if you want to avoid the crowds, a lovely way to explore the state is via a seven-day package to explore the villages. Start at Kohima, with a visit to the World War II memorial, go on to Khezhakeno and stop for a picnic at Cheda Lake, then proceed to Phusachodu, the largest village in Phek district, and stay at the beautiful Khonoma village.
Run a Cafe in Spiti | Himachal Pradesh The town of Kaza is the single-most commercial hub in the far-flung Spiti Valley of Himachal Pradesh. Other than a few residential pockets, it has a market area that is usually packed with tourists in peak season, from May to September. There are a handful of homestays, restaurants, and shops for all your basic needs. Kaza is where travellers usually base themselves to explore the vast Spiti Valley. Spiti Ecosphere is a pioneering social enterprise that arrived in the region over 20 years ago. They work with locals to enable ecotourism and set up sustainable projects to make living at an altitude of 4,200 metres a bit easier. Over the years, they've set up around 550 solar passive rooms, over 150 greenhouses, and an increasing number of solar water pumps in villages across the valley. In the heart of Kaza, the organisation has two cafes—Sol Café has been the go-to cafe for backpackers since 2012, while Taste of Spiti draws crowds for its locally-inspired dishes. Voluntourism, or voluntary tourism, is one of the key aspects of Spiti Ecosphere's working model. Each year, the organisation invites travellers to make their visit to Spiti eco-friendly by applying for one of their voluntourism programmes. You could help with their greenhouse farming projects, teach at a nunnery, create content for them, or run one of their cafes for a month. Running a cafe in one of the remotest parts of the world involves sourcing ingredients, rationing, running (literally) breathtaking errands around town, waiting tables, engaging customers, and maintaining the bill book on a daily basis. You're thoroughly supported by Ecosphere's humble team, including local chefs, the founder Ishita Khanna who lives out of Spiti half of the year, and Ziki, their mountain shepherd dog.
Meet the Lesser-known Tribes of Northeast India | Arunachal Pradesh Kipepeo is a socially inclined enterprise that strives to create a more equitable society through tourism. It runs a wide range of tours in the Northeast with special emphasis on sensitivity towards local ecosystems and cultures. Its Tribal Arunachal Tour explores the cultural diversity of lesser-known tribes like Apatani, Tagin, Adi, and Gallo, who reside in the verdant valleys of the state. The highlights include sampling local cuisine and brews, staying with local families in their homes, a day trek in the fabled Ziro valley, and more.
This is part one of our five-part series —TL Conscious Travel List (compiled by Rashima Nagpal, Bayar Jain, Srushti Kulkarni, Shibani Bawa, Adila Matra, Sumeet Keswani) which lists 50 sustainable experiences and destinations around the world.
Check out part two here, and part three here.
Related: Here's How You Can Make This Holiday Season Sustainable And Fun!
Written By