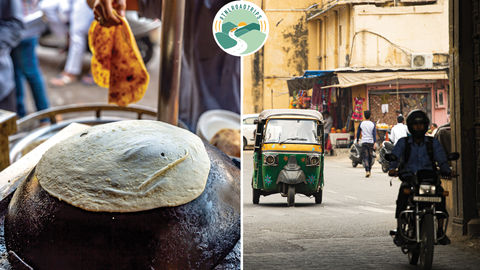 It is safe to say that the only thing better than travelling is eating. But isn't it the best when the two get together? Sometimes, it is worth hitting the road just to relish that one dish in one part of the world because you know that no other place does it better. Take these iconic culinary road trips from Delhi for example. By Rashima Nagpal
Best culinary road trips from Delhi to go on after the lockdown –
1. Delhi to Jaipur
The go-to weekend destination for a Delhiite, Jaipur is as sought-after for its grandeur as it is for its food. The cultural heritage that the city is home to truly shines through the flavours it serves. The culinary affair begins even before you reach the destination. The several Highway Kings are sort of a mandatory pit-stop for almost anyone driving from Delhi to Jaipur and back. The Old Rao Dhaba makes for another delicious highway break. Then, as you reach the Pink City, a quick kachori at the legendary Rawat restaurant is a must-do. Seasoned foodies never not visit Bar Palladio when in Jaipur — be it for a Bloody Mary or their pesto linguine, this is where the Mughal in Jaipur meets the European.
Duration: 5-6 hours
Best time to visit: To avoid the sweltering heat in Rajasthan, the rainy season and winter months are ideal for a trip to Jaipur.
Where to stay: From boutique Airbnbs to The Oberoi Rajvilas Jaipur, there's an option for every kind of traveller.
2. Delhi to Amritsar
The road to the best of North Indian flavours goes through Amritsar. The OG chole-bhature destination, Amritsar is a delightful treat to the senses. Its glorious past mixed with its culinary heritage make for an appetising road trip. If you're a true-blue Murthal fan, chances are that your food trail will begin as soon as you step outside of the national capital. The ever-growing range of modern-day dhabas and restaurants along NH1 makes it one of the best highways in the country for a road trip. From Sonipat's Garam Dharam to the iconic haveli in Jalandhar — there are pit stops aplenty. Once in Amritsar, start with traditional classics such as Kesar da Dhaba, Pehelwan Kulcha and Kanha Sweets and go all the way to young favourites such as La Roma Pizzeria. And you don't want to miss the divine langar at the Golden Temple.
Duration: 8-9 hours
Best time to visit: Avoid harsh months of summer and pick a few cool days to experience Amritsar.
Where to stay: Hyatt Regency Amritsar for a refined stay at the heart of the city. To transform your road trip into a relaxing offbeat holiday, consider destinations like Punjabiyat.
3. Delhi to Lucknow
Meat lovers in Delhi don't really need a reason to make a trip to Lucknow. Though Old Delhi offers its fair share of Awadhi cuisine, Lucknow continues to be the real MVP when it comes to kebabs and biryanis. Due to the lack of good enough eateries along the way to Lucknow, there aren't any pit stops to be talked about. However, to make it worth the wait, dig straight into the best food that the city of Nawabs has to offer. There's Tunday Kababi and Wahid Biryani for lip-smacking street fare, local favourites such as Dastarkhwan, as well as plenty of upscale dine outs such as Oudhyana at Taj and The Urban Terrace.
Duration: Depending on the traffic conditions, it can take about 8-10 hours to reach Lucknow.
Best time to visit: Save this one exclusively for winter.
Where to stay: Hotels like Taj Mahal Lucknow and Hyatt Regency Lucknow make for plush accommodation options.
4. Delhi to Shimla
The next time you take a road trip to Shimla, let it exclusively be for its mouthwatering food. Often overshadowed by the other charms of the hill station, the culinary scenario of Shimla is rather underrated. Look beyond what meets the eye to find hidden gems like Aashiana & Goofa that serves authentic Himachali cuisine at an idyllic spot in Lower Bazaar. Stop by at the iconic Indian Coffee House for one of the best cups of coffee, then at The Brew Estate microbrewery for your fill of beer, and Cafe Simla Times for good-old cafe vibe.
Duration: 8 hours
Best time to visit: Escape the summer of Delhi to enjoy the balmy weather of Shimla.
Where to stay: Woodville Palace Hotel and The Oberoi Cecil make for pleasant options.
Related: #TnlRoadTrips: Here's Why You Must Go On These 5 Scenic Road Trips From Bengaluru
Written By