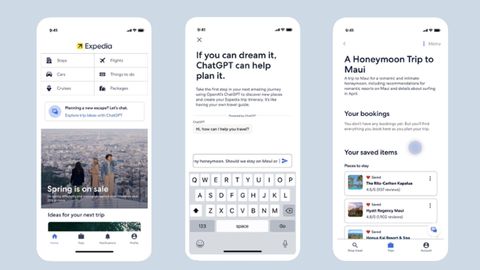 Expedia is leveraging the power of artificial intelligence with a new in-app feature using ChatGPT to help travellers plan their next vacation.
The new feature will allow travellers to have an "open-ended conversation" with the AI bot about all aspects of their trip, from where to go and stay to how to get around while they're there, Expedia shared with Travel + Leisure. The ChatGPT bot will then automatically save any hotels discussed to a "trip" in the app.
Here's all you need to know about ChatGPT helping out with vacation itineraries on Expedia
"Every great trip can be made or lost while planning and shopping. As the leader in travel tech, Expedia continues to build out the core operating system for the industry, constantly enhancing capabilities and making trip planning faster, simpler and even more informative," Peter Kern, the vice chairman and CEO of Expedia Group, said in a statement provided to T+L. "By integrating ChatGPT into the Expedia app and combining it with our other AI-based shopping capabilities, like hotel comparison, price tracking for flights and trip collaboration tools, we can now offer travellers an even more intuitive way to build their perfect trip." The new AI feature, which is currently available on the Expedia app, will allow travellers to ask questions about a potential trip as if they were asking a trusted advisor.
When asked to plan a trip, the ChatGPT follows up with questions about trip preferences and budget requirements. The AI also takes the specific type of trip into account. For example, when asking about a vacation for a young family, the bot answers with a query on how old the children are.
Expedia isn't alone in leveraging the power of AI. In New York, the Park Hyatt New York installed an artificial intelligence-powered mattress that adjusts its climate zones to ensure guests go through all the proper sleep stages. And in Greece, visitors to the Athens Olympic Museum can travel back in time with the help of 3D AI.
This story first appeared on www.travelandleisure.com
Main and Feature Image Credit: Courtesy of Expedia
Related: Can ChatGPT Plan The Perfect Vacation To Goa?
Written By