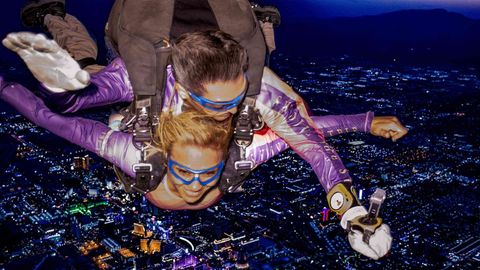 Thought you've seen and done it all in Las Vegas? One adventure operator begs to differ.
Skydive the Strip: After Sunset is launching an all-new experience high above the Las Vegas Strip, becoming the first-ever authorised company to offer tandem skydiving in the city after sunset.
The company shared in a statement provided to Travel + Leisure that it's become the only company authorised by the United States Parachute Association (USPA) to perform the jumps after the sun goes down, all in an effort to help thrill-seekers "feel the rush of adrenaline of freefalling above the evening lights of the Las Vegas Strip."
Experience skydiving in Las Vegas after sunset "My inspiration is to try and find an amazing experience to share with someone that no one has ever been able to do before," Jim Dolan, a tandem instructor and co-founder of Skydive the Strip, told T+L. "That, to me, is inspirational. Life is about experiences, and this is one of a kind."
Tandem jumps, the team noted, are usually reserved for first-time skydivers during the daytime hours. (A tandem jump is when a newbie diver is strapped to a professional, who guides the journey from airplane to ground, allowing the jumper to focus only on the epic experience ahead.) The company's team of instructors included skydiving champions and record holders who have jumped more than 48,000 dives.
"With safety at the forefront, Skydive the Strip has completed rigorous safety testing and received a unanimous vote of approval from the USPA board of directors and the safety and training committee to perform tandem skydives after sunset," the team explained in its statement.
Prior to the leap, Skydive the Strip's tandem instructors will conduct one-on-one training in preparation so participants feel confident and well-prepared throughout the entire experience. But that's not the only stellar part of the journey. As the company noted, all guests are treated to limousine transportation from anywhere in Las Vegas, which takes them to a private helicopter pickup off the fairway of the Las Vegas Country Club to the jump site. The experience also comes with a photo and video package to capture every moment of the trip, from pickup to freefall, and the parachute opening to allow you to glide down to Earth with ease.
The luxury skydiving experience begins at USD 30,000 (INR 24,92,590) per jump. It's also a highly limited experience, with fewer than 100 reservations offered per year. See more about the jumps and book your coveted spot at skydivethestrip.com.
Shop the best travel experiences here
(Hero and feature image credit: Skydive the Strip After Sunset)
This story first appeared on travelandleisure.com
All currency conversions were done at the time of writing
Related: The 30 Best Things To Do In Las Vegas, From Gondola Rides To Epic Stage Shows
Written By