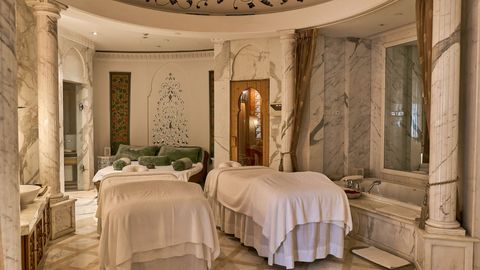 Travel+Leisure India & South Asia gets an exclusive sneak peek of the all-new treatments and menu at the recently relaunched The Imperial Spa, New Delhi, which is now also open for non-resident guests.
First take Traditionally, The Imperial Spa has always been an exclusive facility that was only accessible to in-house residents –a bummer for most Delhiites who would often miss out on the opulent services at this beautiful space. With its relaunch, the spa is now open for non-resident guests, too. The all-new treatments combine the ancient healing techniques of Ayurveda and yoga.
Ambience Ideal for those looking for a digital detox in the heart of the capital city, The Imperial Spa is nestled amid landscaped gardens and is a haven of tranquillity the moment you set foot. The architecture is a fine balance of Moroccan, Moghul and Indian craftsmanship. Expect thikri work on the arch walls, and a touch of Indian motifs in each nook. There are 10 individual treatment rooms — the hamam-style hydro therapy areas exude quietude, while the Moghul suite is a private treatment abode for couples with an en suite steam, sauna, and jacuzzi. The Kerala suite is inspired by a traditional Ayurvedic centre. The therapy suites and rooms, along with the relaxation areas in soft white hues of marble inlay work, lend to the meditative ambience.
Tried and tested: Imperial Iconic Massage This signature massage includes a hot moisturising candle massage from South Africa, western healing, and balancing methods for a holistic well-being. Athini Kashe (head of spa, salon and wellness at The Imperial New Delhi) explains the benefits of using the kansa for body massages — it's a must-try! While I have used the kansa wand for facial massages, this is my first time trying the kansa on the body. Customised kansa wands are used for this signature treatment, and the well-trained therapists ensure that every sore muscle in the body is relaxed. It releases natural healing energies, stimulates pressure points, and facilitates a thoroughly rejuvenating therapy for the body. The new range of aromatic oils that the spa has introduced only adds to the holistic experience.
Price: INR 8,500 for 60 mis; INR 10,500 for 90 mins
Other Treatments
The other treatments offered here include:
Shirodhara where warm oils are poured slowly onto the forehead to calm and balance the mind. INR 9,000 for 75 mins
The Imperial Spa Together: this is a four-hour long indulgent experience to share with your partner. The package starts with the Imperial Iconic massage, followed by the diamond and pearl high-performance facials, followed by a private steam or sauna, royal rose and milk bath with a glass of champagne and fresh fruit platter. INR 45,000 for a couple.
Related: How Has Wellness Travel Revolutionised In The Indian Hospitality?
Written By