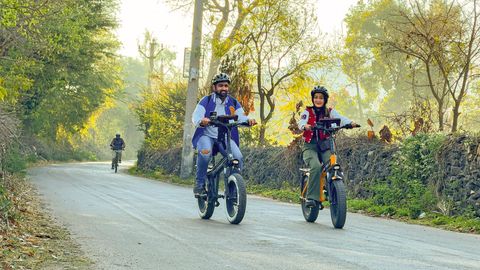 Ditch the Pichola rides, ghat hopping, and high teas in grand palaces for a tech-powered, e-bike romp in the Udaipur countryside.
It's pitch dark at Udai Kothi when I punch in my debit card details to unlock the yellow-and-black e-bike for an early morning jaunt to Rayta Hills in Udaipur. Over sundowners the previous evening at Baromasi, the in-house brewery at the luxury boutique hotel, Udai Kothi, there was talk of luxury fatigue in Udaipur. Mewari grandeur is a relentless force. You try to escape it— and the bridal parties milling around the Pichola—by ducking into the shadiest gully within the old city maze. But a stained-glass window pops out of a blue wall, a stunning ruby earring dangles off a mound of silver jewellery lying by the kilo in a dusty store, and kids fling themselves off Gangaur Ghat to cool off. Udaipur miraculously waves some magical Rajputana wand on the old and mundane, turning them into vintage and atmospheric. Even a visit to a decrepit sword-making workshop by a fifth-generation artist of the Sikligar clan, next to Udai Kothi, turned into a sepia-tinted photo op and story session of royal valour. So, over a mug of homegrown Kalali beer at Baromasi, when a strange gent put forth the idea of an e-biking trip in the countryside, I jumped at the chance. I wanted to do something rugged in Udaipur.
A Slow, Sustainable Adventure It's 6 am now and I'm pedalling through the old city, passing by Jagdish Chowk. The trail I've booked– on the bike itself, on its tablet interface—is 15 kilometres away, at Rayta Hills. I straddle the e-bike and I'm immediately overcome with nostalgia. Did all kids growing up in India in the 90's ride bicycles? I cycled voraciously for over eight years, followed by moped riding for another eight years. Now, on a more au courant, Gen Z-version of my school bicycle, I stumble a bit. Both the e-bike and the self-guided trail are from Strode Experiences, an experiential travel company launched by an Udaipur homeboy. The tech is charming, but the eco-friendly vehicle itself is a looker; the e-bike version of an NYC taxi, with fat tyres, a gel-based seat, mobile charging point, and a giant basket. It is designed to feel modern and old-school at the same time, as if you're on a simulated picnic with The Adventurous Four. I seem to have picked up well from my school days. After pedalling manually for a few kilometres, I'm embarrassingly a tad tired. So, I open the throttle, and involuntarily, jump up on the seat! The muscle memory of manual cycling and biking have collided in one spurt of speed. The acceleration takes only a few minutes to get used to. The roads are still flat, but the throttle grip feels good. With no traffic to contend with, I find myself riding between corn fields on either side, at a breezy 20 kmph. The e-bike's navigation system says I'm passing through the village of Nai near Udaipur, inhabited by generations of barber families. The road is excellent. I breeze onwards to Jhadol highway, where things begin to get bit upslope. To compensate, the elevation offers great views of the city. Stopping for a steamy kulhad chai, I shoot the breeze with the chaiwala. He's pleased with the chic e-bike and its modern features. The minute I wander off a bit to stretch my legs, he's poking around. Single women on e-bikes aren't common up here. At present, it's spookily free of the usual buzz of fitness freaks sweating it out on their mountain bikes and other random watchers. The chaiwala points me in the direction of an off-road trail. I e-lock the bike and walk just under a kilometre of thick shrub, for a serene city view. On the walk back, I manage to lose my way. Hurrah for GPS tracking. Cycling up to Mahi Hills before hitting Rayta's steep slopes, I'm waylaid by two other Strodesters who ride up behind me, at a furious 35 kmph speed on the long lonely road. They're from Mumbai, but a good decade younger than me and on an unofficial honeymoon. Together, we stop to watch Mansi Vakal Dam reservoir, which has been supplying 25 per cent of Udaipur's drinking water since 2005. It was then that local authorities woke up to the possibility of an extended drought in the city. The dam was built to harness rainwater, with excess water flowing to Gujarat. I switch to the pedal assist function which works smooth as butter. With a 60-electronic gear menu, this e-bike is a mean machine, especially if you want a shot of adventure but aren't exactly training for Iron Man. For over an hour, it's just the three of us winding up Mahi Hills. Though it isn't as lush green yet, we feel like we're cycling up the rolling hills of Tuscany. We have to park our bikes to hike up Rayta. The effort is worth the view of the mighty Aravallis. The oldest range of fold mountains in India rolls across the horizon like a rugged warrior protecting the borders of his kingdom. If it weren't for Udaipur's iconic lakes dotting its stoic landscape, the views would be an extension of the Sahyadris. But the Aravallis dotted with placid oases of water look straight out of an ancient painting. A band of Rajputs led by Maharana Pratap could gallop in at any moment. Up here, the wind plays a number on us. Despite our helmets, we feel a cosy tug, a slight sandpapering of our faces. Down the slope, I attempt to roll at 40 kmph, which is super fun, but I wouldn't try it if the mountain roads weren't empty. Down in the plains, the wind flow gets way more pleasant. By the time we make an impromptu pitstop at the first hamlet we see, we're hungry and just in time for a gritty sarson ka saag cooked over an open fire. I take it to its sharp, strong, slightly bitter taste as much as I did to another indigenous dish, ker sangri, which I devoured last night at Udai Kothi. Komal, the lady of the humble mud house we stop at won't accept any payment for the quick early lunch/snack. In return, she and two of her kids have a volley of questions about the e-bike quid pro quo! E-biking in Udaipur
Later that evening, I hunt down the e-bike for another mini adventure in Udaipur. This time, I'm accompanied by a sprightly chap, Rohit. A local guide, drone pilot, videographer, photographer, and shayar all rolled in one lanky, hippie frame; he calls himself a Strodester and bikes with me to Badi Ka Talab or Jiyan Sagar, the most underrated of Udaipur's iconic lakes. Built in the 17th century to save the villagers of Badi from a devastating drought, the artificial freshwater lake provides a stunning getaway if you need a break from the tourist crowds.
As we cycle, Rohit unleashes a drone in the sky, to capture my ride. It's an excellent proposition. The drama of cycling in this landscape can be best recorded from above. Though it isn't as lonely a road as earlier, riding to Badi is a tranquil experience, enhanced by the silence of the e-bike. It takes an hour to reach Badi. The road is tucked between mountains and the lake. We circle the lake, on its picturesque promenade, as waterfowl cackle. If Mahi and Rayta felt like Tuscany, Badi feels like Lake Como, minus the Russian mafia and Hollywood star mansions. There's also a Marwari horse ranch, deliciously close by. Rugged as promised, with an inescapable whiff of period romance, Mewari style.
Related: Chunda Shikar Oudi: Udaipur's Wildlife Haven, Right In The Midst Of Cityscape
Frequently Asked Questions ( FAQs)
— How do to reach Udaipur?
Direct flights from New Delhi, Mumbai, and Jaipur land at Udaipur's Maharana Pratap Airport. The city has excellent road and rail connectivity to Delhi, Jaipur, Kolkata, Indore and other cities in Rajasthan.
— How do we book the e-bike tour?
One can book the 'Serenading Skyscapes – Udaipur by Drone' experience on Strode experiences.
Written By