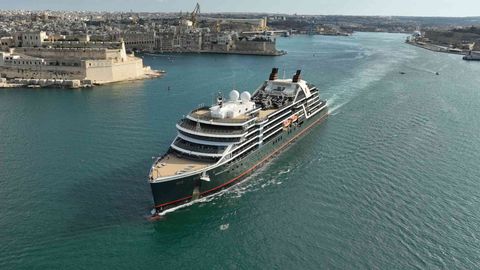 The newest ship from one of the world's best luxury cruise lines has just arrived: the Seabourn Pursuit set sail on its inaugural voyage on Saturday, August 12, from Valletta, Malta. The 132-suite ship is designed for expeditions, in the polar extremes as well as more temperate cruising grounds like the Amazon River and the South Pacific.
"My heart is full of pride and excitement as Seabourn Pursuit, our second purpose-built ultra-luxury expedition ship, just set sail this weekend from Malta," Natalya Leahy, president of Seabourn, shared with Travel + Leisure exclusively. "We are so proud because Seabourn Pursuit and Seabourn Venture are truly state-of-the-art ships that offer the perfect blend of ultra-luxury and expedition."
A journey on this luxury cruise will show you pink dolphins and penguins The new ship is more or less a dupe of the Seabourn Venture, which launched in 2022. Both Pursuit and Venture share a similar architecture, with room for just 264 passengers and a 24-person expedition team that can arrange adventures such as kayak trips, scuba dives, and land-based activities like heart-pumping hikes or cultural immersions, depending on the port.
Both ships have a sleek, yacht-like look and plenty of hardware for hardcore adventures: there's a flotilla of eight sea kayaks plus a fleet of Zodiacs for remote shore excursions. The ship also has two, six-passenger submarines that can be deployed "at the captain's discretion," according to Seabourn, for underwater wildlife viewing and other exploration. Suites come outfitted with Swarovski binoculars and, in polar regions, every guest gets outfitted with a Helly Hansen parka and waterproof backpack. At the same time, Pursuit is as much a luxury cruise ship as it is an expedition platform, Seabourn executives tell T+L. "With remarkable craftsmanship by the [T. Mariotti shipyard] team, an abundance of space, and the breathtaking style of Tihany Design, Seabourn Pursuit raises the bar," Leahy noted in a statement. All suites have verandas, and the spa, as is the case across the Seabourn fleet, is done in partnership with Dr Andrew Weil. There's also no nickel and diming to worry about pretty much everything you can think of is covered by the fare — including caviar on demand or another glass of Champagne Montaudon. For all the luxuries on board, the ultimate purpose of the Pursuit is to take visitors to places they couldn't reach any other way. The ship's first few months will involve more traditional cruising in fairly familiar territory, including the Mediterranean and the Caribbean. The real expedition fun will start in October when plans call for Pursuit to head south from Barbados. The ship is scheduled to venture up the Amazon; along the coasts of Brazil, Uruguay and Argentina; and eventually all the way to Antarctica, where it will operate from November through March 2024. By the middle of next year, Pursuit will be in the Pacific, visiting places including the Kimberley region of Australia, Indonesia, and Papua New Guinea. As befits an expedition vessel, plans will shift on a day-to-day basis, depending on the vibes on board and the prevailing conditions. Deciding what adventures will be on for any given port will fall to that expedition team, as Seabourn executive Robin West shared with T+L in a 2022 interview. "The onboard expedition team is what brings destinations to life," said West, Seabourn's vice president and general manager of expeditions.
"It's one of the larger teams in the industry," West told T+L, "with a huge diversity of skills, resources, and academic backgrounds: submarine pilots, surface supervisor officers, lead kayakers, kayak guides, bear guides, ornithologists, marine biologists, geologists, climatologists, and dive masters."
Guests aboard Pursuit certainly have plenty to look forward to. As Leahy told T+L: "We look forward to providing many out-of-the-ordinary experiences and delivering unforgettable 'Seabourn Moments' to our extraordinary guests."
Fares for Seabourn Pursuit journeys vary by region. Antarctica trips from USD 9,899 (INR 8,24,205) per person for 11 days, all-inclusive, based on double occupancy. Kimberley expeditions from USD 8,099 (INR 6,74,335) per person for 10 days, all-inclusive, based on double occupancy. South Pacific sailings from USD 10,799 (INR 8,99,141) per person for 15 days, all-inclusive, based on double occupancy.
Shop the best travel experiences here
(Hero and feature image credit: Seabourn)
This story first appeared on travelandleisure.com
All currency conversions were done at the time of writing
Related: There's A New 30-Day Antarctica Trip Departing In January 2024; Here's How To Get On Board
Written By