I woke up to grey skies as Oceania Vista pulled into the port of Naples, Italy. Determined to reverse my weather luck, I went to deck 12 for a Morning Sunrise smoothie at Aquamar Kitchen. It worked. Some combination of the restaurant's white-tile backsplash and baby-blue accents and the tropical smoothie brightened my mood. Heartened, my husband and I decided to brave the rain and set out in search of life-changing pizza.
Last week, I was one of 1,200 passengers on Oceania Cruises' first new ship in 11 years. With the debut of Vista, the brand, owned by Norwegian Cruise Line Holdings, rolled out its new Allura class of ship. It's the first Oceania vessel where every room has a balcony, and it launched with Starlink (yes, the Elon Musk Wi-Fi), which was strong enough for me to take a Zoom call in the middle of the Tyrrhenian Sea with my camera on. Of Vista's 11 bars and restaurants, three are entirely new to Oceania — including a high-end cocktail counter that's giving Death & Co. at sea, and the health-focused Aquamar with made-to-order salads, protein-dominant lunch bowls, and pressed juices.
This luxury cruise will take you to France, Greece and Italy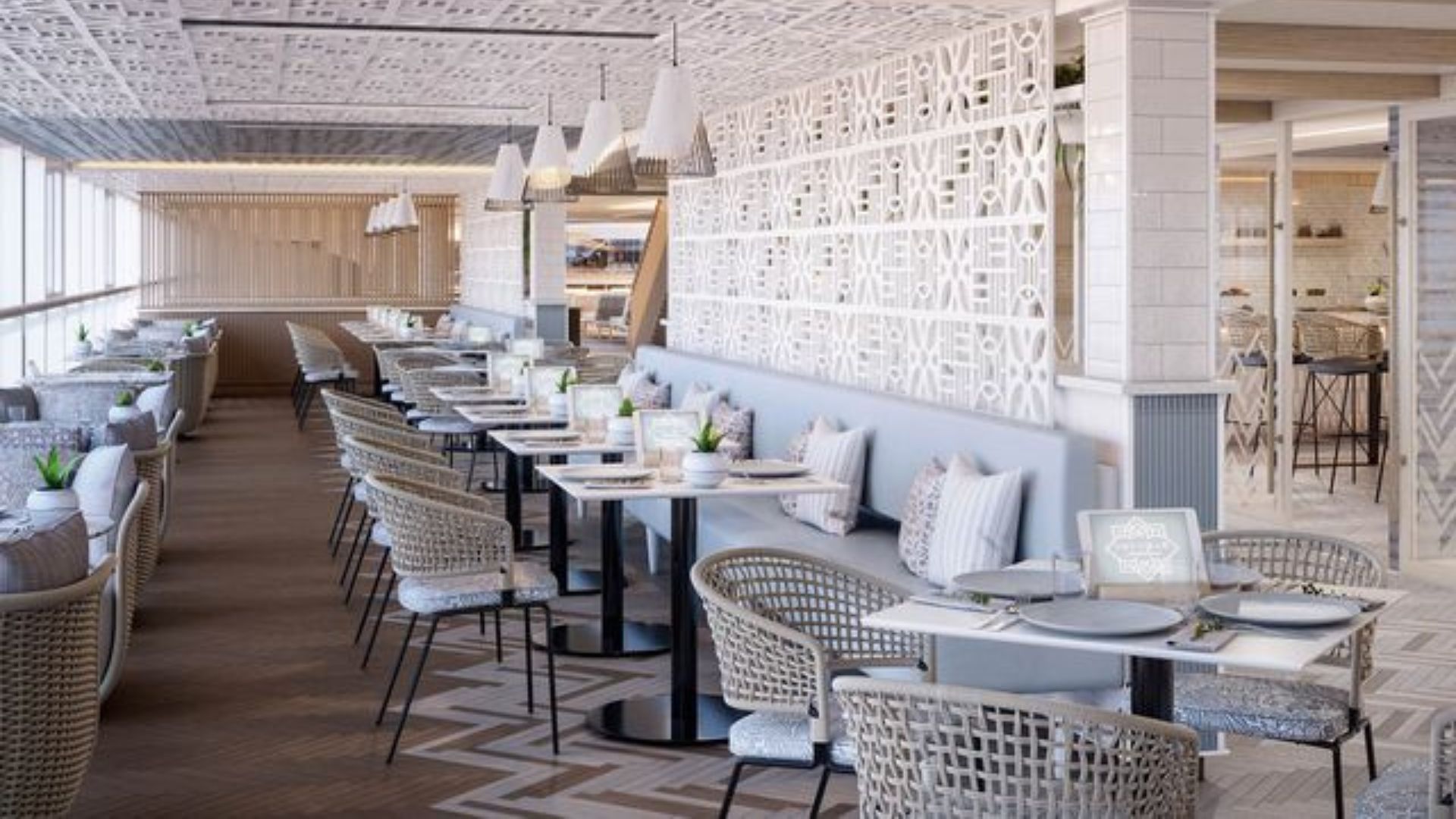 There are, however, venues that faithful Oceania cruisers will recognise, like steak house Polo Grill and Italian restaurant Toscana, also on the Oceania-class ships, Riviera and Marina, and the older Regatta-class vessels. I was particularly excited to eat at Toscana, not only because I'd heard about the olive oil cart, but because Giada De Laurentiis — the ship's godmother who sailed with us and christened Vista in a portside ceremony in Valletta, Malta — supplied two recipes for the menu. As someone who watched a lot of Everyday Italian in the early aughts, I felt strongly about trying her signature Capri-inspired lemon spaghetti. The lemon-cream sauce with grilled shrimp and capers was delivered. It was easily the most talked-about dish on board, with the exception of the duck-and-watermelon salad at pan-Asian restaurant Red Ginger.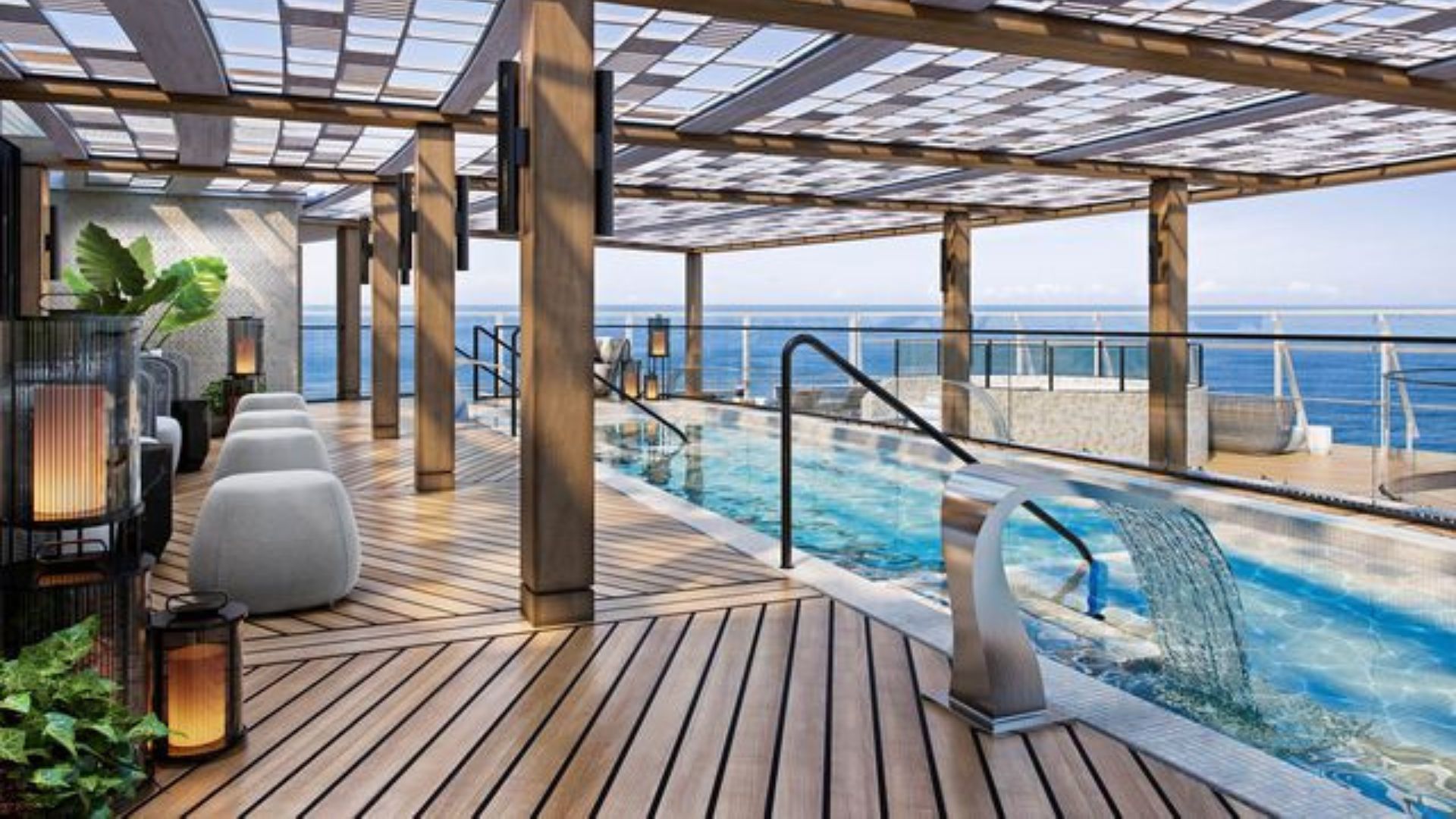 A remarkable gastronomical experience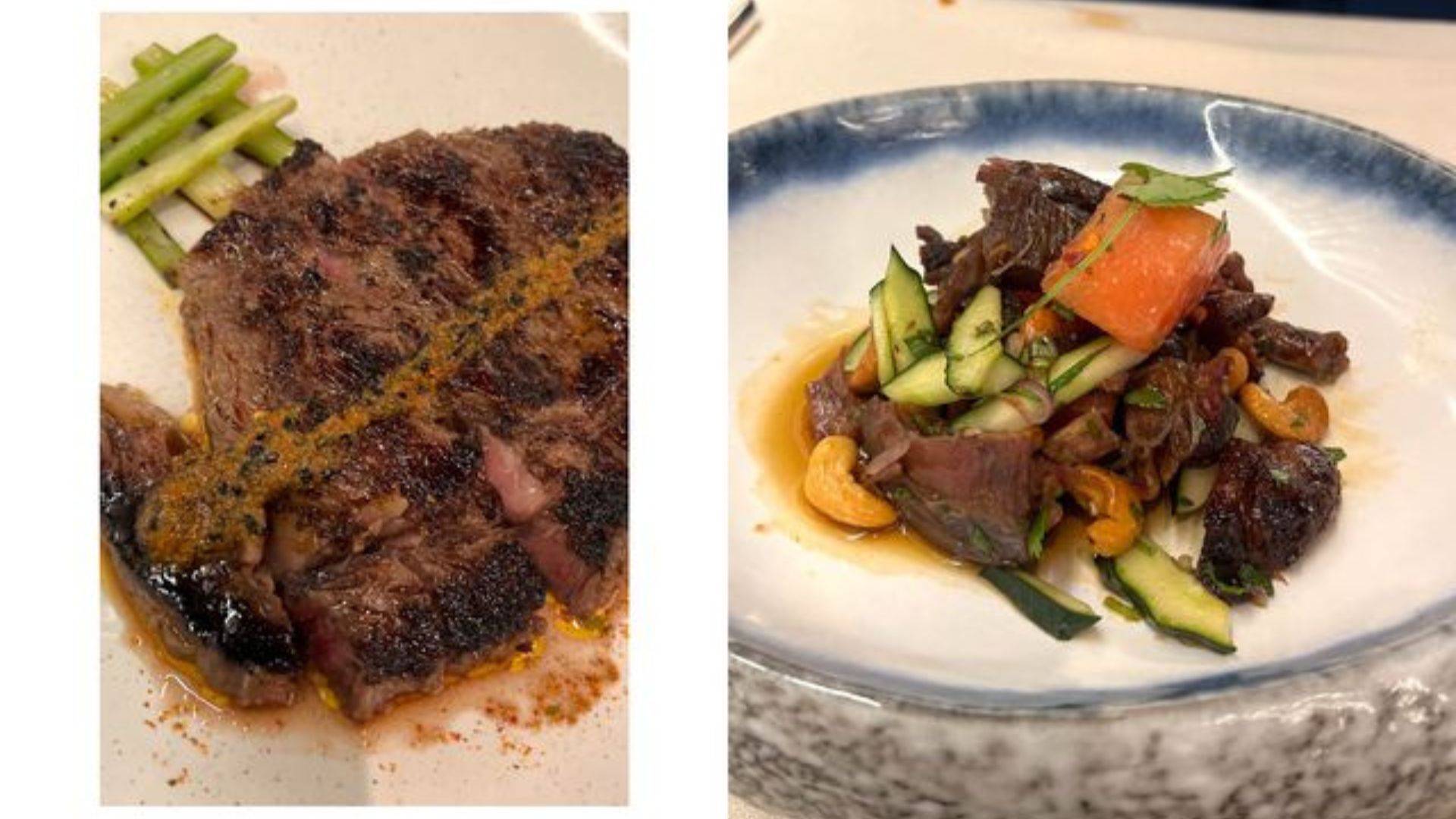 I hit the jackpot – which, on Vista, isn't winning big at the deck-six casino, it's scoring a Red Ginger reservation — about halfway through our cruise, as we sailed from Malta to Naples. From our corner table, my husband and I took in the glass-and-gold light fixtures and the geometric black aluminium dividers that created cosy seating nooks near the windows. We dug into tuna and salmon sashimi, pork-and-vermicelli spring rolls, and — of course — the famed duck-and-watermelon salad (which lived up to the hype), all paired with a Sonoma chardonnay. The showstopper, though, was the medium-rare bulgogi rib-eye plated on chic, blue-rimmed Tokyo Design Studio ceramic. We capped our night at Martini's — bet you can guess what that bar serves — where a pianist plays every night and the well of Elton John covers and The Botanist gin seemingly never runs dry.
The cocktail bar on this luxury cruise never runs dry!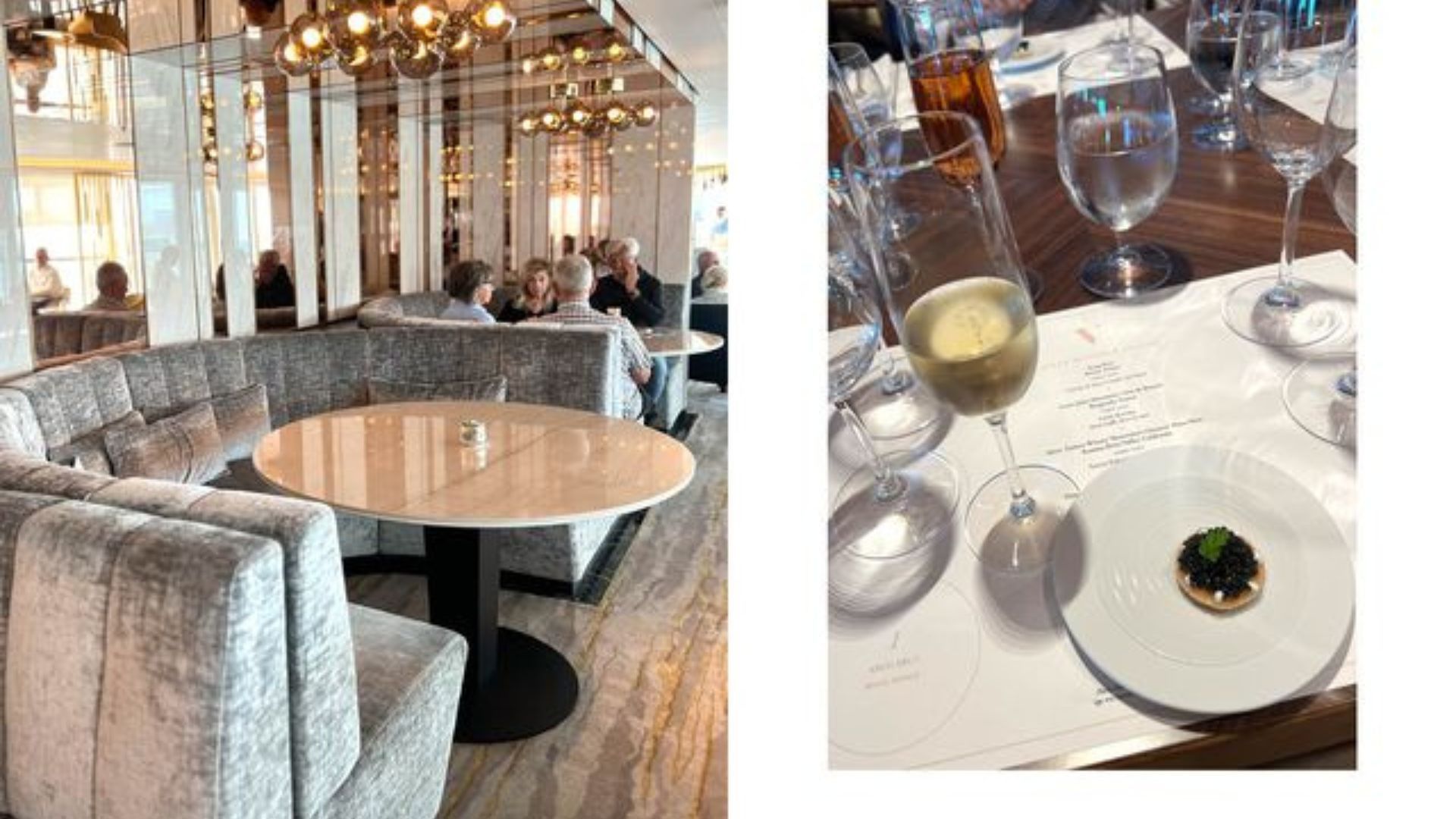 Most nights, though, Founders Bar was the spot. New to Oceania, its most ambitious bar aboard has a menu of 26 intricate cocktails that use house-made syrups and top-shelf booze like Whistle Pig and parsley-infused Grey Goose. Of those cocktails, we tried nine (a decent showing, but not our best), and kept coming back to the Not So Sure, a potent take on an old-fashioned made with Earl Grey tea–infused Woodford Reserve bourbon.
We marvelled over the mixology — smoke, bubbles, and botanical spritzes were all part of the show — with other industry insiders, including Oceania executives and travel advisors who'd joined the preview sailing. Still, the onboard demographic was typical for Oceania, which tends to attract travellers in their 60s. That's where the stories are. We dined with one couple, in their mid-80s, who have done two month-long stints on Oceania ships. They spent our meal at Ember, Vista's new American restaurant, telling us about the preparations that go into cruising the east coast of Africa to safeguard against Somali pirate attacks. Another gentleman, who grew up visiting Malta, sent us to the Valletta pub where actor Oliver Reed spent his time while shooting "Gladiator." (Apparently, one night, Reed challenged British sailors to a drinking contest — and died in that very bar. At the unassuming pub on a Valletta side street, you can buy a shirt with Reed's final, unpaid bar tab: eight pints; 12 double rums; 14 whiskeys. We opted for a slightly more restrained order.)
That said, the ship really is putting in the work when it comes to appealing to millennials. There's the excellent Wi-Fi; pickleball (America's fastest growing sport, by the way, with NPR reporting "the strongest growth among players under 55"); a very Sweetgreen-like salad counter at Aquamar; and a coffee shop that looks like one in walking distance of my home in LA (marble counters, gold accents, leather bar stools) and pulls an espresso shot of similar quality.
Meanwhile, Oceania has vastly expanded the number of tours and excursions available, something that should also appeal to a younger crowd. "These aren't the run-of-the-mill shore excursions that everyone is used to on cruises," promises Frank Del Rio, Jr., the new president of Oceania Cruises, in an interview with Travel + Leisure. All in, the company has developed more than 100 of these new, smaller-group choices, which leverage the expertise of locals and unlock under-the-radar activities, as T+L contributing editor Sarah Greaves-Gabbadon recently reported. These "Go Local" tours brought Greaves-Gabbadon to locals' homes in little-known destinations, like the "Croatian hamlet of Škopljanci (population: nine), where a local farmer welcomed me with homemade cherry schnapps."
Eager to find my own version of a nine-person town with cherry schnapps, I opted for a spin around Corsica that promised a visit to the mountains of Vizzavona and "Corsican snacks." We took an astounding drive from the western port city of Ajaccio to Hôtel-Restaurant Monte d'Oro in the centre of the island. I found our guide easy to tune out (she was, indeed, a local, but her monologue felt more suited to an old-school cruise tour of 50 people, rather than a group of 20 snack enthusiasts). But I loved watching the landscape transform from the beach and sparkling sea to the Alps-rivaling mountain views as our bus climbed 3,815 feet to Vizzavona. Waiting for us inside the hotel, the oldest on Corsica, dating back to 1880, was an impressive charcuterie spread, served under vines weeping down from wood-panelled ceilings. After lunch, I chatted with a server about the biodynamic red wine they were pouring and cosied up in the hotel's sitting room, where I pulled a Molière biography from a paperback-cluttered shelf and read quietly aloud to my husband. I assume he loved it.
I did absolutely no research on Corsica – beyond reading the excursion pamphlet on my flight from Paris to Rome and skimming Napoleon's Wikipedia page. And yet, I still wound up on a stunning stretch of the island I would have never known about. I didn't have to worry about how to get there. All I had to worry about was how long I had before my husband's patience ran out on my very slow French-to-English translation of Molière's life.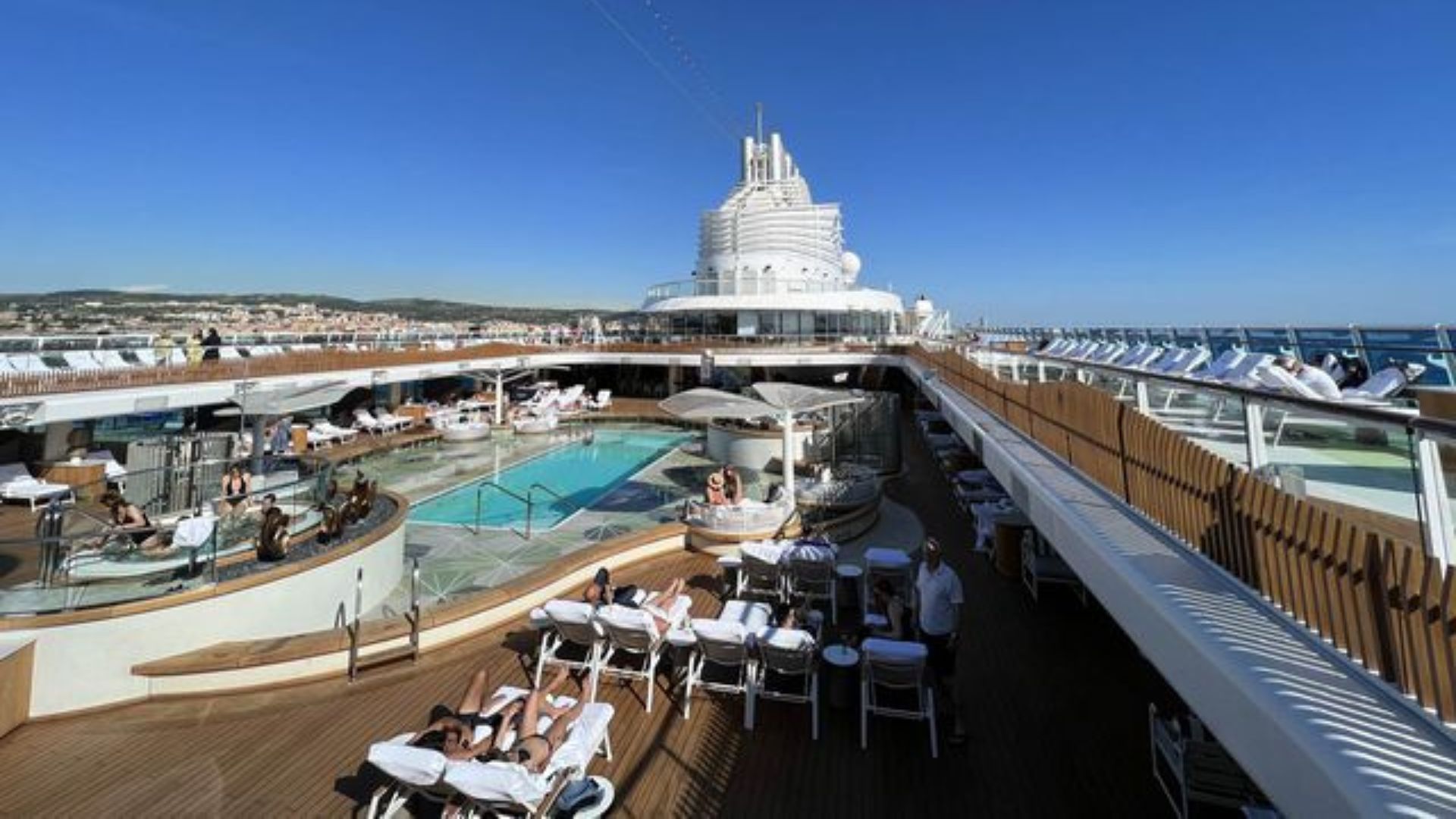 Other culinary adventures are a key part of Oceania's effort to appeal to all age ranges. On Vista, there are 17 new culinary tours on top of an already robust lineup of cooking classes. Executive chef Kathryn Kelly says, in various ports, foodies will head to the market (like the main open-air agorá in Corfu, Greece), with shopping assignments and euros from Vista chefs. Then, they'll come back on board for a class at the ship's culinary centre, which is three times larger than the ones on older ships.
Rooms designed to feel like a resort
After a morning of shopping and an afternoon of Corsican charcuterie, I returned to my cabin and posted up on my balcony to watch as we pulled away from Ajaccio. My concierge-level stateroom, at 270 square feet, had a sizable balcony, a queen-size bed, and a double shower. (I spoke to several experienced Oceania cruisers who were beyond excited about the increased size of the showers.) Though the rooms are about the same square footage as those on other Oceania ships, the Vista designs make smarter use of the floor plan, said Greg Walton, CEO of Studio Dado, the firm that designed most of the ship. To take one example, closets were moved from next to the bed to a spot closer to the door, which freed up room to expand those showers, Walton explained in a conversation with T+L.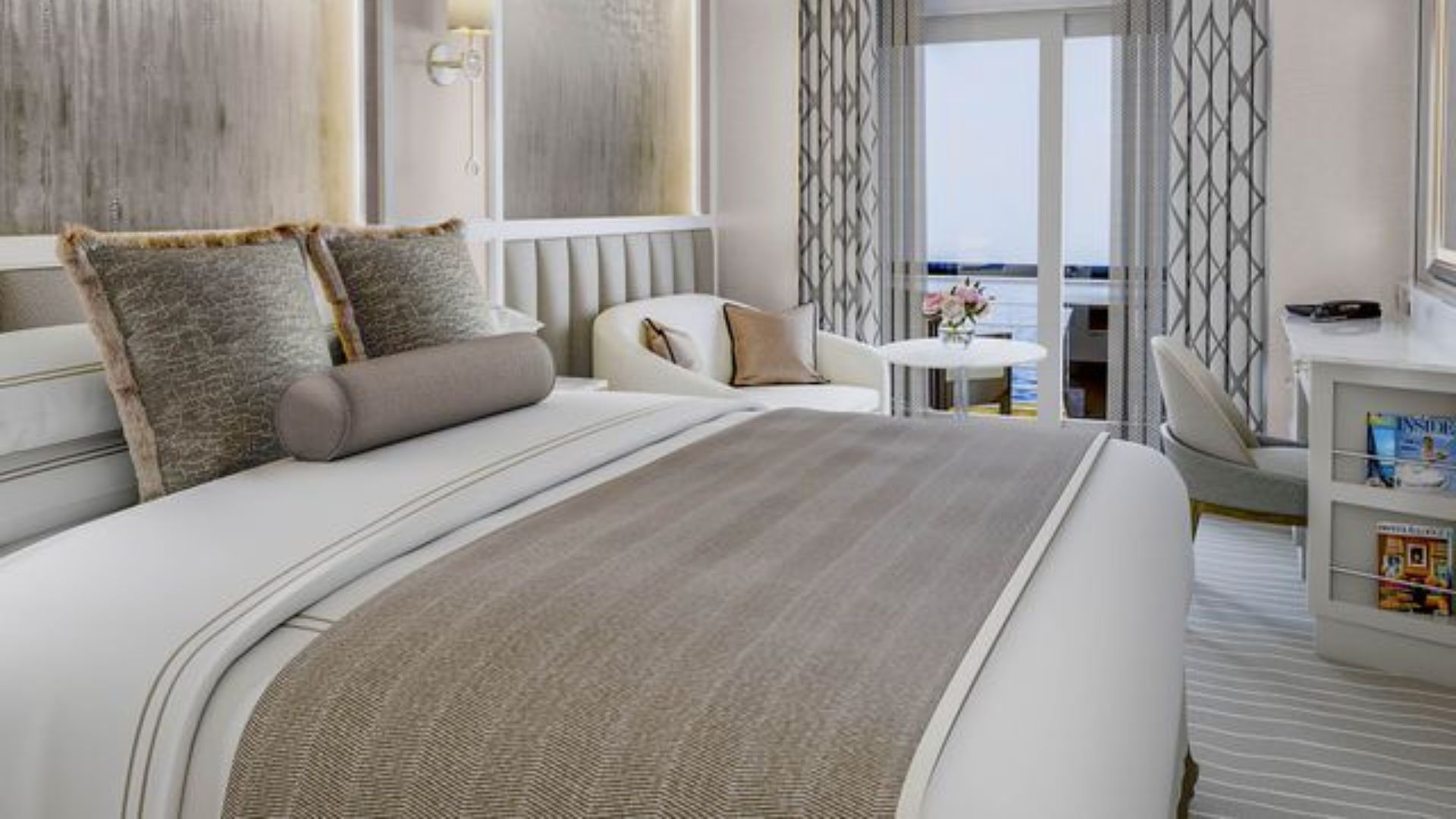 The new Allura-class Vista has more suites than others in the Oceania fleet, too: there are 14 Oceania Suites (up to 1,200 square feet); eight Vista Suites (up to 1,850 square feet); and three Owner's Suites with Ralph Lauren Home decor, two massive terraces, and 2,400 square feet of space.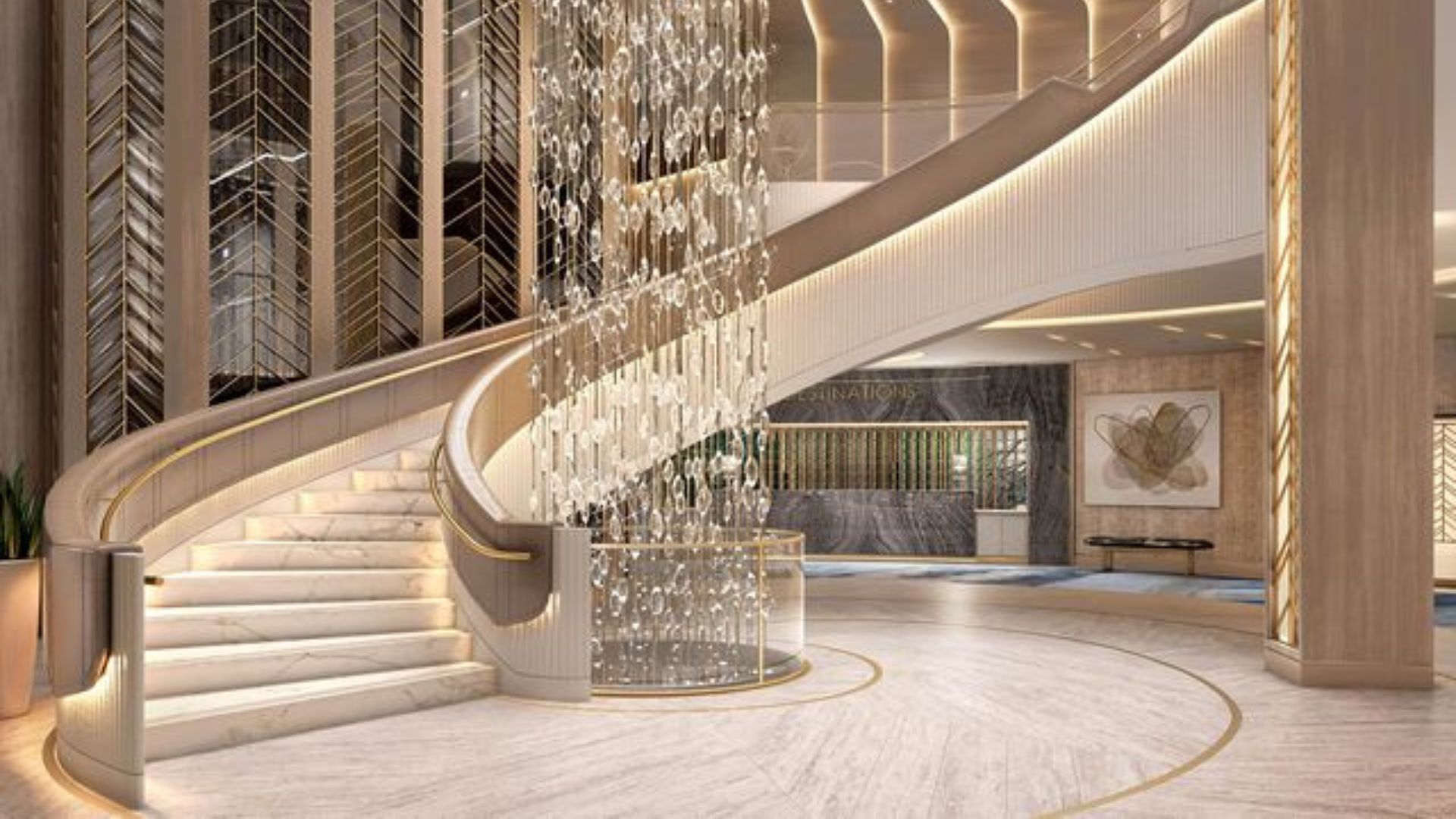 As we sailed away from Corsica, I went up to the main pool area, which Walton said is "designed to feel like a resort" with cabanas and light wood–coloured accents, ordered a barrel-aged Negroni, and took it with me to the whirlpool. After my soak, I watched the sunset from Polo Grill, over martinis and filet mignon, and then went back to Founders Bar, to continue my absolutely crucial cocktail-sampling mission.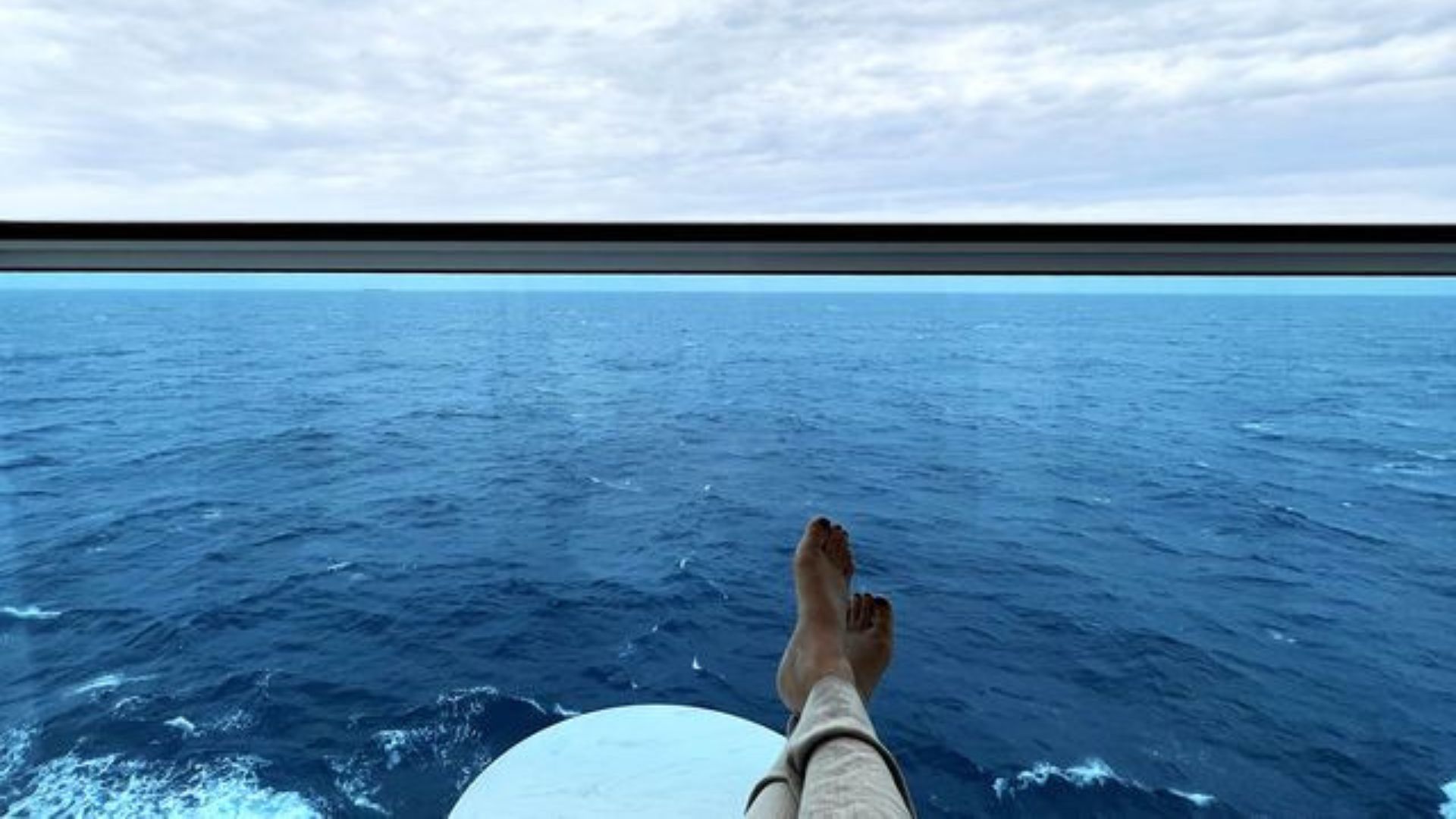 After seven days on Vista — the longest I've ever spent on a ship — I was surprised by how much I wanted to stay on board. I wasn't ready to part with my new routine, from early Morning Sunrise smoothies to Not So Sure cocktails before bed. "Next year, 40 per cent of our trips will be 30-plus days or longer," Del Rio says. Dubbed Grand Voyages, those itineraries have been extremely popular among Oceania guests as they return to cruising. "We have the 180-day around-the-world cruise that we also sell in segments," he adds.
Vista will sail in Europe this summer — a June itinerary, for example, goes from Athens to Istanbul in 10 days, from USD 5,089 per person (INR 4,21,518), including food; select wine, beer, and non-alcoholic beverages; six shore excursions; and a USD 600 (INR 49,698) credit to use onboard toward spa services or top-shelf drinks. The ship will come stateside in the fall, starting with an 11-day sail from New York to Montreal, then head to the Caribbean for the winter. A seven-day round-trip cruise from Miami, visiting Mexico, Belize, and Honduras, starts at USD 2,228 per person (INR 1,84,543) (or USD 318/INR 26,340 a day for the trip, including food, non-alcoholic drinks and house wine, four excursions, and a USD 400/INR 33,132 onboard credit).
All currency conversions were done at the time of writing
(Hero and feature image credit: Oceania Cruises)
This story first appeared on www.travelandleisure.com
Related: The Swankiest And Most Expensive Cruise Ship Suites