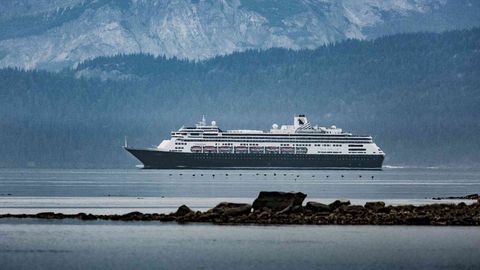 Holland America Line will launch a 42-day cruise across the Atlantic Ocean and around Europe and the Middle East from Florida next year, inspired by a journey the cruise line took nearly 100 years ago.
The "42-day Ultimate Mediterranean & Atlantic Passage" cruise will sail from Fort Lauderdale on November 9, 2024, and visit 16 different ports before heading back to Florida, according to the cruise company. The sailing is part of the company's Legendary Voyages, which are longer cruises ranging from 25 to 59 days.
This Luxury cruise will sail around Europe and the Middle East from Florida Travellers who board the company's Volendam ship will first sail to the Azores before heading over to Tangier, Morocco, and on to Italy and Greece where they will have the opportunity to visit popular cities like Florence, Rome, and Athens. The cruise will then head down to Israel where guests can explore Tel Aviv and Jerusalem before making its way to Egypt and Tunisia.
On its way back to Florida, passengers will stop in Gibraltar, Spain, and Casablanca.
"Holland America Line was one of the first companies to feature cruise vacations that went beyond a transatlantic crossing, and today we're continuing to innovate our itineraries by offering memorable voyages like this ultimate Mediterranean and Atlantic passage sailing," Beth Bodensteiner, the chief commercial officer for Holland America Line, said in a statement. "Since introducing this new Legendary category of cruises that offer an in-depth focus on one region, they've been very popular. We're excited to add a longer voyage that makes it easy to explore the Med in depth without a long-haul flight."
Holland America said the Europe luxury cruise is inspired by a trip the company took in 1925, which departed from New York City on the Rotterdam IV and sailed to several of the same ports next year's cruise will visit.
Last year, Holland America celebrated its 150th anniversary with a series of heritage cruises, including a special transatlantic cruise that recreated the company's first sailing by crossing the Atlantic Ocean before the company was even incorporated.
The company is also planning an epic 133-day pole-to-pole Grand Voyage in 2025, which will sail as far south as Antarctica and as far north as the Arctic Circle off the coast of Norway.
Shop the best travel experiences here
(Hero and feature image credit: Tim Rue/Getty Images)
This story first appeared on travelandleisure.com
Related: The Swankiest And Most Expensive Cruise Ship Suites
Written By