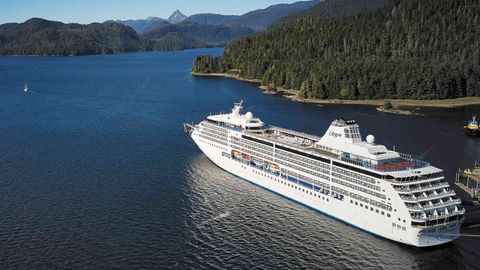 If you're a foodie who has Alaska on your travel list, this is your summer. Regent Seven Seas Cruises recently announced three new "Epicurean Perfection" voyages in Alaska, which will be packed with culinary programming for gourmands of all ages.
These specially curated itineraries with a flair for gastronomy will be on the 746-passenger ship Seven Seas Explorer, which makes its Alaskan debut this season. As such, the focus of the programming will be on Pacific Northwest cuisine.
Here's the itinerary for the Alaska cruise that will be every foody's dream "Our new collection of culinary experiences for Seven Seas Explorer's inaugural Alaska season is rooted in topics that are important to our guests," said Kathryn Kelly, executive chef director of Culinary Enrichment at Regent Seven Seas Cruises, in a release sent to Travel + Leisure. "We invite our guests to explore The Last Frontier by way of learning sustainable fishing and aquaculture, mastering fish cooking in our hands-on cooking school, and understanding the authentic culinary traditions of the Indigenous peoples and immigrants living in the majestic region of Alaska." The culinary enrichment will occur both on and off this cruise headed to Alaska. Each Epicurean Perfection voyage is hosted by gastronomic professionals, including chefs, sommeliers, and winemakers, who will lead both onboard classes as well as food-themed excursions. In the case of the Alaskan Epicurean Perfection voyages, guests can enjoy a Pacific Northwest cooking class, a Master Chef–style cooking competition for children and teens (and their families), and an informative seminar about how to choose more sustainable fish, whether you're shopping at the grocery store or ordering a meal at a restaurant. Then for the excursions, or "Epicurean Explorer Tours," there's a visit to a family-owned oyster and kelp farm in Ketchikan and a salmon hatchery in Sitka, as well as a foodie tour of Juneau complete with local craft beers.
Seven Seas Explorer will be making 15 seven-day trips through Alaska this season, but only two are Epicurean Perfection voyages: the June 21 and Aug. 30 departures. Rates start from $6,999 per person based on double occupancy. Make your booking at rssc.com.
This story first appeared on www.travelandleisure.com
Main and Feature Image Credit: Graham Copeland/Courtesy of Regent Seven Seas Cruises
Related: The Ritz-Carlton's Newest Superyacht Is Officially Coming Next Year — Here's Where It's Sailing
Written By