This Brand-New Ship Has The Largest Yacht Club In Its Fleet, Endless Adventure, And A Glass-Bottomed Bridge
The MSC Seascape may share many similar — or even identical — features with its predecessors, but when it comes to luxury, the fleet's newest vessel certainly levelled up. The new ship sailed on its inaugural journey with guests from Bermuda to New York City this past weekend and will go on to sail out of Miami to the Caribbean for future trips.
Yacht club, glass-bottomed bridge and other things that set this new ship apart
While the European cruise line has become known for its luxury ship-within-a-ship concept, called Yacht Club, the Seascape boasts the largest club with 131 suites — with five categories to choose from — taking up 32,000 square feet. Located at the front of the ship, most exclusive Yacht Club spaces, like the private dining area or pool deck, are afforded sweeping ocean views. In addition to a private restaurant with a regularly changing menu, and both indoor and outdoor lounge space, passengers who make a Yacht Club reservation are treated to expedited embarkation, 24-hour butler and concierge service, and access to the spa's Thermal Suite where a sauna, steam room, and whirlpool awaits. Members will also have access to the ship's Top Sail Lounge for coffee, tea, and light bites at any time of day.
Yacht Club guests also enjoy the ship's premium drink package, an unpacking or packing service, a morning newspaper delivery of their choice, and the ability to select a specific pillow for customised comfort.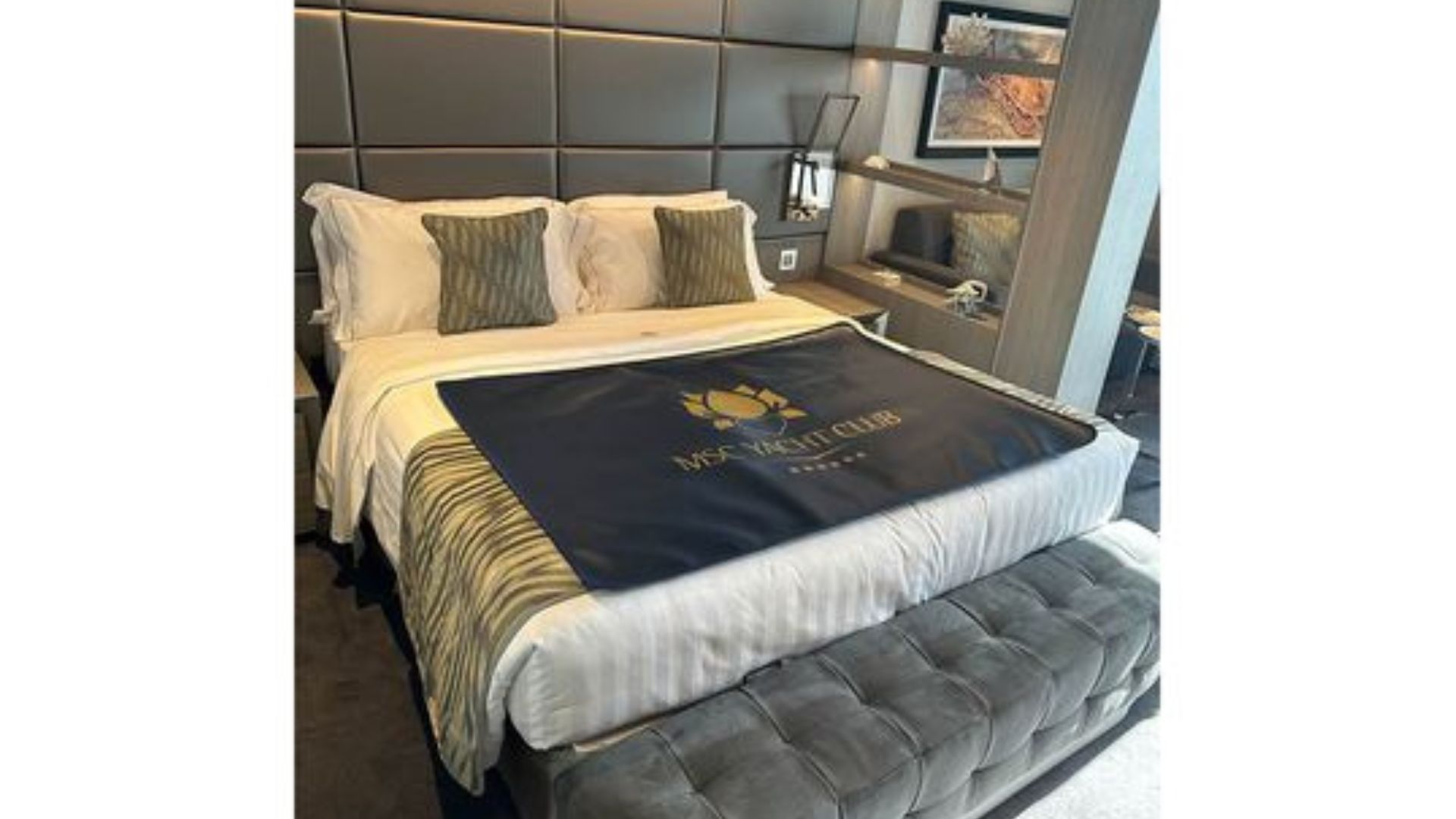 Sailing the blue water of the Caribbean while tucked in a super-exclusive setting may seem exceptionally relaxing, but the MSC Seascape also offers just the opposite for those looking for a bit of an adrenaline rush — with an extreme thrill ride and virtual reality experiences.
Adrenaline junkies can take a ride on the ship's Robotron, an attraction unique to the ship that will bring riders nearly 175 feet above the water and flip upside down, moving in all directions to offer unobstructed 360-degree views. Those looking to keep their feet on the ground can still get their adventure fix with a walk across the Bridge of Sighs, a 72-foot-high glass-bottomed bridge. The MSC Seascape is also home to a variety of virtual reality experiences. Riders can choose from Formula 1 racing, a flight simulator, and motorcycle riding.
"MSC Seascape is an exciting addition to our fleet of Seaside Class ships with its elevated onboard experiences that will surprise and delight all ages," Ruben Rodriguez, President, MSC Cruises USA exclusively told Travel + Leisure. "From one of the largest and most luxurious Yacht Clubs in our fleet to interactive, high-tech experiences like the first Robotron at sea and immersive VR experiences, MSC Seascape brings unparalleled entertainment and thrills to our guests." Elsewhere on board, the ship's interior is very similar to that of MSC's other vessels, like the line's one-year-old MSC Seashore, including its Times Square–inspired décor, Swarovski crystal–adorned staircases, and Atrium space where live entertainment takes place.
Fans of the ship's fleet will also recognise its signature restaurants including Butcher's Cut steakhouse, Ocean Cay seafood restaurant, and more. Its lively sports bar is the perfect spot to catch any game around the world — and there are 18 other bars and lounges on board, some of which offer live music.
MSC Seascape journeys set sail from Miami to the Caribbean where passengers can visit the company's private Bahamas island, Ocean Cay MSC Marine Reserve.
This story first appeared on www.travelandleisure.com
Main and Feature Image Credit: Christine Burroni
Related: The Ritz-Carlton Yacht Collection's First Ship Just Set Sail — And We Were The First On Board