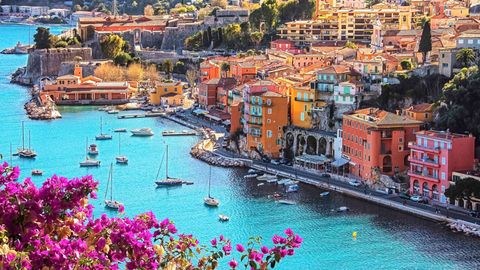 Seasoned travellers know that the shoulder season is a time to embrace. Prices for flights and hotels plunge, crowds of tourists dissipate, and a more authentic representation of local life can be experienced. And as enticing as Instagram makes summer in the Med and Christmas in St. Barts look, what you won't see are the people lining up to take the exact same shot, the rates that can easily double (if there's even availability), and sun loungers that get whipped up before breakfast.
If you want to maximise value without risking bad weather and complete social isolation, consider travelling in the months just outside of the high season. These time frames vary by destination, but whether you're seeking a quick weekend escape or a trip further afield, ahead are some excellent options.
The best beach destinations you should visit during the shoulder season
St. Barts The international jet set descends on St. Barts over the holiday season, and hotel inventory becomes limited (as do restaurant reservations). But plan a trip between June and August and you'll have options aplenty, from the supremely stylish Cheval Blanc to the candy-colored Caribbean villas at Rosewood Le Guanahani.
Or, if you're there for the scene, check into the famously hedonistic Eden Rock. Flights also have more availability before the New Year's Eve peak, and since you'll need to take two to get there, that can be a big advantage. The most popular route is Tradewinds via San Juan – the closest thing you can get to a private jet experience on a commercial flight (plus, you can add on a side trip).
The French Riviera Known for its glamorous hotels and picturesque scenery, the French Riviera is enchanting in any season. But if you go at the end of September or May, you can experience the best places for less, with fewer crowds at this beach destination. Historic icons like Grand-Hotel du Cap-Ferrat and Hotel du Cap-Eden-Roc remain the hottest tickets along the coast (and anywhere, really), along with glossy newcomers like La Reserve Ramatuelle and The Maybourne Riviera, which remains open year-round. Getting there is also a breeze – Air France has multiple flights from JFK to Nice via Paris year-round.
Book your stay at Grand-Hôtel du Cap-Ferrat, A Four Seasons Hotel via Booking.com
Book your stay at Four Seasons Grand Hotel du Cap-Ferrat via Agoda.com
The Hamptons, New York Beat the notoriously congested traffic, book prime-time reservations at the best restaurants, and dock your beach umbrella wherever you please. Like clockwork, the crowds in the Hamptons dissipate after Labor Day, and weekend excursions become an effortless affair. Many key hotels remain open into the fall, including EHP Resort & Marina (home to some of the best nightlife), The Reform Club, The Roundtree, and the revamped Pridwin Hotel on Shelter Island.
Book your stay at The Pridwin Hotel via Booking.com
Book your stay at The Pridwin Hotel via Agoda.com
Sicily The White Lotus has fans clamouring to book the Four Seasons San Domenico Palace — the site where season two was filmed. And although there are many stunning hotels in the region (including Belmond's Grand Hotel Timeo and its beachfront Villa Sant'Andrea), summer is completely crowded. In the shoulder seasons, the sea is still warm enough to swim in and you can evade the tourist circus. Everything from getting arancini and gelato on Corso Umberto to securing a fabulous suite becomes a whole lot easier.
Book your stay at Villa Sant'Andrea, A Belmond Hotel via Booking.com
Book your stay at Villa Sant'Andrea, A Belmond Hotel via Agoda.com
Nantucket, Massachusetts Nantucket is one of New England's most popular summer destinations, and that means everything from ferries to restaurants to ice cream parlours is in hot demand. Hotels book out months in advance, but in the final weeks of September or May, you're more likely to get a good hotel at a much better rate. For the ultimate experience, book the centrally located White Elephant, which unveiled beautifully refurbished rooms to commemorate its 100th anniversary this year.
Book your stay at White Elephant Hotel via Booking.com
Shop the best travel experiences here
Amalfi Coast, Italy The cascading rainbow of villas and trattorias that define the Amalfi Coast are just as beautiful in the fall. And demand has been so high, that many hotels are extending their season into October. For a Slim Aarons moment, check into the iconic Il San Pietro Hotel, built into a dramatic cliff overlooking the Mediterranean.
Count on Le Sirenuse for a close-up of the quintessential postcard views of Positano, or check out the new Anantara Convento di Amalfi. And if you have time, do a day trip to Capri, only 45 minutes by boat, and enjoy the seaside glamour of stylish beach clubs, including La Fontelina or Da Gioia, which opened this season as an extension of the buzzy new Hotel La Palma.
Book your stay at Il San Pietro di Positano via Booking.com
Book your stay at Il San Pietro di Positano via Agoda.com
Antigua British travellers spend weeks at a time in Antigua over the summer, which is technically the shoulder season. It's a smart move, travelling right before places close for the hurricane-prone months of September and October and before the crowds escaping winter start to flood in. The most luxurious and highly coveted resort there, Jumby Bay, is also likely to have more availability over this period, and that's a great thing since its all-inclusive program includes motorised watersports that can be booked at a moment's notice and activities ranging from rum tastings to island boat cruises and Dîner en Blanc-style picnics.
Book your stay Curtain Bluff - All Inclusive via Booking.com
Turks & Caicos The beauty of Turks & Caicos is that it's always warm and sunny, with an estimated 350 days of sunshine each year. Like other islands in the Caribbean, the shoulder-come-low seasons are considered April through September, so it's a great time to get a good deal. Post up at Amanyara and immerse yourself in the luxurious, tropical splendour. It's set on a secluded 18,000-acre nature reserve and is considered one of the most stunning, bucket-list resorts in the Caribbean — one to book if you plan on having a leisurely time, where the only moving around you'll need to do is from the beach to the restaurant and back to your pavilion.
Book your stay at The Shore Club Turks & Caicos via Booking.com
Book your stay at The Shore Club Turks & Caicos via Agoda.com
Bodrum, Turkey Many travellers prefer to visit the Turkish Riviera in spring or fall to evade the excessive heat that dominates the summer months. It's an area that averages 300 days of sunshine each year, and people are known to swim in the sea well into November. This beach destination has had several luxurious hotels open over the past decade, too, including the Mandarin Oriental and the Bodrum Edition, which has brought its playful brand of glamour to the Aegean Sea.
Book your stay at The Bodrum EDITION via Booking.com
Book your stay at The Bodrum EDITION via Agoda.com
Santa Barbara, California Fall is a magical time to visit what has come to be known as the "American Riviera." Like many beach destinations, summer can be too hot and too crowded, but in the shoulder seasons, you can experience all the same activities — and there are many, from wine tours to sailing expeditions and a thriving culinary scene. For a hotel that is truly a destination unto itself, choose Rosewood Miramar Beach or Belmond El Encanto.
Book your stay at El Encanto, A Belmond Hotel, Santa Barbara via Booking.com
Book your stay at El Encanto, A Belmond Hotel, Santa Barbara via Agoda.com
(Hero and feature image credit: StockByM/Getty Images)
This story first appeared on travelandleisure.com
Related: This Season Is The Secret To Landing Your Dream Wallet-Friendly European Vacation
Written By