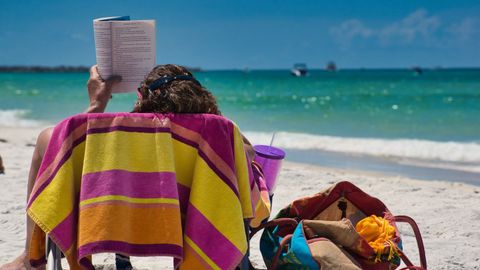 When the body demands a leisurely break, all roads lead to the sun, sand, and sea. Miles away from the cacophony of city traffic, lapping waves and coastal breeze await — ready to unbridle our happy hormones. And while mimosas and beachcombing are a must on every tropical getaway, knowing what books to read at the beach can elevate the fun severalfold.
From meet-cute romance novellas to nail-biting thrillers and sparkling celebrity memoirs — our list of beach reads has something for everyone. All you need to do is pick your favourites, add them to the beach bag, put on your sunnies, and head to the beach! After all, the only thing better than vegging out by the sea is kicking back on a sun lounger with a beach book in your hands. Fellow bookworms will agree — endless hours of wave-watching, sun-soaking, and sinking into books has a charm that is unparalleled. And the books on our list are just as enjoyable with a hot cuppa, in pyjamas on your couch. Regardless of where you read it, a beach book offers the perfect escape from reality, treating you to a little dose of wonder, thrill, and inspiration.
Best books to read at the beach
We round up the best books to take along to the sandy shores. From trending author Taylor Jenkin Reid's remarkable new novel to a delicious read by everyone's favourite Reese Witherspoon, read on to discover it all.
Jump To / Table of Contents Hero and Feature Image Credits: Craig Cameron/Unsplash
Related: Take A Comic Book-Style Tour Around The World With These 2D Cafes
FAQs
– What are some good books to read at the beach?
We recommend Out of the Clear Blue Sky by Kristan Higgins, The Block Party by Jamie Day, Lessons in Chemistry by Bonnie Garmus, The Tobacco Wives by Adele Myers, and Whiskey in a Teacup by Reese Witherspoon, among others.
– Should I go for a light and easy read or something more substantial for beach reading?
That depends on the kinds of genres you enjoy. While some fancy a feel-good romantic novel on the beach, others devour thrillers on the sandy shores.
– Should I choose a book that matches the beach setting or opt for something different to escape into another world?
Choose a book and genre that you enjoy reading the most. The purpose of a beach vacation is to alleviate your stress and calm your senses. In that sense of the matter, if you enjoy fast-paced crime thrillers, pick that over a beach-themed book.
– Are there any books with beach or ocean themes that are particularly enjoyable for coastal vacations?
Some beach-themed books that you may consider are Beach Lovers by Emily Henry, Endless Summer by Elin Hilderbrand, The Summer Skies by Jenny Colgan, and Malibu Rising by Taylor Jenkins Reid, among others.
– Should I be concerned about the sand and water damaging my books while at the beach?
When at the beach, make sure to read on a comfortable mat or on the sun lounger — this will save your books from sand and water. Additionally, always carry a beach tote to keep your books safe.
– Can you recommend some non-fiction books that are suitable for beach reading?
Some non-fiction books that you may consider are Mozart in Italy by Jane Glover, Party Lines by Ed Gillett, Whiskey in a Teacup by Reese Witherspoon, and Yes Please by Amy Poehler, among others.
Written By