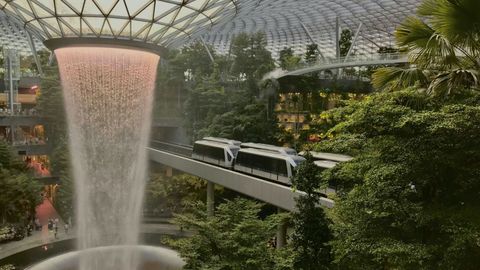 Whether it is sauntering through Gardens by the Bay, hopping onboard the Singapore Flyer (one of the world's largest observation wheels), or shopping to your heart's content at the city's myriad malls — Singapore whips up a fairytale vacation for the modern traveller. And while there's plenty to explore, the humble tourist is often dumbfounded by a new city's seemingly complex transport system. Fret not, Singapore's public transport lets you manoeuvre the city effortlessly and pocket its countless gems.
To zip around the city like a local, say yes to Singapore's MRT (Mass Rapid Transit) trains or perhaps the local buses which are privy to some of the most picturesque views. If that doesn't sail your boat, hail a taxi or rent a bicycle. No matter what mode of transport you fancy, Singapore promises gratifying pitstops and wholesome destinations.
Singapore's local transport options
The Lion City's thriving cultural fabric needs no introduction. Right from iconic hawker centres that serve lip-smacking regional delights to Universal Studios which ranks high on every adventure junkie's bucket list, Singapore is brimming with experiences. Luckily for us, getting from point (a) to (b) in the city is just as easy as it sounds. Here's rounding up the various means of public transport in Singapore.
Trains
For starters, give the trusty MRT (Mass Rapid Transit) and LRT (Light Rapid Transit) trains a shot. The rail network is not just well-connected, but extremely time and cost-effective too. A 150 km track connects about 90 essential stations, ensuring that no matter what your destination, you only have to walk a few steps from the station. Though these trains run every 2 to 5 minutes, avoid catching one during the peak rush hours i.e. 7 am to 9 am, and 5 pm to 7 pm.
Buses
You can also mosey through the city and its wondrous attractions on a bus. Operating every 15 to 20 minutes, these buses are extremely well connected and easy on the pocket too. Additionally, they are air-conditioned and also have a ramp for wheelchair passengers. Now, if you're determined to travel by bus, be on the lookout for the SBS Transit buses (they're white and red in colour), and the SMRT buses (they are bright yellow in colour). They run from 5.20 am to 12.00 am and are extremely user-friendly! What's more? Children can travel for free on buses if they're under 0.9 m and accompanied by a fare-paying adult. Post midnight, you might come across operators like NiteOwl and Night Rider — but, they are costlier owing to the extended operating hours.
Cabs
If you're willing to splurge your moolah on comfort and extra leg space, we'd recommend hailing a taxi and whizzing past the bustling city while tuning into the local radio. Wondering how to book one? Just use the Dial-A-Cab hotline number which is 6342 5222 to connect to the cab operator. In terms of cab booking apps, there is no Uber or Lyft in Singapore. However, local travellers swear by apps like Grab, ComfortDelGro, and Ryde.
Cable cars
Who said commuting can't be fun? Resort to Singapore's efficient cable car commute to travel while feasting on indulgent views of the lapping waves, lush greens, and futuristic cityscape. Run by the Cable Car Sky Network, these cable cars are sprinkled with old-world magic. This gondola lift consists of two independent lines: the first one — Mount Faber line — runs between Mount Faber and Sentosa stations, and the second one — the Sentosa line — runs between Siloso Point and Merlion stations. The first strip starts at 8.45 am and the last ticket is dished out at 9.15 pm. In an exclusive offering, Singapore Cable Car announced special Poké Ball-themed cable cars that were introduced on May 01, 2023, and will continue till September 30, 2023. So, if you or your family are Pokémon lovers, this might be a good time to plan a trip to Singapore.
Singapore's local transport — Cost, routes & apps
If you're looking to travel on a train or bus, step numero uno will be to purchase a Singapore Tourist Pass (STP) from the SimplyGo Ticket Office at select MRT stations. Based on the pass you purchase, you can avail unlimited trips via these trains and buses for a period of one, two, or three days. The one-day pass costs SGD 22 (INR 1,340.25), the two-day pass costs SGD 29 (INR 1,766.69), and the three-day pass costs SGD 34 (INR 2,071.29). Additionally, while purchasing these tourist passes, you need to deposit a refundable sum of SGD 10 (609.20).
You can opt for SG Tourist Pass — a special EZ-Link card that allows tourists unlimited travel on basic bus services, as well as MRT and LRT days. However, this pass can only be bought for a duration of 3 days and retails at SGD 29 (INR 1,766.69), without the need for a prior deposit. You can also upgrade to Singapore Tourist Pass Plus to enjoy great savings while relishing the sights and sounds of the city — this costs SGD 48 (INR 2,924.18) for 3 days, sans prior deposit. Lastly, if you're someone who likes tiny trinkets that envelop memories of a city, we'd recommend checking out the Singapore Tourist Pass Charm. Reminiscent of the Lion City, this big cat charm-cum-pass offers unlimited travel on Singapore's basic bus services, as well as MRT and LRT trains. It is valid for one day and retails at SGD 36.90 (INR 2,247.96).
To make your experience hassle-free, Singapore's public transport app Moovit lets you enter the start and end destination and rustles up bus routes and railway lines in a jiffy. Here's an example for easy reference. For instance, you want to go from Sentosa Merlion to Gardens by the Bay. Just enter the respective points and voila! You have the shortest suggested routes and recommended lines, along with walking and cycling paths. What's not to like? In a nutshell, Singapore's public transport system is undeniably easy to get a hang of. If you're travelling by bus or train, the Moovit app is your ally!
Main and Feature Image Credit: Charuka Herath/Unsplash
The currency conversions were done at the time of writing
Related: Unwind At These Luxury Spas In Singapore For That Much-Needed Relaxation
FAQs
How to pay for public transportation in Singapore?
You can pay via Singapore Tourist Pass (STP), contactless bank cards, SimplyGo EZ-Lnk cards, NETS Prepaid cards, NETS FlashPay cards, SimplyGO Concession cards, and Concession Cards. Higher fares may apply if you choose to pay by cash — an option only applicable to bus rides.
What are the peak and off-peak hours for public transportation in Singapore?
The peak hours for public transport in Singapore are 7 am to 9 am, and 5 pm to 7 pm.
Can I use ride-sharing services like Uber or Grab in Singapore?
While Uber doesn't operate in Singapore, you can always count on applications like Grab, ComfortDelGro, and Ryde.
Is it necessary to tip taxi drivers in Singapore?
Although it is not customary to tip taxi drivers, tour guides, or hotel staff in Singapore, the kind act is always appreciated. However, be mindful to not tip the staff at Changi Airport as they're not permitted to accept tips.
Is public transportation in Singapore wheelchair-accessible?
Yes, the trains and buses are equipped with ramps for wheelchair passengers, along with other necessary provisions for differently-abled travellers.
Are there any restrictions on bringing luggage or strollers onto public transportation?
You can carry your luggage on MRT trains and stations. However, there is no such provision on public buses.
How reliable is public transportation in Singapore, and what is its frequency?
Public transportation in Singapore is extremely reliable. While the MRT and LRT trains run every 2 to 5 minutes, the buses run every 15-20 minutes.
Written By