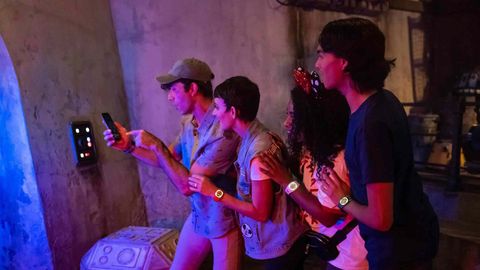 Whether you've been to Walt Disney World a few times or a few dozen times, there's always something new to discover. Classic attractions like Pirates of the Caribbean and It's a Small World are fan favourites for a reason — but there are several under-the-radar attractions you may have missed.
Disney World offers a bounty of interactive games and scavenger hunts throughout its four theme parks, and many guests may not even know they exist. These hidden attractions are a fun way to see the "Most Magical Place on Earth" in a completely new way as you meander through less-visited locales around World Showcase or tucked-away spots in Magic Kingdom. Some require the Play Disney Parks mobile app or guidebooks, while others are old-fashioned, boots-on-the-ground scavenger hunts.
First things first: You'll want to download the Play Disney Parks mobile app ahead of your vacation. It's not just a hub for these in-park attractions; the app also transforms the theme park experience with attraction-specific gaming (perfect for staying entertained while waiting in lines) and Disney trivia.
Secret Disney World Attractions you should know about!
A Pirate's Adventure — Treasures of the Seven Seas It's a swashbuckling good time with Magic Kingdom's A Pirate's Adventure — Treasures of the Seven Seas. In this engaging scavenger hunt, budding pirates are equipped with colourful maps and tasked with locating hidden treasures throughout Adventureland. During each of the five trails, guests turn the park's beloved land into a playground complete with interactive props. Once all five levels of the challenging but entertaining voyage are complete, your treasure — a souvenir card autographed by Captain Jack Sparrow — awaits.
Disney's DuckTales World showcase adventure Explore Epcot's World Showcase in a whole new way with one of Disney's newest in-park adventures. Disney's DuckTales World Showcase Adventure (which replaced Phineas and Ferb: Agent P's World Showcase Adventure) is an interactive scavenger hunt that uses Disney's mobile app. Players join Scrooge McDuck as they globetrot to seven different country pavilions, including Mexico and Canada, to uncover "priceless lost magic treasures" all while unlocking otherwise hidden experiences in each country. The adorable Huey, Dewey and Louie are along for the ride too, and since missions are assigned randomly, each game can be a totally new experience, play after play.
Wilderness Explorers Adventure is out there at Disney's Animal Kingdom theme park. Embrace Russell's enthusiasm during the nature-themed Wilderness Explorers activity inspired by "Up." Grab a Wilderness Explorers booklet and set off on a self-guided adventure, stopping at stations throughout the park to earn "badges" (stickers) for completing various challenges, and learn about endangered animal species, wilderness skills, and more along the way. Earn all the badges to become an honorary Senior Wilderness Explorer.
Scavenger hunts and food crawls at Epcot festivals Epcot's four award-winning food festivals offer so much more than gourmet eats. Two seasonal scavenger hunts are fun for the whole family: From the art-themed Figment's Brush with the Masters during Epcot's International Festival of the Arts to Remy's Ratatouille Hide & Squeak during Epcot's International Food and Wine Festival, there's something for budding foodies of all ages at these global culinary celebrations.
Cheese lovers won't want to miss Emile's Fromage Montage, an edible scavenger hunt where guests are tasked with trying five of the International Food and Wine Festival's cheese-based dishes. When the cheese crawl is completed, you'll be handsomely rewarded with a complimentary sweet treat in a souvenir cup. Be sure to check the Disney World website to see if there will be a festival at Epcot during your visit.
Finding Dory's Friends — A Fin-Tastic scavenger hunt In this underwater adventure, guests explore Epcot's The Seas pavilion with Finding Dory's Friends — A Fin-Tastic Scavenger Hunt. Guests can grab a complimentary booklet for the self-guided scavenger hunt and solve puzzles to find the often forgetful Dory's missing aquatic friends. The booklet contains stickers to help you keep track of each missing fish, plus interesting facts about the sea creatures that call one of Epcot's most fascinating attractions home.
The Mirror de Los Muertos
During this mini-game, guests face the Mirror de Los Muertos inside Epcot's Mexico pavilion. Inspired by Pixar's "Coco," this interactive mirror allows guests to create a custom skeleton that is then transported to the Land of the Dead from the film. Photos of your customised skeleton are then linked to the My Disney Experience app.
Hidden Pascals in Fantasyland
In the whimsical "Tangled"-themed area of Fantasyland, this fun game offers a welcome respite from the bustling Magic Kingdom. This straightforward albeit tricky game is all about Pascal, the adorable (and sneaky) chameleon from the Disney animated film. There are 10 Pascal statues hidden in the lush landscaping between the Haunted Mansion and It's a Small World — can you find them all?
Star Wars: Batuu Bounty Hunters The pioneering marvel that is Star Wars: Galaxy's Edge in Disney's Hollywood Studios becomes a true multi-sensory experience with Batuu Bounty Hunters. Using the Play Disney Parks app and MagicBand+ technology, the game sends players on a quest through Batuu to find highly coveted virtual "bounties" in hopes of ultimately joining the Batuu Bounty Hunters Guild. During the hunt, Batuu's Bounty Board will inform players of their assigned bounty, and you'll use your MagicBand+ to successfully acquire the target.
Kidcot fun stops
Inspire little world travellers at Epcot's Kidcot Fun Stops. Within each of the 11 countries of the World Showcase, kids can collect unique travellers' activity cards with a fun fact celebrating that country's culture and tradition. The back of the card features a small colouring scene, and guests can take advantage of the station's markers for a fun craft break.
Shop the best travel experiences here
(Hero and feature image credit: Disney)
This story first appeared on travelandleisure.com
Related: How To Plan A Magical Disney World Vacation
Written By