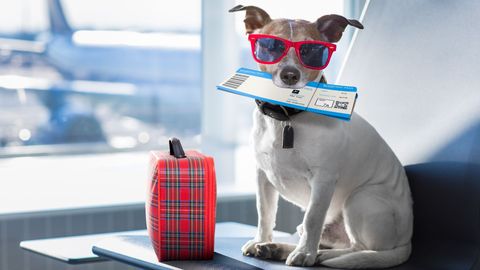 Planning a trip and worrying about leaving the fur baby behind is an overwhelming thought for most pet parents. Luckily, many airlines now allow travellers to fly with their pets. With just a little bit of extra paperwork and an additional cost, pets can be transported from one country to another. So, the next time you are planning to travel with your dog, cat or bird, below are some pet-friendly airlines that you should consider for a stress-free journey.
It is important to check the airline policy thoroughly before purchasing tickets, as airlines have specific requirements and restrictions for pet travel on their planes. Also, it is imperative to choose a container for your pet friend in which they can stand up and change sides comfortably.
Pet-friendly airlines in the world
Air India The Indian carrier allows domestic passengers to carry small cats, dogs and birds inside the cabin or as cargo. On international flights, Air India also allows service dogs, which are required to assist the blind and deaf in the cabin. But before flying out, make sure the pet has valid health and rabies vaccination certificates, and please note that carrying pets is subject to the flight commander's approval.
Other requirements for travelling with a pet on Air India are:
A maximum of two pets are allowed in the cabin per flight. One can be in the last row of first or business class and another in the last row of economy class.
The pet must be in a soft, ventilated bag or kennel not exceeding dimensions — 18 inches in length and width and 12 inches in height (45.72 cm x 45.72 cm x 30.48 cm).
The maximum weight of the pet, with the container, allowed in the cabin is 5 kg.
However, pets that weigh up to 32 kg, including the weight of the kennel/crate, are permitted as check-in baggage and beyond the limit, they will be booked as cargo.
The minimum age for dogs and cats to travel is eight weeks.
Pets that are pregnant are not allowed on the flight.
Fee: Depending on the pet's weight, carrier and food, the pet will be charged under the excess baggage fee, even if the passenger doesn't have any other baggage.
For more information, visit here.
Shop the best travel experiences here
Japan Airlines Allowing pets to be transported only as cargo, Japan Airlines permits dogs, cats, small birds (that eat seeds, fruit and insects), rabbits, ferrets, hamsters, marmots, squirrels and chinchillas to travel. The airline does not accept pregnant pets and bulldogs. After gathering the necessary documents for the pet travel, you can easily check-in your pet in four steps. These are:
Step 1: Review transport conditions and keep information and notes on animal transport handy for stress-free travel with your pet. It is advisable to know the pet travel rules as the import and export rules vary from one country to another.
Step 2: Prepare a letter of consent which shares your consent to check-in your pet as baggage. The form can be downloaded here
Step 3: Check-in your pet 120 hours before departure.
Step 4: Pick your furry friend back from the assigned agent at the baggage claim area.
Fee: The price is calculated on the basis of weight and container size and is usually 50 percent extra of the general fare.
For more information, visit here
Emirates By filling in a form on the website a week prior to the departure, you can travel with your pet on Emirates SkyCargo. With temperature-controlled facilities, the pets have a separate transit area in Dubai. After examining all the details of your pet, including vaccination certificates, cage details and medical and veterinary reports, pets with a minimum age of 15 weeks are accepted as cargo.
The airline also offers a premium service known as Emirates PetPlus where the pets can be picked up from the city of origin and dropped off at the final destination. The service provider will also take care of the paperwork needed for the pet's travel.
In the following four steps, passengers can check-in their pets.
Step 1: Make a request to book your pet by filling in the form available on the website.
Step 2: After the airline checks for space availability, you will be told the estimated price.
Step 3: Submit the following documents at least 72 hours before the flight date to get approval.
Pictures of your pet in a natural standing position and inside its travel container.
Submit your pet's passport with rabies vaccination records and microchip number.
Submit a rabies blood test report (if applicable).
EU health certificate (for EU destinations).
UK annexe (for UK destinations).
Import permit (if required).
A valid UAE MOCCAE veterinary health certificate.
A completed and signed acknowledgement form.
Personal details of the receiver, including the name, email address and mobile number.
Submit a copy of your flight confirmation and mention if you're travelling on the same flight as your pet.
Details of the clearing agent (in case you are using any) at the destination, including their name and email address.
Fee: An estimate can be shared after filling in the form on the website.
For more information, visit here
Alaska Airlines Following three easy steps, you can fly your pet on Alaska Airlines. Begin by booking your passenger ticket, check the travel option that suits your pet and then contact the airlines to reserve space for your pet. The small pets that are permitted in the cabin are dogs, cats, rabbits and household birds, and they must remain in their carriers during the entire journey. In the baggage compartment, the pets that are allowed are cats, dogs, ferrets, guinea pigs, hamsters, household birds, non-poisonous reptiles, pot-bellied pigs, rabbits and tropical fish.
Below are some of the other rules the airline has.
Two pets that have a similar size may travel in the same carrier. However, one should ensure that the pets are comfortable.
Pets with odour or the ones that create noise disturbance should travel in the climate-controlled baggage compartment.
The pets must be eight weeks of age and weaned.
Fee: USD 100 (INR 8,310) for pets travelling in the cabin.
USD 150 (INR 12,465) for pets travelling in cargo.
For more information, visit here.
United Airlines Travel with your furry friend on this American carrier, as it has no weight or breed limitations. Allowing just cats and dogs in the cabin, the aircraft urges passengers to always ensure that the pet stays in their carrier and can easily stand up and turn.
Each passenger may only bring in one pet and can travel only when there's space available in the aircraft. In some states and countries, such as Australia, Hong Kong and many others with pet import regulations, United Airlines does not allow pets in the cabin while flying to, from or through them. You can check the list of such countries here. Also, the airline doesn't have an option of pets travelling in cargo holds.
Other requirements to keep in mind before you book your tickets on United Airlines are:
You need to carry rabies and health certificates for your pet.
Rabies vaccination must be completed 28 days before arrival in the USA.
Hard-sided or soft-sided carriers are allowed.
The hard-sided carrier should be 17.5 inches in length, 12 inches in width and 7.5 inches in height (44.45 cm x 30.48 cm x 19.05 cm).
The soft-sided carrier should be 18 inches in length, 11 inches in width and 11 inches in height (45.72 cm x 27.94 cm x 27.94).
Fee: The one-way trip cost is USD 125 (INR 10,388). Additionally, there is a USD 125 (INR 10,388) fee for layovers exceeding four hours for flights within the US and over 24 hours for international flights. This fee cannot be paid using travel credits.
For more information, visit here.
American Airlines Allowing small cats and dogs in the cabin and bigger ones in the cargo, this pet-friendly airline allows the animals to travel within the 48 contiguous states in the US for up to 12 hours and other destinations such as Mexico, Canada, Alaska, Puerto Rico, St. Croix and St.Thomas.
The rules of the airline are as follows:
One kennel per person is allowed, which will be treated as your carry-on bag.
The pet should stay in the kennel under the seat throughout the journey.
Hard-sided kennel measurements for mainline flights: 19 x 13 x 9 inches (48 x 33 x 22 cm)
Hard-sided kennel measurements for regional flights are: 16 x 12 x 8 inches (40 x 30 x 20 cm)
Recommended soft-sided kennel measurements: 18 x 11 x 11 inches (46 x 28 x 28 cm).
The combined weight of the pet and the kennel should not exceed 9 kg for small cats and dogs.
The total weight of the larger pets and their carrier must not exceed 45 kg.
Fee: USD 125 (INR 10,388) per kennel. Cargo charges can only be confirmed at the time of booking.
For more information, visit here
Delta Airlines This airline only permits small dogs, cats, and household birds on flights, as it currently lacks cargo services for larger animals.
You are good to go on Delta Airlines if you follow the rules mentioned below:
For domestic travel, your pet must be 10 weeks old.
If you are travelling to the US from another country, then your pet must be 16 weeks old and 15 when travelling to the European Union.
Only one pet is allowed per kennel, with the following exceptions:
– One female cat or dog can travel with her kittens or puppies between 10 weeks to six months.
– There's no limit on the number of animals in the litter.
– Pets in cabin kennels are counted as one carry-on item.
Passengers travelling with pets cannot sit in the following areas:
Bulkhead seats.
In emergency exit rows.
Seats mentioning "no stowage".
Flat-bed seats.
Rows 46-51 on the A330-200 aircraft.
Rows 54-59 on the A330 -300 aircraft.
First Class seats and Delta Comfort+ seats on the B737-900 (73J only).
Middle seats on the B757-200 aircraft.
Delta One seats.
Fee: USD 95 (INR 7,894) for a one-way flight from the U.S., Canada, Puerto Rico and the U.S. Virgin Islands. USD 75 (INR 6,232) each way for flights from Brazil and USD 200 (INR 16,621) for all other international flights, each way.
For more information, visit here
JetBlue Take off with your small dogs or cats, as JetBlue allows flyers to carry their pets in the cabin only. The kennel should be small enough to fit under the seat in front of you during domestic flights. Each person can carry one animal, and the total weight of the crate, including the pet, should be less than 20 pounds (9 kg). The US carrier does not allow pets in Mint, which is their premium cabin; however, members of TrueBlue (airline reward programme) can earn 300 extra points per flight segment on travelling with pets on this airline.
Below is a list of things to know prior to your travels:
It is important to carry pet vaccination documentation as entry requirements for each destination vary.
The kennel dimensions cannot exceed 17″ in length x 12.5″ in width x 8.5″ in height (43.18 cm x 31.75 cm x 21.59 cm) and should be placed under the seat in front of you at all times.
Fee: USD 125 (INR 10,388) for a one-way trip.
For more information, visit here
Air Canada Air Canada allows pets (dogs or cats) in the cabin and the baggage compartment. The airline also offers a cargo service so that your pet can travel alone with utmost comfort. To carry your pet in the cabin, one has to ensure the pet is small enough to be able to stand, turn around and lie down in its carrier under the seat in front. To make the arrangements for your pet, contact the airline within 24 hours of booking your ticket and request them to register your pet on the same flight.
In certain cases, the airline has restrictions on pet carriage. These circumstances include:
When you are an unaccompanied minor.
Are seated in an exit or bulkhead row.
Require a medical device that needs to be put under the seat.
Travelling in a Premium Economy cabin that isn't safe for a pet carrier.
Fee: For a one-way trip within Canada or the USA (Except Hawaii), USD 50 (INR 4,155).
For international travel, USD 100 (INR 8,310).
For more information, visit here.
Air France The airline accommodates most pets, but attack dogs such as pit bulls are completely prohibited in the cabin or cargo hold. However, specific breeds falling under Category 2 (cargo), as determined by the French government, are allowed to travel on Air France flights only with a pedigree document certifying their breed.
Pets weighing under 8 kg can accompany passengers in the cabin, while those weighing between 8 and 75 kg need to be transported in the cargo. It's important to note that the request to transport pets must be sent to the airlines at least 48 hours prior to your travel. Below are some requirements for pets.
Pets need to be vaccinated in order to be permitted on board.
For any dog or cat to travel within the European Union, it should be identifiable with an electronic microchip. The pet should also have a European passport, along with a certificate provided and completed by an authorised veterinarian mentioning the pet's identification details and certifying all vaccinations.
It is important to contact the destination country's embassy for any additional health requirement documents.
For other countries, check current regulations for additional vaccination requirements.
Your pet can only travel by cargo under the following circumstances:
If your pet is neither a cat nor a dog.
All snub-nosed cats are of one of the following breeds: Boxer dogs, Pekingese, Shih Tzus and Persian or Birman cats.
Weighs more than the authorised weight.
The destination you are flying to allows the pet to travel by cargo only.
Fee: All these prices are cabin fares: USD 75 (INR 6,232) for a one-way trip within France; USD 134 (INR 11,136) for the Caribbean; between Europe and North Africa and Israel, between metropolitan France and Cayenne, Fort-de-France, Pointe-à-Pitre, and Saint-Denis de la Réunion and on all other flights is USD 215 (INR 17,867).
Cargo fare: USD 107 (INR 8,892) for flights to Metropolitan France, USD 215 (INR 17,867) for flights within the Caribbean, between Europe and North Africa and Israel, between metropolitan France and Cayenne, Fort-de-France, Pointe-à-Pitre, and Saint-Denis de la Réunion; and for all other flights USD 430 (INR 35,735).
For more information, visit here.
Swiss International Airlines The Swiss carrier welcomes all types of pets, even exotic species from the zoo. Pets weighing up to 8 kg are allowed in the cabin, while those exceeding the weight limit are permitted only as cargo.
A few things to know before carrying your pet in the cabin are:
A limited number of pets are allowed per flight in the cabin. A maximum of two animals (dog or cat) are allowed for one passenger.
The passenger can carry one animal (dog or cat) in the cabin and one animal in the hold. A maximum of two animals in the hold are allowed.
Only dogs and cats that are 12 weeks and above are permitted.
Fee: Depends on the country you are travelling from and if the pet is being carried in the cabin or the hold.
For more information, visit here.
Turkish Airlines Leaving no room for surprises, Turkish Airlines gives an estimated pet carrying costs on their website and allows cats, dogs and small birds such as parakeets and canaries in the cabin. By paying the transportation fee of USD 9.32 (INR 774) on the domestic flight for pets weighing between 0-8 kg in the cabin and USD 14.91 (INR 1,239) for pets weighing between 8-15 kg in the cargo hold, you can bring along your furry friends with ease. For pets heavier than 15 kg and to carry them on international flights, the price set by this pet-friendly airline can be checked here.
Ensure that you submit the reservation request a minimum of six hours before the flight departure. A passenger can carry a maximum of two pet carriers, with one of them being permissible in the cabin. Here are some important details to keep in mind:
The dimensions of the cage should not exceed 23 cm in height, 30 cm in width and 40 cm.
Pets under 10 weeks and pregnant animals are not permitted on the flight.
For more information, visit here.
Lufthansa Airlines Just like other airlines, Lufthansa allows small pets that are less than 8 kg to be carried in the cabin, while heavier ones can be transported in the cargo hold. The German airline also requires passengers to fill in a form as an undertaking if their pet meets the criteria for onboard travel.
Restricting the transport of snub-nosed (brachycephalic) cats and dogs, bookings must be made 72 hours before the scheduled flight. Once the booking is confirmed, the transport fee needs to be paid during check-in. In cases where the request cannot be accommodated, the airline informs via email.
Consider the following rules before travelling with your pets:
Passengers can carry a maximum of two animals.
The two animals can be carried in the cabin (in an approved container), or one can be carried in the cabin and the other in the cargo hold.
The animals should be 12 weeks old, and the ones travelling to or from Germany should be at least 15 weeks old to be able to travel.
The container dimensions should be such that the animal can stand up and turn sides comfortably.
It should also be sturdy, lockable and clean with a waterproof bottom.
Fee: Depends on the route and the size of the pet carrier. For animals in the hold, transfers via Brussels, Geneva, Frankfurt, Vienna and Zurich, a surcharge of USD 170 (INR 14,127) is charged.
For more information, visit here
Aeroflot Permitting a maximum of three animals in one container on a flight, the Russian airline limits the weight of pets to 8 kg (with the carrier) in the cabin. The weight in the cargo hold cannot exceed 50 kg and should not hold more than one large animal or six birds.
Consider the following rules before flying your pet on Aeroflot:
The airline does not allow the passengers to open the carrier and take out the animal in the cabin or restrooms.
The size of the hard container should not exceed 44×30×26 cm, and the size of the soft container should not exceed 126 cm.
Seats cannot be offered next to passengers with children or other passengers carrying animals unless members of the same family are carrying the animals. The seats will either be provided by the window or in the middle of the centre block according to the safety regulations on the aircraft. Seats next to the emergency exits will not be offered.
Fee: USD 65 (INR 5,401) for domestic flights and USD 80 (INR 6,648) for international flights for pets in the cabin. For pets in the hold, the airline charges USD 65 (INR 5,401) for domestic flights and USD 99 (INR 8,227) for international flights.
For more information, visit here
KLM KLM allows only cats and dogs in the cabin and hold. The reservation for your pet's spot should be made at least 48 hours before departure, and the animal should be 15 weeks or older.
Below are some rules one must follow:
The kennel should be of maximum 46 x 28 x 24 cm in size.
Only one cat or dog is allowed in the cabin in the Economy and Business Class within Europe.
On an intercontinental route, passengers cannot bring their pets in the cabin if they are flying Premium Comfort Class or Business Class.
Fee: Ranges between USD 80 (INR 6,648) and USD 428 (INR 35,568) for a one-way trip. The exact price can be known while making the reservation.
For more information, visit here.
Jazeera Airways The Kuwait-based airline permits passengers to travel with pet falcons and trained guide dogs only. To carry them on board, you must ensure that you have all the required health certificates and documents. Additionally, the animal must be clean, healthy, harmless, odourless, non-pregnant and should not cause any inconvenience to fellow passengers. Other rules to keep in mind are:
The pet must be attached to a chain or a chord to the leg and be securely fixed next to the handler to avoid flying in the cabin.
Each passenger can carry a maximum of five falcons in the cabin — one falcon on the handler's arm and two falcons per empty seat. Alternatively, the pet can be placed on a perch, which should be handled by the pet owner, and it should not block the pathways inside the aircraft in an emergency.
There's no limit to carrying baby falcons; however, each passenger can carry only two cages.
The cage's dimensions should be 48 cm X 58 cm X 70 cm.
They should be inside the cage throughout the flight, and the cage must be closed at all times.
Fee: Varies between USD 81 (INR 6,731) and USD 162 (INR 13,463) depending on the number of falcons you are carrying.
For more information, visit here
The currency conversions were done at the time of writing
(Hero and feature image credit: Damedeeso/Getty Images)
Related: All Paws On Deck: Singapore Company Launches Luxury Cat Cruises
Frequently Asked Questions (FAQs)
Which airlines are considered pet-friendly?
– Air India, Japan Airlines, Emirates, KLM, JetBlue, Air Canada, Delta Airlines, American Airlines, Jazeera Airways, United Airlines, Lufthansa Airlines, Aeroflot, Turkish Airlines and Alaska Airlines are some of the pet-friendly carriers.
Can I bring my pet into the cabin with me?
– Yes, you can travel with your pet, but the only condition is that the pet should be inside the kennel where the pet can stand and turn sides easily.
What types of pets are allowed in the cabin?
– Mostly, small dogs and cats are permitted in the cabin.
Are there any size or weight restrictions for pets in the cabin?
– Yes, only small size pets can travel in the cabin. For more details, visit the airlines' website to learn about the kennel size and other restrictions.
Can pets travel in the cargo hold?
– Yes, big pets can travel in cargo holds.
Written By