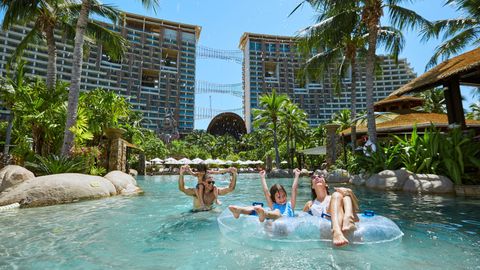 Re-energise with your loved ones and plan for longer getaways with the enticing Linger for Longer offer available across Centara Hotels & Resorts in Thailand, Vietnam, Sri Lanka, the Maldives, and the Middle East.
Picture lounging on the beaches of the Maldives, lazing around in Vietnam, experiencing new cultures in the Middle East, unwinding in Sri Lanka, or even partying in Thailand. Irrespective of the destination, make these celebrations merrier with a stay at Centara Hotels & Resorts. And with the limited-period Linger for Longer offer, these holidays become rewarding, too! If you're planning an extended escapade to The Maldives, Vietnam or Thailand; a laidback vacation to Sri Lanka; or even a long holiday to explore the cultural vibrancy of the Middle East, the Centara Hotels & Resorts promise to make it a memorable one, courtesy of the Linger for Longer offer. With this, you can stay for an extended period of time without any stress!
What is Linger for Longer? If you've been planning that long due family vacation in the midst of paradise, then now's your chance! With the Linger for Longer offer, guests can save up to 35 percent by booking up to 45 nights (minimum five nights) at any of the participating Centara Hotels & Resorts in Thailand, Vietnam, Dubai, Sri Lanka, or the Maldives.
What does it include? Book and stay from now to December 20, 2023, each stay promises a selection of stunning rooms, suites and private villas equipped with convenient in-room facilities including high-speed WiFi access. The offer — which allows the flexibility to choose an inclusive breakfast with the room– also guarantees special room rates starting at THB 640 (approximately INR 1,550) per night. What's more — up to two children can stay for free, depending on the type of room configuration. So, what are you waiting for? Get planning for your extended holidays with Centara Hotels & Resorts. Pro tip: CentaraThe1 members enjoy more benefits when they login before booking. Click here and sign up for free today!
Related: Dive Into A World Of Family Fun At Centara Grand Mirage Beach Resort Pattaya
Written By