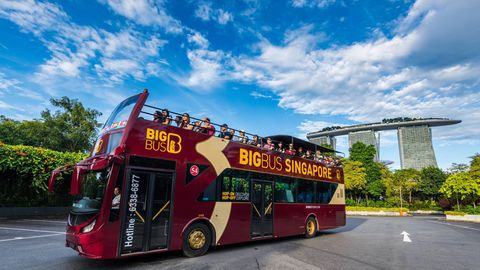 When it comes to travelling to Singapore, Go City Singapore Pass is your ultimate ticket to unlocking the best attractions and experiences in the Lion City.
With a focus on savings, hassle-free cancellations, and insider recommendations for offbeat places, Go City Singapore Pass offers an exceptional travel experience. Say goodbye to long queues and hello to convenience as you embark on a journey filled with adventure and discovery.
Savings That Delight
Go City Singapore Pass is designed to help travellers save money while exploring the city's top attractions. With two types of passes available, Explorer Pass and All-Inclusive Pass, you can choose the option that suits your travel style and preferences. Whether you're a leisurely explorer or an avid adventurer, Go City has got you covered. The Explorer Pass
With the Explorer Pass, you can select a specific number of attractions to visit from a curated list. Enjoy the flexibility of choosing three, four, five, or seven attractions from popular sites, including Gardens by the Bay, Universal Studios Singapore, and the iconic Singapore Zoo. Explore at your own pace and create your personalised itinerary to make the most of your trip.
The All-Inclusive Pass
For those seeking unlimited access to Singapore's finest attractions, the All-Inclusive Pass is the ideal choice. This pass allows you to visit as many attractions as you want within a set number of days. Dive into a world of excitement as you hop from one renowned landmark to another.
Hassle-Free Cancellations Go City Singapore Pass understands that travel plans can change unexpectedly. That's why they offer a refund on cancellations within a certain timeframe. Rest assured that your investment is protected, providing you with peace of mind while planning your Singapore adventure.
Discover Offbeat Gems With Go City Singapore Pass

Unveiling the hidden treasures of Singapore is one of Go City Singapore Pass' many specialties. In addition to providing access to popular tourist hotspots, the pass also offers recommendations for offbeat and lesser-known attractions. Venture off the beaten path and discover the city's local secrets, hidden gardens, vibrant neighbourhoods, and charming cultural enclaves. Immerse yourself in the rich tapestry of Singapore's diverse heritage and create unforgettable memories.
Create lifelong memories as you explore the Lion City at your own pace, immersing yourself in its vibrant culture and captivating sights. Don't miss the chance to embark on an unforgettable journey with Go City Singapore Pass.
So, start planning your trip today!
Related: Discover Dubai's Hidden Gems And Save Money With Go City
Written By