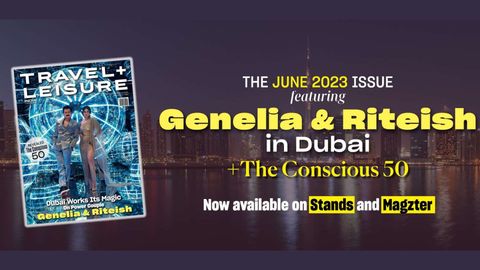 This June, in Travel+Leisure India & South Asia's Conscious issue, we launch a list of 50 mindful experiences, sustainable hotels, and eco-warriors who will inspire you to travel responsibly. Plus, join cover stars Genelia and Riteish Deshmukh and discover Dubai's otherworldly offerings.
This is a very special issue for us as it is an ode to one of the most important causes that Travel + Leisure India & South Asia stands for.
Introducing The Conscious Issue Our annual #TLConsciousList encapsulates experiences, destinations, and people who have made mindful choices in both travel and their daily lives. Sustainability champions across the fields of art, entertainment, hospitality, and more share some of the most important lessons on conscious living—be it actor Dia Mirza, activist Aakash Ranison, hotelier Sonu Shivdasani who transformed luxury travel in the Maldives, sisters Mrinalika and Akshita Bhanj Deo who were instrumental in putting Mayurbhanj in Orissa on the map; or sustainable fashion designer Aneeth Arora of Pero among others. Don't miss our carefully curated list of some of the most sustainable stays and meaningful experiences around the world that allow you to engage with local communities and leave a positive impact on the planet.
Travel Around the World
Keeping in mind that the summer holiday season is in full swing in India, we take you along a family holiday with social media's favourite star couple Genelia and Riteish Deshmukh. The couple explores some of the newest attractions that Dubai—the most popular destination among Indian travellers—has on offer. Also find out the best places to eat and shop in the city with our comprehensive guide.In our other stories, we traverse Nagaland on a foraging mission; and embark on a slow boat ride from Thailand to Laos.
Before I sign off, let me remind you to catch all the action of Travel + Leisure India's Delicious Dining Awards 2023. Stay tuned to our Instagram for the big reveals!
Get your digital copy of Travel+Leisure India & South Asia's Consious issue by clicking here.
Related: Dubai Works Its Magic On Actors Genelia & Riteish Deshmukh — Find Out How!
Written By