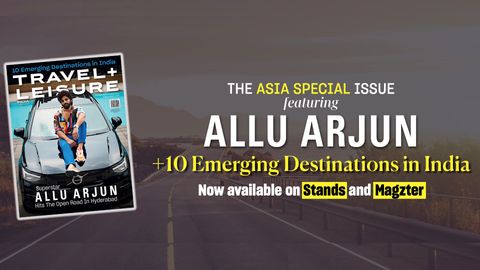 In the Asia special issue this August, superstar Allu Arjun hits the open road in Hyderabad in the Volvo XC40 Recharge. Choose from a handpicked list of 10 emerging destinations in the country will make you fall in love with India all over again; embark on a visual journey and embrace the slow life in the coastal town of Varkala; go back in time with Srinagar's old-world offerings; and more. Don't forget to catch all the action from Travel+Leisure India and South Asia's Delicious Dining Awards 2023.
I believe if you want to transform the mundane into extraordinary, you must explore India. And that is also why our August issue is always one of my favourites. It celebrates India in a glory, along with gems of Asia.
Introducing The Asia Special Issue India is a land of art, crafstmanship, creativity, and myriad cultures. And to helm this very special edition, we could not think of a better personality than superstar Allu Arjun, who with Pushpa became a national heartthrob; the film was the highest gross earner in the Telugu film industry ever. While the world awaits Pushpa 2, we get into a freewheeling chat with Arjun in Hyderabad on his favourite joints in the city, and how travel impacts his creativity. Keeping him company is our conscious wheels partner, Volvo XC40 Recharge.
This time, the Discoveries list highlights the lesser-known destinations in India that are often overlooked on mainstream itineraries. Our photo essay dives into the waters of Varkala in South India, and we unravel experiences in Srinagar that make Kashmir a true paradise. We also get you a first-hand travelogue from an off-the-radar wellness getaway in Himachal's Parwanoo.
Beyond Borders
Don't miss out on our exhaustive Maldives package—we have a carefully curated list of the best that Maldives has to offer right now, no matter what kind of vacation you are looking for. Plus, we have all the winners of the fourth edition of the readers' choice Travel + Leisure India & SA's Delicious Dining Awards 2023. And I cannot wait for all of you to meet T+L India's choice of Tastemakers this year—don't miss it!
Get your digital copy of Travel+Leisure India & South Asia's Asia Special issue by clicking here or the image below: Related: Driving Down The Road To Success With Superstar Allu Arjun In Hyderabad
Written By